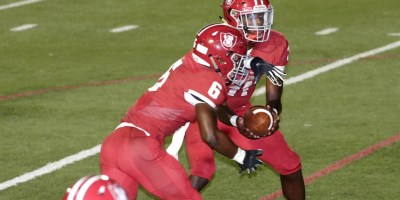 The semifinal matchup between Lowndes and North Gwinnett featured Class AAAAAAA's top two defenses and a Bulldogs offense averaging 40.7 points per game, but it was the Vikings offense that made the most noise; quarterback Jacurri Brown led Lowndes to a 28-7 first-quarter lead—more points than either team had given up in an entire game all season—en route to a 49-28 home win in the first meeting between the two teams since the 34-6 Vikings victory in the 2007 State Championship.
Brown entered the game with 1308 rushing yards and 18 touchdown runs on the season, and he added a 95-yard rushing score on the second play of the game. The second Vikings drive ended in a touchdown as well—a 43-yard run by Justin Lee—while the Lowndes defense forced punts on each of North Gwinnett's first two possessions. The third time was the charm for the Bulldogs, however; quarterback JR Martin found fellow senior Josh Downs to put North Gwinnett on the board with a 72-yard touchdown completion. Following a failed flea-flicker, Brown picked up a fresh set of downs with a completion to Ghetti Brown, and he connected with Dominique Marshall for a 45-yard touchdown and 21-7 Vikings lead with 5:46 remaining in the opening frame. A sack by junior Thomas Davis forced another North Gwinnett punt, and Brown took another trip to the end zone—this time for 51 yards—at the 2:56 mark.
North Gwinnett scored again on a Martin-to-Downs connection midway through the second quarter, and the Bulldogs seemed poised to climb back in it when an intentional grounding call on Brown led to a second consecutive Lowndes punt. Senior Tiberius Drocea's open-field tackle cut short the following North Gwinnett drive, however, and a slant from Brown to Chase Belcher with 2:07 left in the half put Lowndes up 35-14. Brown, who entered the game with only five passing touchdowns this year, then added his third touchdown completion of the first half on a 4-yard strike to Tony Wiseman with 0:02 on the clock for a 42-14 score at the break.
North Gwinnett's defense finally found some answers in the second half, and Martin found DJ Hart for a touchdown early in the third quarter. Lowndes senior Devonn Lane forced a North Gwinnett fumble later in the quarter, but it was recovered by the Bulldogs to set up another Martin-to-Hart touchdown at the start of the fourth. The score cut the Vikings lead to 42-28, but the comeback attempt was thwarted when Drocea capitalized on an unsuccessful punt fake by the Bulldogs with a 32-yard score for the game's final tally.
The Vikings were again without star back Gary Osby, but still managed to compile 390 yards on the ground—191 of which came on 19 carries by Brown. The sophomore also finished with 140 passing yards in his five-touchdown performance. The Vikings defense limited the Bulldogs to just 12 rushing yards on 21 attempts, but struggled to contain North Gwinnett's passing game; Martin finished the night with 278 yards through the air, with over 200 going to Downs.
Lowndes will face Marietta in the Class AAAAAAA Championship.
CHECK OUT ALL THE GHSA PLAYOFF BRACKETS HERE.
Class AAAAAAA
Class AAAAAA
Allatoona 17, Richmond Hill 14 (OT)
After Richmond Hill missed a field goal in the first possession of overtime, Allatoona's Jude Kelley made a 22-yard field goal on third down to give the Buccaneers the road win. Allatoona earned a trip to its second state title game with the victory; its first appearance was in 2015 when the Bucs defeated Glynn Academy for the Class AAAAAA championship. Allatoona forced overtime with a touchdown to tie the game at 14-14 with 1:37 left in regulation. On 4th-and-10, Bucs quarterback Danté Marshall found Asante Das for the 36-yard game-tying touchdown pass. Allatoona went up 7-0 in the first quarter on a 25-yard pass from Marshall to Zach Jackson four minutes into the game. Richmond Hill tied it at 7-7 in the second quarter on a 1-yard touchdown run by Jalen Rouse. The Wildcats took a 14-7 lead into halftime after Rouse took a direct snap at the 5-yard line, then ran up to the line and threw a jump pass to Bucky Bayens for a touchdown with a minute left in the half. It was Richmond Hill's first trip to the state semifinals.
Class AAAAA
Buford 29, Jones County 0
Buford got two rushing touchdowns from Victor Venn in its road semifinals win against Jones County, which was seeking its first-ever trip to the state finals. The win put the Wolves in their first title game since 2016. Venn rushed for a 6-yard touchdown with 1:23 remaining in the first half to put Buford up 22-0 and had a 38-yard touchdown run at the 6:23 mark in the third quarter for the game's final points. Venn finished with 107 yards rushing on 14 attempts. Hayden Olsen made a 43-yard field goal in the first quarter to put Buford on the board, set up by a 50-yard run by Gabe Ervin. Buford then got a 29-yard touchdown pass from Treyton Rank to Craig Clinkscales on a trick play at 11:49 in the second quarter to go up 10-0, and Olsen made a 37-yard field goal six minutes later to put the Wolves up 13-0. The Wolves defense forced a safety when Evan DiMaggio got a sack (one of six by the Buford defense) of Jones County quarterback Hunter Costlow to give Buford a 15-0 lead. Buford will try for its 12th state title.
Warner Robins 55, Starr's Mill 3
The Warner Robins offense scored early and often, the defense added a pair of second-half touchdowns, and first-year head coach Marquis Westbrook's Demons came away with a dominating 55-3 road win over Starr's Mill. Quarterback Jalen Addie found Armon Porter for the first touchdown of the night and ran in the second on the following possession for an early 14-0 lead, and running back James Smith added another score later in the opening frame. Jahlen Rutherford took a screen pass from Addie 63 yards for a 28-0 lead early in the second quarter. Starr's Mill got a field goal and an interception before the break, but another rushing touchdown from Addie and a scoop-and-score by Taijun Galloway left the Panthers trailing 42-3 heading into the fourth. Smith scored again just 10 seconds into the quarter, and the final points came on a fumble return for a touchdown. Warner Robins will face Buford in the Demons' third straight state championship appearance.
Class AAAA
Oconee County 35, Sandy Creek 28
The Oconee County Warriors are headed to the state championship for the first time since 1999 after a thrilling win over the visiting Sandy Creek Patriots. Senior quarterback and LSU-commit Max Johnson was huge for the Warriors, with two touchdown passes and two rushing scores. A passing touchdown from Sandy Creek gave the Patriots a 7-0 lead after the opening frame, but Oconee County's offense got going with a touchdown pass from Johnson to West Weeks at the 11-minute mark of the second quarter to spark a 20-0 run by the Warriors. Johnson added his first rushing score later in the quarter, and a strip by Oconee County's Darius Johnson was returned to the end zone to give the Warriors a 20-7 lead at the break. Sandy Creek cut the deficit to 6 with a rushing touchdown, but another score on the ground from Johnson and a successful two-point conversion from Jimmy Boswell brought Oconee County's lead to 14 by the end of the third. The Warriors blocked a Sandy Creek punt as the third quarter was winding down, allowing an Oconee County touchdown pass from Johnson to Jake Johnson on the first play of the fourth that made it a 35-14 game. Sandy Creek scored on the following possession, and an 80-yard rushing score by South Carolina-commit Rashad Amos with a 1:26 to go brought the Patriots within 7. Sandy Creek went for the onside kick, but Oconee County recovered and stayed in control of the ball for the remainder of the game. Oconee County will face Blessed Trinity in the state finals next week.
Blessed Trinity 46, Woodward Academy 17
Class AAA
Crisp County 14, Jenkins 6
The Crisp County defense held Jenkins, which was averaging 40.38 points per game entering the semifinals, to just 6 points as the Cougars earned the first state title berth in school history with the victory over the Warriors. Trailing 14-6 after an A.J. Lofton touchdown, Jenkins mounted a drive with two minutes left in the game, but Sirad Bryant's game-sealing interception in the end zone spoiled the comeback. Jenkins took the 6-0 lead on a touchdown run from Damozzio Harris with one minute left before the break, but the extra-point sailed wide. Crisp regained the lead in the final minute of the third quarter on a diving touchdown from Lofton, who leaped from the 5-yard line as three Jenkins defenders gave chase. Lofton scored again on another 5-yard touchdown run with two minutes left in the game to put the game out of reach. Connor Richmond was 2-for-2 on extra points for Crisp. The Cougars will face Cedar Grove in the state championship game at 1 p.m. on Dec. 14.
Cedar Grove 28, Greater Atlanta Christian 18
Class AA
Brooks County 39, Callaway 35 
An 11-yard touchdown run by sophomore Omari Arnold, a successful onside kick attempt and a Ni'Tavian Burrus touchdown pass put Brooks County ahead 14-0 less than four minutes into the game. The Trojans grew the lead to 20-0 with a 3-yard rushing touchdown early in the second quarter, but then Callaway came roaring back. Five-star running back and Auburn-commit Cartavious 'Tank' Bigsby got the Cavaliers on the board with a 70-yard touchdown run, which sparked a 35-6 scoring swing that eventually put Callaway ahead 35-26 with 3:42 left in the third quarter. Brooks County cut the lead to 35-33 heading into the fourth quarter and then got the go-ahead score with 8:14 left to play. A failed fourth-down attempt with 2:36 left returned the ball to the Brooks County offense, which picked up the game-clinching first down to run out the clock. Brooks County advances to the Class AA state championship to face Dublin in a rematch of its 49-35 loss to the Irish on Sept. 20.
Dublin 55, Thomasville 45
Dublin running back Jacques Evans rushed for 334 yards and five touchdowns off of 19 first-half carries and the Irish entered the break with a 41-24 lead. Dublin's other score came on a Romell Height interception return touchdown. Thomasville's first-half scoring came off a Hurston Waldrep 23-yard field goal and three Ronnie Baker touchdown passes—two to Payton Singletary and a 4-yarder to Kevin Cochran. Baker and Singletary connected for a third time on an 11-yard score early in the third quarter, but a Zion Kemp 14-yard touchdown run grew Dublin's lead back to 48-31 heading into the final frame. Baker made it a 10-point game with a 2-yard rushing touchdown with 10:43 left, but Thomasville turned it over on downs on its next offensive possession and Kemp broke free for a 41-yard touchdown that gave Dublin a 55-38 lead with just 3:01 remaining. Baker found Ricardo Johnson for a 10-yard touchdown pass with 1:25 left on the clock, but Dublin was able to run out the clock and earn its first finals berth since 2006.
Class A-Private
Wesleyan 56, Fellowship Christian 20
Wesleyan jumped out to a 14-0 advantage midway through the first quarter and led from wire to wire for a convincing road win over Fellowship Christian. Following a 28-7 halftime deficit that ballooned to 35-7 early in the third quarter, the Paladins briefly got back in the game with two straight touchdowns from Jayven Hall. Wesleyan, however, was quick to answer with a J.C. French 3-yard keeper that made the score 42-20 going into the fourth. French added a 20-yard touchdown pass to Andrew Van Wie before Cooper Blauser capped off the scoring with a 10-yard run. French finished with four total touchdowns (three rushing), while Blauser had two scores and a fumble recovery that led to the Wolves' first touchdown. Griffin Caldwell added a pair of touchdown runs for Wesleyan, which advances to the championship game against Eagle's Landing Christian. Fellowship Christian's first score came on a 6-yard Josh Cole run in the opening quarter.
Eagle's Landing Christian 21, Holy Innocents' 7
Eagle's Landing Christian had lost only one game this season heading into its semifinal visit to Holy Innocents': a 42-41 overtime decision on Sept. 20 against none other than the Golden Bears. The rematch proved to be much more successful for the Chargers, who used a dominant defensive performance to earn a return trip to the state championship. They led 7-0 after one quarter, 14-0 at halftime, and 14-7 going into the fourth before putting the Golden Bears away. Gabe Wright threw a pair of touchdown passes to Devon Dorsey in the opening half and Keaton Mitchell provided the fourth-quarter insurance points with a 77-yard scoring scamper. Matt Davis scored Holy Innocents' lone touchdown on a 35-yard run in the third quarter. Mitchell also had a fumble recovery on defense, while Justin Robinson halted another Holy Innocents' drive in Chargers territory with a second-quarter interception. Eagle's Landing Christian will now bid for a fifth consecutive state title and the final is another rematch—this time against Wesleyan. The Chargers won the previous head-to-head showdown 54-17 at home on Oct. 4.
Class A-Public
Irwin County 36, Clinch County 0
Irwin County did all its scoring in the second half in the 36-0 home victory against the two-time defending state champion Clinch County Panthers with an overwhelming defensive effort and persistent running game. Following the scoreless first half, Irwin County orchestrated a 16-play drive that ate up the first 7:01 of the third quarter, and DJ Lundy's 2-yard touchdown run to cap the momentum-swinging drive gave the Indians a 7-0 lead. Gabriel Benyard intercepted Clinch County quarterback Tyler Morehead on the next Panthers possession and returned it for a 50-yard Irwin County touchdown to extend the lead to 14-0. Before the third quarter ended, Lundy returned to the end zone on a 4-yard run, but a missed PAT kept the lead at 20-0. The touchdown was set up by an unsuccessful fake punt attempt by Clinch County at its own 20-yard line on a 4th-and-2 that came up a yard shy. Evan Ross tacked on a 27-yard Irwin County field goal with 8:17 left in the fourth quarter to extend the lead to 23-0, and junior Jordan Payne intercepted Clinch County on its next possession and returned it 15 yards to set up a 1-yard Kam Ward touchdown three plays later. Payne then iced the game with 1:16 left with a 55-yard fumble recovery touchdown that made it 36-0. Benyard's interception return for a touchdown and Payne's late fumble recovery touchdown give the Irwin County defense 62 points scored this season. The Indians will square off against Marion County this Saturday at 10 a.m. at Georgia State Stadium in the Class A-Public Finals.
Marion County 42, Pelham 25
Marion County roared back from a 25-14 third-quarter deficit with 28 unanswered points to advance to its first state finals since 2013. Pelham quarterback Kendrick Patterson connected with Cameron Bailey for three touchdowns and also rushed for a 3-yard score to build the Hornets' 25-14 lead. Brandon Thomas and Trice McCannon each rushed for Marion County touchdowns in the first half to keep the Eagles in striking distance and then dominated the second half. McCannon's 45-yard touchdown pass to Thomas with 6:34 left in the third quarter brought Marion County within 25-20 heading into the final frame. McCannon found Thomas on a 9-yard touchdown reception early in the fourth quarter to give the Eagles a 28-25 lead. Thomas added a 67-yard rushing touchdown with five minutes left and then McCannon capped the scoring with a 3-yard run.