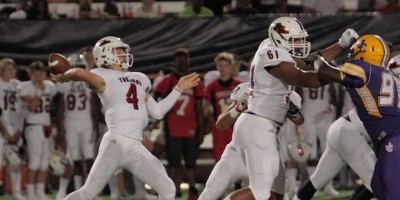 AJC FEATURED GAMES
Colquitt County 31, Brookwood 14; North Gwinnett 38, McEachern 17; Coffee 14, Tucker 3; Rome 45, Buford 7; Warner Robins 31, Carver-Atlanta 7; Blessed Trinity 28, Mary Persons 7; Marist 35, St. Pius 14; Calhoun 14, Cedar Grove 6; Peach County 28, Greater Atlanta Christian 23; ELCA 55, Prince Avenue Christian 0
Lee County mounted an unlikely comeback to win its Class AAAAAA semifinals game 42-38 over Glynn Academy. With less than three minutes remaining, Lee County's Dashawn King recovered a fumble and returned it 78 yards for a touchdown. Minutes later, the Lee County defense came up with another turnover to cap off the Trojans' comeback after being down 31-7 in the first quarter and 31-14 at the half.
"We got four turnovers in a row on the last four drives," Lee County coach Dean Fabrizio said after the dramatic come-from-behind win. "Glynn has a great team, but the biggest thing is that our kids just never quit. To be able to pull a win out like that was just amazing."
Glynn took a 3-0 lead in the first quarter on a Jack Podlesny 28-yard field goal, and an interception of Lee's Jase Orndorff with 3:34 remaining in the first quarter gave the Red Terrors the ball within striking distance. Caine Crews converted the turnover into points on a 9-yard run to give Glynn a 10-0 lead.
Just into the second quarter, Lee cut into the lead on a 2-yard Nikko Cruz touchdown run. At the 9:23 mark, Crews found the end zone on another 9-yard run to put Glynn up 17-6. Marvin Dallas then found Andrew Delaney on a 16-yard pass to put Glynn up 24-6 with 3:27 left before halftime. With one minute left before halftime, Crews added a short rushing touchdown to give the Red Terrors a commanding 31-6 lead, but with 37 seconds before the break, Josh Asbury caught a 12-yard touchdown pass from Orndorff to cut into the lead, 31-12.
What looked like a rout turned into new life for lee County.
The Trojans built momentum with a 6-yard touchdown run by Artavius Warren, which put the game within reach at 31-21. The Lee County touchdown was set up by a 60-yard rush by Shaundarious Kimbrough. With 5:04 remaining in the third quarter, Glynn expanded the lead to 38-21 on a 10-yard run by Randon Jernigan.
The Lee County defense responded with a fumble recovery by Kermit Solomon, who returned it 40 yards into Glynn territory. On the next play, Orndorff found Ty Terrell on a 37-yard touchdown pass to make it a 10-point game, 38-28. With 7:45 left in the game, Glynn's Crews came up with another big run, but the Trojans defense recovered a fumble on the next play and turned it into points with a 14-yard pass from Orndorff to Drequan Garmon to make it a 3-point game.
With 1:12 remaining, after the King touchdown, the Lee County defense came up with a huge forced fumble and recovery by Qwan Kendrick at the 6-yard line, which put the game away.
The Trojans, the No. 1 seed out of Region 1, advance to the Class AAAAAA championship game to face their Region 1 rival Coffee, the No. 2 seed, at Mercedes-Benz Stadium. Lee County defeated Coffee 23-7 in the final game of the regular season.
"Region 1 will have another state champion," Fabrizio said. "But this was just an amazing win on so many levels."
CLASS AA
Hapeville Charter 28, Heard County 21
Hapeville Charter struck first with an early touchdown by quarterback Hajj-Malik Williams on a 1-yard run on its opening drive with 7:46 left in the first quarter. Late in the quarter, Heard County answered with a short rushing touchdown to tie the game. Early in the second, Heard County's Alijah Huzzie intercepted a pass and returned it for a touchdown to give Heard the lead. With 9:15 left in the half, Hapeville managed to tie the game and make it a 14-14 game at the half with a Harper Atkins rushing touchdown. With 7:17 left in the third, Heard County's Aaron Beasley rushed for a touchdown to regain the lead. Hapeville Charter tied the game again late in the third on a 22-yard pass from Williams to Andunte Devereux, and Hapeville ended Heard's season with a game-winning rushing touchdown from Marcus Carroll with 5.3 seconds left in the game.
Rabun County 23, Brooks County 12
After a scoreless first quarter, Brooks County kicked a field goal to go up 3-0 on first-ranked Rabun County. Late in the second, Rabun quarterback Bailey Fisher got sacked into the end zone for a safety for a 5-0 Brooks County lead. With time running out in the first half, Fisher rushed for 6 yards into the end zone to take a 7-5 lead at the half. Late in the third, Andrew Barnes kicked a 26-yard field goal to increase Rabun's lead to 10-5. With 7:56 left in the fourth, Fisher found the end zone again on a 4-yard rush. Brooks County managed to make it a close game after a fourth-quarter touchdown but were bested after Fisher connected with receiver Austin Jones on a 74-yard touchdown pass to seal the win.
CLASS A-PRIVATE
Athens Academy 14, Mount Paran 7
Athens Academy overcame a 7-0 halftime deficit to remain perfect on the season and advance to the Class A-Private state championship game against Eagle's Landing Christian. Mt. Paran took a 7-0 lead in the first quarter on an 8-yard touchdown pass. The Spartans tied the game just after halftime on a 2-yard run by Len'Neth Whitehead. The short run capped a 60-yard drive, which was set up by a pass from Jack Thomas to Owen Roberts. Just over a minute later, the Athens Academy defense forced a fumble that was picked up and returned for a touchdown by George Smith to give the Spartans a 14-7 lead. Athens held on in the fourth quarter to put away the game. Thomas finished the game 6-of-9 passing for 74 yards. Payton Bowles led in rushing yards with 45 on 13 attempts. Trey Willis and William McLanahan combined for 10 tackles and five assists for the Spartans.
CLASS A-PUBLIC
Clinch County 23, Mt. Zion-Carroll 20
Clinch County blocked a field-goal attempt in the last 15 seconds to preserve the win. Dantonio Robinson rushed for the go-ahead score with four minutes left to play after Mount Zion had taken a 20-16 lead with nine minutes remaining. Robinson's touchdown was set up by a 37-yard run by Trezmen Marshall on the drive. Clinch held a 16-14 lead at halftime, and into the fourth quarter, after two touchdown runs from quarterback Charles McClelland (11 yards, 2 yards) and a safety with less than two minutes remaining in the first half. Punter Warren Stovall angled a kick out of bounds at the 1-yard line to help set up the safety, as Clinch tackled a Mt. Zion ball-carrier in the end zone on the ensuing possession. Mt. Zion outgained Clinch County 350 to 242 in a losing effort.
Irwin County 38, Emanuel County Institute 35
D.J. Lundy rushed for a 10-yard touchdown and ran in the 2-point try to give Irwin County a 38-35 lead in the fourth quarter, and Davion Pollard intercepted a Chase Whitehead pass on the next possession with six minutes to play. Irwin quarterback Will Stephens converted a fourth-and-2 from the ECI 10-yard line with a minute left to seal the win. Irwin County gained 468 total yards, 162 in the first half and 306 in the second, and overcame a 22-8 ECI lead in the second quarter. Javon Stanley put Irwin up 8-0 in the first quarter on an 8-yard run, and Stephens hit Jamorri Colson on a pass for the successful 2-point conversion attempt. Eric Dixon rushed for a 13-yard touchdown and Kiernan Johnson caught a pass from Whitehead for the 2-point conversion to tie the game at 8-8. Whitehead's QB sneak and Dixon's 3-yard TD run made it 22-8 ECI before Colson's 53-yard touchdown catch from Stephens made it 22-14 at halftime.
Irwin attempted an onside kick to start the second half, but Dixon picked it up and returned it 46 yards for a touchdown to give ECI a 29-14 lead. Irwin made it 29-22 on a 22-yard TD pass from Stephens to Hunter Spires and a 2-point conversion on a pass from Stephens to Jay Stanley. Stanley caught a 27-yard TD pass from Stephens, and Wil Hudson caught Stephens' pass for another 2-point conversion to give Irwin the 30-29 lead. Dixon had a 34-yard run to give ECI a 35-30 lead before Lundy's game-winning rushes.
Lundy rushed 24 times for 127 yards, including 93 in the second half, and Stephens was 10-of-11 passing for 208 yards and three touchdowns. For ECI, Dixon carried 20 times for 171 yards.