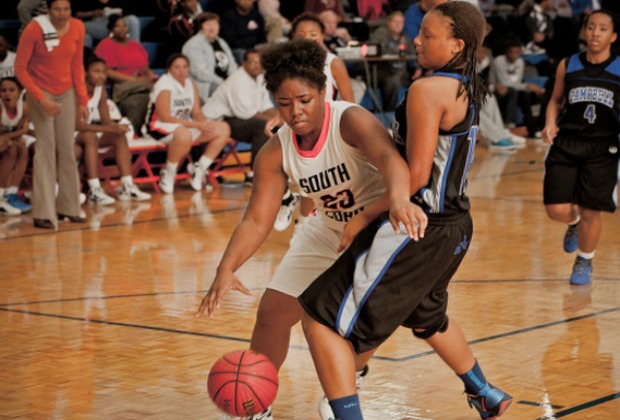 Ty Freeman
Region tournaments entered their quarterfinal and semifinal rounds Thursday and the teams left it all out on the court trying to keep their playoff hopes alive. In Region 7-AAAAAA, the boys had the night off, but the girls picked up the slack. North Gwinnett topped Duluth 64-38, and will face Norcross in the championship game, who just snuck past Mountain View 56-46. … Region 4-AAAAAA had some thrilling action from the girls side as Campbell edged Harrison in triple overtime and McEachern beat Marietta. Hillgrove also beat Pebblebrook. Campbell will face North Cobb, who had a bye, and McEachern and Hillgrove will square off Friday night in the semis.
Region 3-AAAAAA boys saw a huge upset Thursday night with No. 5 seed Tri-Cities knocking off No. 1 seed Westlake 73-71. Douglas County was the other semifinal victor on Thursday and Douglas County plays Tri-Cities in the championship game Saturday. … Langston Hughes and Douglas County will compete for the girls championship.
In Class AAAAA, Mays and Stephenson advanced to square off in the Region 6 semifinals following the Miller Grove-Tucker matchup. … Southwest DeKalb and Tucker were winners on the girls' side and Miller Grove and Stephenson make up the other side of the semifinals.
Region 4-AAAAA has its championship games set. Whitewater boys and Starr's Mill boys secured their spots with big wins Thursday. McIntosh girls advanced and will take on Forest Park in the championship. … Region 6-AAAA has its semifinal spots filled, and on the boys side, Marist will face South Atlanta and Grady will face Columbia. …The girls featured a little more drama as the No. 3 seed from 6A-AAAA Marist takes on Columbia, while Redan and Grady will play for a spot in the championship. … Region 5-AAAA had a major upset, with No. 4 seed LaGrange topping No. 1 seed Sandy Creek 48-40. LaGrange earned a trip to the championship to face Fayette County, who beat Columbus 45-38. In Region 3-AAAA, Ashleigh Outler had 18 points to advance Cross Creek into the finals to face the other No. 1 seed South Effingham.
Class AAA had some excitement out of Region 6 as St. Pius X and Cedar Grove needed overtime to decide who would play the Woodward Academy boys in the championship. Woodward Academy beat Decatur 56-52. No. 3 St. Pius X held on in the extra time to win 49-47.
Whitefield Academy continues to be dominant in Region 6-A play and beat Fellowship Christian 56-26 to advance to the semifinals. Eric Lockett almost single-handily outscored Fellowship with his game-high 24 points.