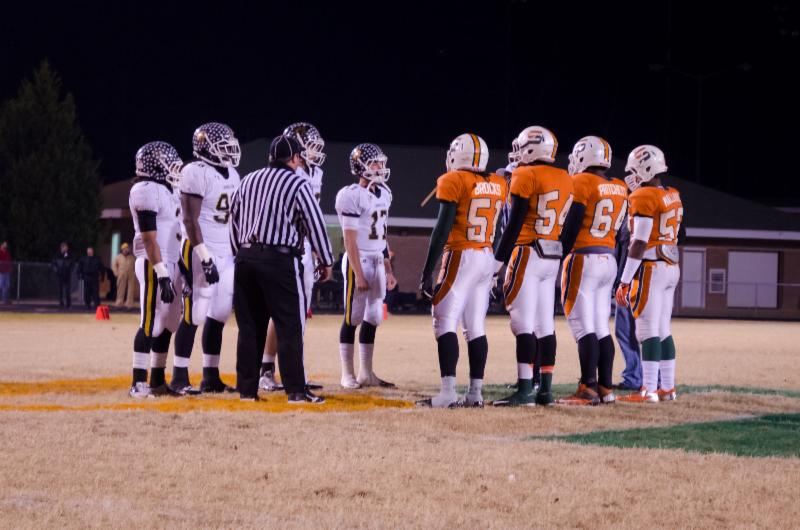 Photo by Jason Mussell
Griffin vs. Wayne County
Griffin's 32-26 comeback win at Sandy Creek in the quarterfinals was one of the biggest victories in any classification this season. The Bears handed the Patriots, who won three state titles the last four seasons, their first home loss since 2008. Griffin quarterback Jaquez Parks was efficient, completing 8-of-9 passes for 125 yards in the fourth quarter and orchestrating two scoring drives to erase a 26-17 deficit.
Griffin's Jordan Colbert returned an interception 78 yards for a touchdown and teammate Nic Williams sealed the Bears' win with an interception on Sandy Creek's final drive. These two defenders will be matched up with Wayne County's star wideout Krenwick Sanders. Sanders is having a record-setting postseason after adding four more touchdowns in the Yellow Jackets' 51-21 win over Alexander in the quarterfinals. Sanders tallied 279 yards receiving and six touchdowns in Wayne County's 49-34 win over Monroe-Albany in the first round and returned a kickoff 94 yards for a touchdown in the Yellow Jackets' 20-17 victory over Veterans in the second round. Sanders is committed to play at Wisconsin next fall.
Florida State-commit Malique Johnson quarterbacks Wayne County's offense and can extend plays and connect with the athletic Sanders. A.J. McGill and Anfernee Jordan each ran for touchdowns against Alexander.
Griffin's offense has scored at least 32 points in every game this season and Bears' running back Mikell Lands-Davis rushed for 310 yards and five touchdowns in their second-round victory over Lanier.
The Yellow Jackets are in the semifinals for the first time in school history and are 4-0 on the road this season. Griffin's defense has held four of its last five opponents to less than seven points and its 9.4 points per game average is the best in its class.
Marist vs. Carrollton
Marist won the Class AAAA state title in 2003 and Carrollton's last state title came in 1998. These teams met last season in the second round and resulted in the longest game of the 2012 season. Marist edged the Trojans at home in a 43-37 five-overtime thriller. The War Eagles hold a 50-2 record at home in playoff games since 1987.
Marist averages more than 320 yards rushing per game in its option-based offense and lineman Kendall Baker, who has committed to Georgia, leads a defense that allows just above 100 rushing yards per game. Marist's rushing attack was on full display in the quarterfinals as the War Eagles trounced Burke County 42-20 without attempting a single pass. The War Eagles rushed for 429 yards, led by Chase Martenson's 162 yards and four touchdowns. Marist head coach Alan Chadwick has led the War Eagles to the semifinals 11 times.
The Trojans were quiet offensively in the quarterfinals against Stockbridge, but made enough plays to result in a 24-14 win. Carrollton managed 195 yards, all on the ground and quarterback Wil Garrett attempted just one pass, which was intercepted. Sophomore Jarvis Terrell led Carrollton on the ground with 86 rushing yards and included a 44-yard touchdown run late in the fourth quarter. Trojans head coach Rayvan Teague runs a Wing-T offense that uses multiple backs.
Trey Chivers and Malik Sheppard share the bulk of the carries with Terrell. While Marist has Georgia-commit Baker at its disposal, Carrollton has 6-foot-3, 300-pound defensive tackle and Georgia-commit Dontavius Rus- sell in the trenches. Watching these two battle in the trenches is one of the most intriguing position battles in the state this weekend. While Carrollton piles up the carries, N.C. State-commit Cole Cook creates a dangerous play-action threat at tight end.