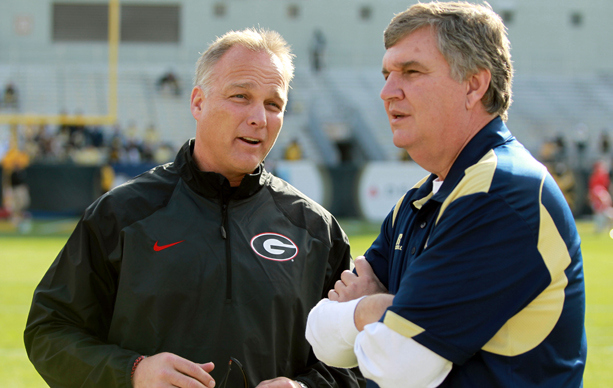 Photo by Jason Getz/AJC
National Signing Day 2015 was bigger than ever this year as national and local media broadcasted the final college decisions of thousands of athletes from every corner of the country. In our own backyard, the Peach State once again took center stage as the nation's top programs battled for Georgia's deep list of prospects.
The amount of talent and the number of big names in this year's class rivals Georgia's star-studded Class of 2013 that 247sports considered the most talented class of recruits in the nation that year.
SigningDayFrenzy.com
That year lit the fuse at both ends as Georgia transformed from being considered one of the most talented states in the nation to a mandatory stop on every top program's radar.
Within Georgia's borders, we saw Georgia Tech put together a recruiting class this year that is considered to be the best in head coach Paul Johnson's tenure. The Yellow Jackets used 17 instate players to build its 27 player class, the most Georgia prospects to go to any school in the nation this year. Defensive end Anree St. Amour is one of the headliners in the class and the North Gwinnett standout was one of the hundreds of signees to come through the second annual Signing Day Frenzy celebration at Stars and Strikes. The event started with record-setting Pickens running back Shannon Brooks signing to Minnesota and continued with plenty of excitement as 92.9 The Game broadcasted live. Lakeside DeKalb brought Army signee Kellyen Walker and highly-touted defensive lineman Michael Horton. Horton informed the listens and fans in attendance that he was flipping from Florida to sign with Auburn.
CHAMPIONSHIP TALENT…
Georgia once again built a top 10 recruiting class, but the attention was shifted towards Georgia Tech's incoming class significantly more than previous years. One of the main aspects creating the excitement is the level of success and championship experience within the list of signees. Class AAAA state champion Buford sent safety David Curry to Georgia Tech on Wednesday, one week removed from Curry's
SigningDayFrenzy.com
decision to flip from Virginia. Class AA state champion Benedictine sent wide receiver Brad Stewart (AJC Class AA Player of the Year) to the Jackets in this year's class and Class A state champion running back Dorian Walker joined Tech's Class of 2015 after a breakout season for Mt. Paran. Linebacker Tyler Cooksey (Greater Atlanta Christian) and safety A.J. Gray (Washington County) both made the finals this past season in their respective classifications and brothers Scott and Brad Morgan manned the trenches this past season for Etowah and helped the Eagles reach the state semifinals for the first time in school history.
THE GEORGIA WAY…
The Georgia Bulldogs brought in 13 instate prospects this year and there is still a chance for Macon County safety Roquan Smith. Smith committed to UCLA on National Signing Day but has not yet signed his letter of intent and could ultimately land on the Dawgs. Callaway receiver Terry Godwin was a late pickup on National Signing Day as he signed with the Dawgs live on Fox Sports South Wednesday at 6:20 pm. Godwin picked Georgia over his other finalists Auburn and Alabama.
ELITE JUNIORS…
In December of 2013, the inaugural Elite Junior Classic took the field at McEachern High School. Many watching the junior all-stars share the spotlight wondered how that group would do when National Signing Day came 14 months later. By the end of National Signing Day, 53 of the first Elite Junior Classic participants were signed to play college football this fall at 38 different schools.
Wide receivers T.J. Rahming (McEachern) and Keyston Fuller (Griffin) both signed to Duke, while defensive back Khalil Brooks (Mays) and offensive lineman Josh Fannin will be teammates at Middle Tennessee State together this fall.
Auburn plucked five prospects from the Elite Junior Classic in its No. 9 nationally ranked incoming class.
Kicker Ian Shannon (Marietta), lineman Kaleb Kim (Mill Creek), Darius Slayton (Greater Atlanta Christian), Jordan Colbert (Griffin) and linebacker Robert Muschamp (Darlington) are all Tiger-bound. Wide receiver Daniel Imatorbhebhe (North Gwinnett) and lineman Brandon Sandifer (Northside-Warner Robins) are future Florida Gators teammates and Tyler Camp (Mary Persons) and Hunter Holland (Buford) are both headed to Western Kentucky.
UGA grabbed safety Rashad Roundtree (Lakeside-Evans) from the group, while Georgia Tech signed previously-mentioned Curry, Stewart and St.-Amour along with running back KirVonte Benson (Marietta).