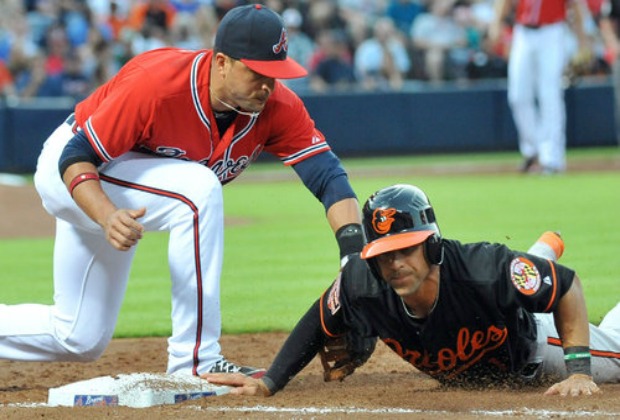 Hyosub Shin/AJC
Interleague play has been a mixed bag this season for the Atlanta Braves. After taking two of three from the Rays in Tampa last month and two of three from the Blue Jays last weekend, the Braves were swept at home by the New York Yankees. The red-hot Baltimore Orioles were next to visit Turner Field, fresh off winning five straight, while the Braves were turning to Tommy Hanson to snap the team's four-game losing skid.
In a manner that followed this roller coaster season, the Braves scored an early run, allowed the Orioles to take the lead, then recaptured the lead with an Andrelton Simmons home run. Michael Bourn would extend his hitting streak to 14 games in the sixth inning on an RBI single to push the Braves' lead to 4-2, the final score.
Hanson went just 5.1 innings, allowing four hits and two runs. Both runs were unearned after a Bourn error on a ball put into play by former Brave Wilson Betemit. Betemit would score the Orioles' second run on a sac fly in the sixth inning. The Braves' bullpen took over, including the newly recalled Kris Medlen, and allowed just two hits over 3.2 innings.
The defense helped out the pitching by turning four double plays. Martin Prado started at first base after Freddie Freeman was forced out of the lineup with his lingering finger issue. It was Prado's 35th start at first base over his career, and he turned a slick 3-6-3 double play in the fourth inning.
With the win, the Braves improved to 20-14 all-time against the Orioles and moved back to .500 at home this season.
Fredi Gonzalez also addressed Medlen's recall and Livan Hernandez' s designation of assignment. Gonzalez noted that Medlen would be used in the bullpen, perhaps for a couple of innings at a time, though, he said, that could mean in the seventh and eighth, not just the fifth and sixth. Medlen went two innings, allowing just one hit and one walk, while picking off Adam Jones.