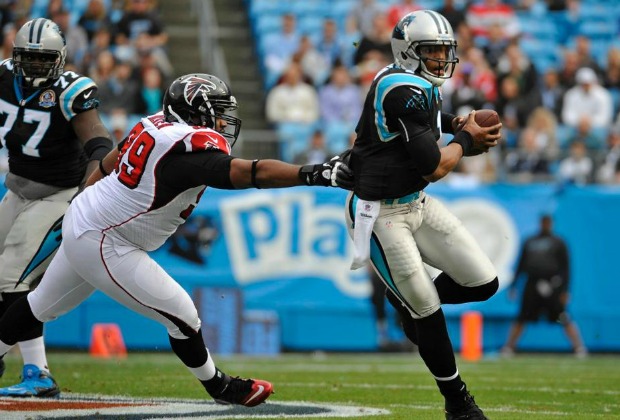 AtlantaFalcons.com
The Arizona Cardinals handed the Falcons a 27-13 loss on Sunday and last season's 7-0 start seems like a long way away for the now 2-5 Falcons. Matt Ryan was sacked four times and intercepted on four occasions by Arizona and the running game was abysmal. Ryan contributed a game-long 13-yard run to the team's total effort of 27 yards rushing. Running back Steven Jackson returned from his hamstring injury to tally six yards on 11 carries. Atlanta is last in the NFL in rushing with just 62.4 yards per game.
"We've got to give our backs a chance," said offensive coordinator Dirk Koetter about the run game. "If you're going to run the football, we've got to give them [the backs] good design…. We've got to give them good design of what the plays are. And, at the point of attack, we've got to move somebody."
Moving the football against Carolina this Sunday will not be any easier. The Panthers have a top 10 pass defense and boast the No. 2 run defense in the NFL at 79.3 yards per game. Linebackers Luke Kuechly and Thomas Davis are two of the best in the league. Kuechly led the NFL in tackles in 2012 and posted 16 total tackles in the Panthers' 30-20 win over Atlanta last year.
Ryan was sacked nine times in two games against Carolina in 2012 and pass rushers Greg Hardy and Charles Johnson are once again having productive seasons. The duo has accounted for 11.0 of Carolina's 22.0 sacks through its first seven games.
STOP THE BLEEDING …
The Falcons defense is ranked 22nd in the league in both the pass and the run and big plays by Arizona last week exposed it. Opposing quarterbacks have completed 65.9 percent of their passes this season and Cardinals rookie running back Andre Ellington, a sixth-round pick, escaped outside for an 80-yard touchdown run. Arizona scored two touchdowns and kicked a field goal in three red-zone trips and opponents have now scored points in all 24 red-zone trips this season against the Falcons.
Cam Newton comes off three straight games with a 100-plus quarterback rating and he has been successful when facing Atlanta in the past. Last season, Newton completed a combined 64.4 percent of his passes for 502 yards and four touchdowns and gained 202 rushing yards on 18 carries for three touchdowns against the Falcons.