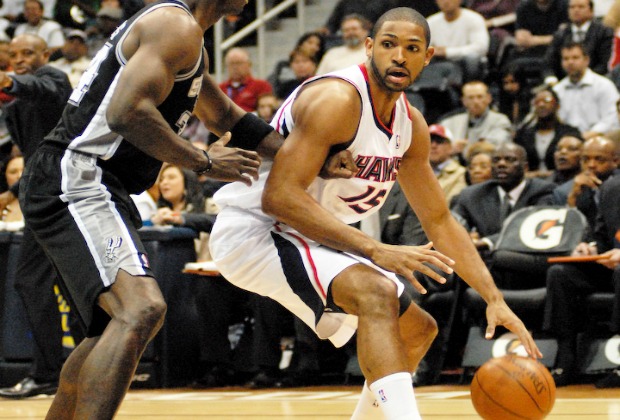 Jon Barash
Josh Smith may be the biggest name on the Hawks' roster and he certainly stole all of the headlines in Atlanta last month, but it's Al Horford who continues to quietly go about his business as the team's best player. Prior to Monday's setback at Denver (in which Horford still managed an impressive double-double of 18 points and 13 rebounds), the former University of Florida star scored at least 20 points in nine consecutive games dating back to Feb. 11. Interestingly, the streak was preceded by four straight contests in which Horford did not reach 20 points. Horford boasts six double-doubles in his last 10 outings and the stretch includes a 34-point, 15-rebound eruption in the victory at Utah.
"He's open a lot and he's getting his shots in rhythm," head coach Larry Drew told the AJC. "I've always said he's one of the better pick-and-pop guys in our league and he's showing that now."
REACHING A MILESTONE
Smith's 15 points in Denver during Monday's 104-88 loss to the Nuggets allowed the Hawks forward to become the 24th player in the history of the NBA to compile 10,000 points, 5,000 rebounds, 2,000 assists and 1,000 blocks.
"It's a blessing to get that mark," Smith told the Atlanta Journal Constitution. "Hopefully I can accomplish more things in this league. I just have to stay healthy and stay positive."