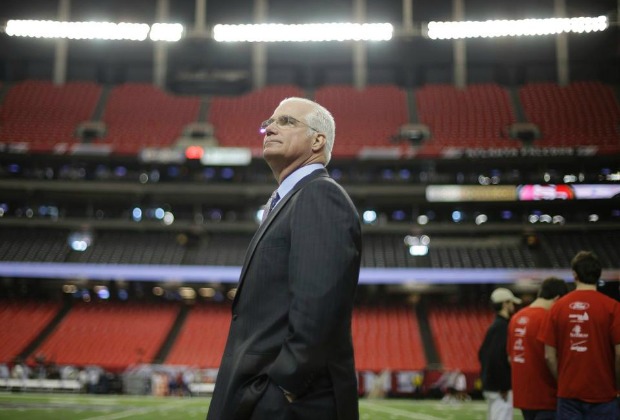 Jimmy Cribb/atlantafalcons.com
It has been over 24 hours and it still hurts.
With the Falcons losing to the 49ers in the NFC Championship on Sunday, the players had to clean out their lockers on Monday and will now rest and relax before their off season program which begins on the week of April 24.
Falcons heads coach Mike Smith had his final press conference of the 2012 season on Monday and mentioned that the final meeting with the team for the season is always a difficult task.
"It's always a tough meeting because that's a group of guys that we put together back in April of last year," Smith said. "We know that won't be the same group that starts in April of this year. There will be changes."
What changes will be made is uncertain because the Falcons can't do anything right now in terms of signing or drafting players. However, the coaching staff can evaluate the current players they have as well as look at the talent on the college level, which is why Smith is heading to Mobile from Tuesday to Wednesday to take a look at the players at the Senior Bowl.
Smith is ready to move forward and gear up for the 2013 season but he also had to take a look back at the 2012 season had to let everyone know that even though they accomplished a lot this season, they wanted to do more.
"It was not our goal this year just to win a playoff game, Smith said. "Our expectations were much higher than that. I think it was a very good learning experience this entire season for us as a football team. It allows us to take some of the good and some of the bad that took place this season and prepare ourselves for another season in 2013.
One of the things the Falcons hope in 2013 is that quarterback Matt Ryan is healthy. In the game on Sunday, Ryan injured his non-throwing shoulder, but was able to finish the game.
"Matt has a sprained left shoulder," Smith said. "If we had the outcome that we wanted last night, he would have participated in the game in New Orleans and he will not be playing in the Pro Bowl."
Later in the press conference, Smith said that Ryan is one of the guys this season that has made great strides this season.
"I think Matt had an outstanding season," Smith said. "The numbers speak for themselves."
Ryan finished the season with over 4,700 yards and 32 touchdowns which are team records.
But Smith also mentioned another player that made Ryan's season a lot sweeter.
"I thought Julio [Jones] took a gigantic step in his maturation process," Smith added. "I thought both of those guys did a really nice job for us this year."
Another played that stood out according to Smith was linebacker Sean Weatherspoon who spoke to the media after Smith. Weatherspoon was still upset, but knows that this team has the ability to make another run next season.
"We have a lot of great players on this team," Weatherspoon said. "The main thing now is to try to keep that cohesiveness, move forward and just work harder in the offseason."
One of the other things that both Weatherspoon and Smith addressed is the future of Tony Gonzalez who likely played his last game on Sunday. Both Weatherspoon thinks differently.
"I think he's coming back," he said laughing. "If we had a bad year, I think he wouldn't come back. But we had a great year, so I think we're right there."
Smith said that he will sit down with Gonzalez in a few weeks to see what his next move is. Smith did not want to do it right way because of the emotions that took place on Sunday.