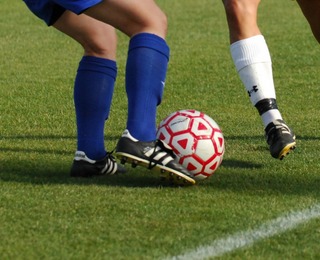 Sonny Kennedy
After losing nine seniors last year, the Southeast Whitfield Pirates (14-1, 10-0 7-AAA) started the season with a young team in what many believed would be a rebuilding season. However, the Pirates have found success this season and enter the state tournament as the top-ranked team in AAA (according to Eurosportscoreboard.com).
Success with a young team with is improbable in every level of athletics, but coach Jamison Griffin's Pirates are an exception. Southeast Whitfield returned three seniors from last year's team this year, two of which were starters. This left Griffin to turn to his young talent for help and led to the starting of two freshmen and two sophomores. These young starters were raw and in need of advice, so they sought out their older teammates. The upperclassmen were more than willing to take a leadership role on the team, a message that their coach has preached throughout the season.
"Every year, we create a theme for the year" said the coach. "This year's is taking the initiative to lead." The seniors have taken the theme to heart and the coach believes it has played an integral role in their success. "The seniors want to end on a good note and it has shown."
One of the seniors who has played a large role in his team's winning ways is a transfer student from North Carolina, Edgar Rodriguez. "He is a table-setter with a great vision and even better touch" said Griffin of his midfielder. The other seniors on the team are Christian Lopez and Edgar Cruz.
While these three players are starters for the Pirates, they also have something else in common. Each of the seniors has the opportunity to play soccer at the collegiate level. Lopez has already signed a scholarship with Tennessee Wesleyan College and the other two seniors are receiving interest from schools as well.
Southeast Whitfield did not used to be a school that sent players to college, but this trend started when Griffin made a change in his coaching style four years ago. "I realized that there is a deeper sense of purpose in what I'm doing" said the coach. "There is more purpose in getting a college scholarship than kicking a ball in a net."
The policy at Southeast Whitfield is to focus on academics in the offseason to allow for less distractions during the season. This bodes well for the Pirates as they begin state tournament play this week. Griffin believes his young team will do well, but their inexperience could lead to their downfall. "They are young and can make mistakes but if they are prepared, we can beat anyone."