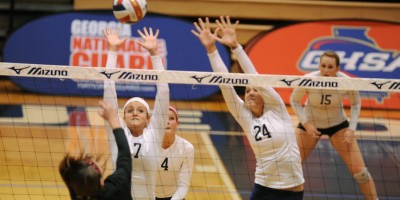 McIntosh defeated crosstown rival Starr's Mill 3-0 Tuesday in what the teams have dubbed 'The Battle of the Bubble'. Both programs are ranked in Class 5A — McIntosh at No. 3 and Starr's Mill at No. 8.
McIntosh won 25-21 in the first set, 25-19 in the second and 25-12 in the third to seal the victory. Jay Collins led McIntosh with 15 kills, three blocks and two aces. Alexa Markley had 14 kills, two aces and a block.
See the rest of the scores below.
Softball
Appling County 10, Long County 0
Appling County 6, Pinewood 1
Bowdon 7, Drew Charter 0
Brooks County 3, Clinch County 1
Bryan County 10, Metter 1
Colquitt County 4, Lanier County 0
Crisp County 4, Upson-Lee 3
Elbert County 2, Social Circle 0
Gilmer 15, West Hall 2
Harlem 9, Thomson 0
Irwin County 18, Brookwood School, GA 3
Jackson 11, Jasper County/Monticello 3
Jeff Davis 4, Coffee 2
Johnson County 5, Glascock County 4
LaGrange 5, Callaway 4
Lakeside-DeKalb 18, Morrow 1
Lakeside-DeKalb 3, Arabia Mountain 2
Montgomery County 16, Claxton 4
Mt. de Sales 14, St. Vincents 2
North Springs 11, Woodward Academy 5
Pace Academy 21, McNair 0
Perry 12, Rutland 0
Pierce County 11, Long County 0
Pierce County 6, Brantley County 4
Prince Avenue 16, Providence Christian 0
Seminole County 9, Webster County 4
Statesboro 12, Brunswick 3
Thomson 6, Lakeside-Evans 5
Toombs County 4, Tattnall County 3
Vidalia 12, Swainsboro 0
Villa Rica 19, Jackson-Atlanta 0
West Forsyth 6, Forsyth Central 1
Wilcox County 9, Worth County 1
Volleyball
Banneker 2, Therrell 0
Bremen 3, Lithia Springs 0
Brookwood 2, Lakeside-DeKalb 0
Centennial 2, Cambridge 0
Central-Carroll 3, Villa Rica 0
Creekview 2, Riverwood 0
Davidson Fine Arts 2, Augusta Christian 0
Davidson Fine Arts 2, Westside-Augusta 0
Eagle's Landing Christian 2, Paideia 0
East Paulding 2, Adairsville 1
Fayette County 2, Spalding 0
Fayette County 2, Westlake 0
Gainesville 2, Clarke Central 0
Gainesville 2, Jackson County 0
Glynn Academy 2, Richmond Hill 0
Habersham Central 2, Banks County 0
Habersham Central 2, Westminster Christian Academy 0
Hart County 2, East Jackson 0
Hebron Christian 3, Jefferson 0
Hilton Head Christian 3, St. Vincents 0
Jackson County 2, Clarke Central 0
Jackson-Atlanta 2, Carver-Atlanta 0
Johnson-Augusta 2, Washington County 0
Loganville 2, Collins Hill 0
Loganville 2, Lanier 0
Murray County 3, Trion 0
Oconee County 2, Hart County 0
Richmond Hill 2, Brunswick 0
Southeast Bulloch 2, Toombs County 0
Spencer 2, Taylor County 0
Tallulah Falls 3, Rabun County 0
Tift County 3, Brooks County 0
Trinity Christian 3, Dutchtown 0
Union County 2, Gilmer 1
Upson-Lee 3, Griffin 0
Washington County 2, Laney 0
West Laurens 3, Dublin 0