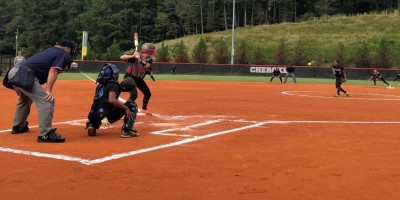 Softball and volleyball took center stage on Saturday and in the GADC Leadoff Softball Classic at East Coweta, the top-ranked Indians won two games to move to 3-0 on the season.
In the first game, East Coweta beat North Paulding 7-0 following rain delays. Against Tattnall Square Academy in the second game, East Coweta defeated the No. 4-ranked Class A-Private program 4-2. East Coweta will host Pebblebrook on Tuesday.
North Gwinnett won two games on Saturday in the 'Rumble at the Ridge' at Peachtree Ridge High School. The Bulldogs, ranked No. 2 in the state's highest classification, defeated Social Circle 14-4 and then held No. 3 Grayson scoreless in a 4-0 victory. The Bulldogs moved to 4-0 on the season after Saturday's games, following victories over Lambert 12-0 on Thursday and Norcross 14-0 on Friday, both games in the Peachtree Ridge event. North Gwinnett has allowed just four runs this season while plating 44.
The Bulldogs, three seasons removed from the program's lone state championship, will host Collins Hill on Tuesday.
See the scores below
Softball
Adairsville 3, Christian Heritage 0
Bryan County 14, Valdosta 0
Bryan County 16, Valdosta 0
Buford 5, Parkview 3
Buford 5, Parkview 3
Cass 6, Gordon Central 4
Cedartown 10, North Murray 2
Cedartown 13, Cass 12
Coahulla Creek 10, Sprayberry 1
Coahulla Creek 5, Woodland-Cartersville 2
East Coweta 4, Tattnall Square 2
East Coweta 7, North Paulding 0
Habersham Central 11, Prince Avenue 6
Harlem 4, Bleckley County 2
Lovett 5, Marist 0
Marion County 15, Hardaway 0
North Gwinnett 14, Social Circle 4
North Gwinnett 4, Grayson 0
Pace Academy 9, Christian Brothers, TN 3
Parkview 5, Mountain View 3
South Forsyth 6, Mill Creek 5
Upson-Lee 5, Woodland-Stockbridge 3
West Forsyth 7, Creekview 5
West Forsyth 7, Creekview 5
Woodland-Cartersville 5, Sprayberry 1
Volleyball
Apalachee 2, Dacula 1
Athens Academy 2, Dacula 1
Brookwood 2, Loganville Christian 0
Brookwood 2, Winder-Barrow 1
Dacula 2, Archer 0
Dacula 2, West Forsyth 0
Eagle's Landing Christian 2, St. Vincents 0
Gainesville 2, Lanier 0
Gainesville 2, Providence Christian 0
Gainesville 2, Stephens County 0
Hebron Christian 2, Eagle's Landing Christian 1
Hebron Christian 2, Trinity Christian 0
Lakeview Academy 2, Brookwood 1
Lanier 2, Stephens County 0
Marietta 2, Columbus 0
McIntosh 2, Whitewater 0
Morgan County 2, Brookwood 0
North Cobb 2, Loganville 0
North Forsyth 2, Chapel Hill 0
North Forsyth 2, Dalton 0
North Forsyth 2, North Hall 0
North Forsyth 2, The Habersham School 0
North Gwinnett 2, Gainesville 0
North Gwinnett 2, Providence Christian 0
North Gwinnett 2, Stephens County 0
North Hall 2, Chapel Hill 0
Parkview 2, Loganville 0
Parkview 2, Tallulah Falls 1
Pickens 2, Temple 0
Pope 2, North Paulding 0
Pope 2, Northside-Columbus 0
Pope 2, Woodstock 0
Savannah Christian 2, Mt. Paran Christian 1
Sequoyah 2, South Forsyth 0
Sonoraville 2, Pickens 1
South Forsyth 2, Columbus 0
South Forsyth 2, Marietta 0
St. Pius X 2, Parkview 0
Whitewater 2, East Coweta 1