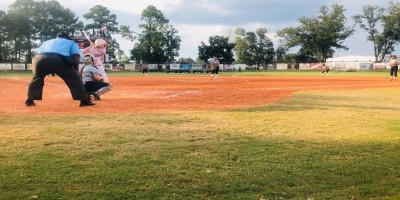 Northside-Warner Robins Softball Twitter; Gregg Ruffin
Mahoganey Johnson's two-run home run in the fifth inning put the Class AA No. 6 Indians up 3-1 over No. 8 Bacon County on Tuesday. The Indians hung on for the 3-2 victory over the Raiders, which moved Vidalia to 15-3 on the season and 10-0 in 2-AA region play.
On the volleyball court, Class AAAAAAA No. 3 Etowah defeated No. 4 Roswell in three sets. The Eagles won the first two sets 25-16 and the third set 25-17. Class AAAA No. 8 Woodward defeated Luella 2-0 on the evening The War Eagles won sets 25-18 and 25-10.
See the rest of the scores below.
Softball
Apalachee 3, Habersham Central 0
Banks County 1, Union County 0
Brooks County 6, Thomasville 0
Brookstone 4, Hawkinsville 3
Burke County 18, Richmond Academy 0
Central-Carroll 7, Cedartown 3
Central-Macon 22, Southwest 4
Charlton County 13, Echols County 4
Chattahoochee County 14, Quitman County 1
Chestatee 18, West Hall 2
Colquitt County 10, Thomas County Central 2
Columbus 9, Shaw 0
Crawford County 10, Taylor County 2
Dougherty 12, Hardaway 3
Dunwoody 13, Centennial 1
East Laurens 8, Washington County 4
George Walton Academy 2, Hebron Christian 0
Grayson 13, Shiloh 1
Haralson County 12, Bremen 0
Islands 12, Windsor Forest 0
Jackson County 11, Monroe Area 2
Lanier County 8, Atkinson County 0
Lincoln County 5, Glascock County 1
McIntosh County Academy 20, Savannah Christian 12
Newton 29, South Gwinnett 1
Northside-Columbus 15, Americus-Sumter 0
Northview 13, Johns Creek 4
Northwest Whitfield 10, Southeast Whitfield 5
Oconee County 12, North Oconee 4
Rabun County 3, Elbert County 2
Ringgold 9, Lakeview-Fort Oglethorpe 5
Rockmart 13, Gordon Central 0
Schley County 15, Manchester 2
Sequoyah 8, Dalton 0
Statesboro 7, New Hampstead 2
Stratford Academy 5, Mt. de Sales 0
Tattnall Square 12, First Presbyterian 1
Telfair County 12, Wilcox County 4
Upson-Lee 9, Howard 5
Veterans 2, Wayne County 0
Vidalia 3, Bacon County 2
Ware County 3, South Effingham 1
Volleyball
Apalachee 2, Dacula 0
Arabia Mountain 2, Clarkston 0
Arabia Mountain 2, Miller Grove 0
Athens Academy 2, George Walton Academy 0
Athens Academy 2, Grayson 0
Blessed Trinity 2, Flowery Branch 0
Cedartown 2, LaGrange 0
Centennial 2, Northview 0
Centennial 2, Pope 0
Chamblee 2, Lithonia 0
Clarkston 2, Miller Grove 0
Coosa 2, Bremen 0
Coosa 2, Pepperell 0
Denmark 2, Flowery Branch 1
Douglas County 2, Langston Hughes 0
Eastside 2, Druid Hills 1
Eastside 2, McDonough 0
Etowah 3, Roswell 0
Fellowship Christian 2, Greenforest 0
First Presbyterian 2, St. Anne Pacelli 0
Gainesville 2, Dacula 0
Gainesville 2, Lanier 0
Glynn Academy 2, Bradwell Institute 0
Glynn Academy 2, Windsor Forest 0
Gordon Lee 3, Chattooga 0
Habersham Central 2, Lanier 0
Habersham Central 2, Winder-Barrow 0
Hardaway 2, Eufala, Ala. 0
Hart County 2, Rabun County 1
Hart County 2, Stephens County 0
Hebron Christian 2, Archer 0
Hebron Christian 2, Providence Christian 0
Hillgrove 3, North Cobb 1
Jackson County 2, Chestatee 0
Jackson County 2, East Jackson 0
Jefferson 2, Tallulah Falls 0
Kell 2, Cass 0
Kell 2, Rome 0
Lakeside-Evans 2, Grovetown 1
Lambert 3, South Forsyth 0
Landmark Christian 2, Eagle's Landing Christian 0
Loganville 2, Jackson 0
Loganville 2, North Oconee 0
Morrow 2, Drew 1
Morrow 2, M. L. King 0
Newnan 3, Westlake 1
Norcross 2, Brookwood 0
Norcross 2, Lakeside-DeKalb 0
Northgate 2, Creekside 0
Northgate 2, New Manchester 0
Oak Mountain Aca. 2, Haralson County 0
Peachtree Ridge 2, North Gwinnett 1
Pope 2, Northview 0
Sandy Creek 2, Cedartown 1
Sandy Creek 2, Central-Carroll 0
South Paulding 2, Douglas County 0
Southeast Bulloch 2, Groves 0
Southeast Bulloch 2, Memorial Day 0
Spencer 2, Central-Talbotton 1
St. Anne Pacelli 2, Stratford Academy 0
Trinity Christian 2, Eagle's Landing Christian 0
Upson-Lee 2, Kendrick 0
Walker 3, Whitefield Academy 0
Woodville-Tompkins 2, Toombs County 0
Woodville-Tompkins 2, Vidalia 1
Woodward Academy 2, Luella 0