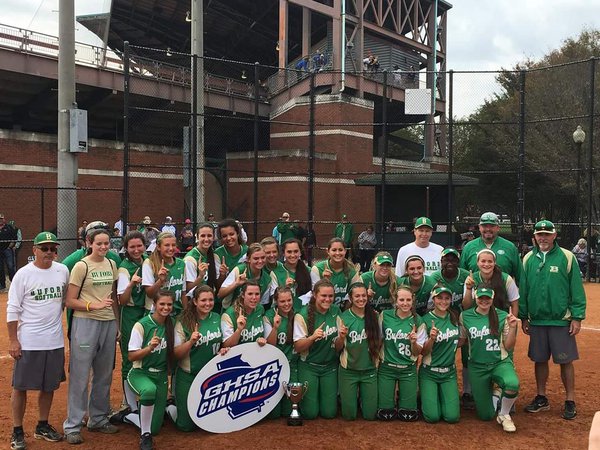 Mill Creek secured a 5-2 victory over Brookwood for the school's second softball title (2008). After a scoreless first three innings, Micayah Rood plated the Hawks first run with an RBI triple. An insurance run in the sixth inning and an inside the park homerun in the seventh by Hannah Adams extended the Hawks lead to 5-0. The Broncos threatened with two runs in last half inning, but their comeback fell short.
Class AAAAA
Chapel Hill claimed its first title in school history after defeating Houston County 2-1. The Panthers finished their season behind pitcher Ashley Morgan's four-hit, complete-game. Chapel Hill got on the board when Morgan singled home Shelby Robinson. They scored once more in the inning on a fielder's choice by Bella CariCari. Houston County scored their lone run in the fourth inning when Emily Simmons crossed the plate on an error.
Class AAAA
The Buford Wolves finished off Walnut Grove 6-4 to claim their unprecedented ninth straight softball state title. With the scored tied 1-1 in the third inning, Drew Puckett hit a two-run home to give Buford a 3-1 lead. Walnut Grove's Kylee Love hit a three run homerun in the fifth inning to cut the lead to 5-4. Puckett added insurance on an RBI single in the sixth inning before Logan Caymol closed it out for the Wolves on the mound in the seventh.
Class AAA
Calhoun defeated Morgan County 1-0 for its third straight state title. This came after Morgan County forced a decisive Game 2 with a 7-5 win over the Yellow Jackets. Calhoun pitcher Kinsey Liscio threw a complete-game shutout. Jana Johns' solo homerun in the bottom of the third inning proved to be the game-winner.
Class AA
Gordon Lee exploded for nine runs in the top half of the seventh inning to defeat Vidalia 13-1. Bailey Miller batted in a run, Faith Alexander scored on a wild pitch and Gracey Kruse doubled to give Gordon Lee its early 3-0 lead. Miller added another RBI single in the top of the fifth before the nine-run explosion two innings later. The win gives the Lady Trojans their sixth softball state championship.
Class A-Private
Eagle's Landing Christian cruised past Stratford Academy 8-0 for the program's sixth state championship. Pitcher Chanel Newcomer threw a complete game, one-hit shutout. Leading 4-0, the Chargers busted out four runs in the fifth inning. Abigail Rogers went 3-fot-3 with three RBI's and two runs scored, while Brooke Echols and Caris Wright collected two hits each.
Class A-Public
Georgia Military College took care of Trion 4-2 en route to their second straight Class A-Public state championship. The Bulldogs cruised through the championship bracket by beating Echols County 2-1, Wilcox County 7-0, and Trion 5-2 before defeating Trion again in the clinching game.