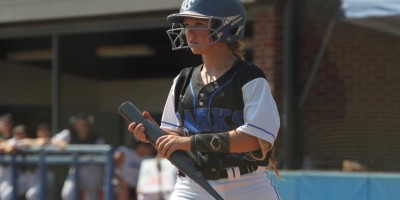 The first round of the GHSA softball playoffs began across the state on Tuesday with a best-of-three double-header series. To see the brackets, follow the link.
In Class AAAAA, Kell the No. 4 seed from Region 7, swept the series against Arabia Mountain, the No. 1 seed from Region 5, with victories of 7-1 and 6-3. In the first game, the Longhorns did all the scoring in two innings and held on to win.  It scored five runs in the top of the second inning and two runs in the top of the fifth to take the game. Four players had RBIs for Kell including three with two RBIs each. Brooke Smith was 1-for-4 with two RBIs. Jodi Inglis was 1-for-3 with two RBIs. Cassidy Dicus was 1-for-4 with two RBIs. Savannah Markt was 1-for-4 with one RBI. Mia DeAngelis pitched seven innings and struck out half of the 24 batters she faced while allowing just one run. In the second game, Kell scored one run in the top of the third inning and four runs in the top of the fourth inning to take a 5-0 lead. Arabia Mountain responded with two runs in the bottom of the fourth inning to cut into the lead but the game was out of reach. DeAngelis pitched another full game, faced 33 batters and struck out nine. Markt was 2-for-3 with two RBIs. DeAngelis was 2-for-3 with an RBI. Inglis was 2-for-3 with an RBI. Kate Halfon was 1-for-2 with an RBI to lead Kell.
Volleyball region tournaments also kicked off on Tuesday as teams began jockeying for playoff positioning in the state tournament, which begins with the first round on Oct. 19 for all classes.
In the state's highest classification, No. 4 Norcross beat Lakeside-DeKalb in five sets, 3-2, in the 7-AAAAAA tournament semifinal. Lakeside won the first set 25-22. Norcross rebounded with a 25-13 victory in the second set. The Vikings responded with a 25-22 victory in the third set. In the fourth set, Norcross returned with a 25-18 victory. In the fifth set, the Blue Devils won 15-5.
See the rest of the scores below.
Softball
Alexander 11, Dunwoody 0
Alexander 15, Dunwoody 1
Bacon County 12, Jefferson County 4
Bacon County 14, Jefferson County 5
Berrien 11, Washington County 7
Berrien 19, Washington County 4
Bleckley County 8, Thomasville 3
Bremen 9, Dade County 1
Brooks County 3, East Laurens 0
Brookstone 18, Galloway School 3
Brookstone 9, Galloway School 0
Buford 16, Riverwood 1
Buford 17, Riverwood 0
Burke County 17, Shaw 2
Cairo 16, Cross Creek 0
Cairo 8, Cross Creek 0
Carrollton 10, Miller Grove 1
Carrollton 15, Miller Grove 0
Cedartown 14, Flowery Branch 4
Central-Carroll 12, Blessed Trinity 3
Central-Carroll 12, Blessed Trinity 3
Coffee 16, Greenbrier 1
Columbus 11, Thomson 0
Columbus 5, Thomson 4
Dade County 5, Bremen 0
Denmark 4, LaGrange 2
Dodge County 10, Fitzgerald 0
Dodge County 14, Fitzgerald 4
East Laurens 2, Brooks County 1
East Paulding 23, Southwest DeKalb 8
East Paulding 9, Southwest DeKalb 1
Eastside 10, Upson-Lee 0
Eastside 12, Upson-Lee 0
Effingham County 17, Lovejoy 0
Effingham County 22, Lovejoy 0
Evans 12, Northside-Warner Robins 0
Evans 8, Northside-Warner Robins 0
Flowery Branch 3, Cedartown 1
Greenbrier 9, Coffee 6
Harlem 12, Toombs County 2
Harlem 13, Toombs County 0
Harris County 13, Griffin 0
Harris County 14, Griffin 0
Harrison 7, Apalachee 3
Heard County 11, Pepperell 1
Heard County 7, Pepperell 2
Heritage-Catoosa 15, St. Pius X 0
Heritage-Catoosa 16, St. Pius X 3
Houston County 15, Heritage-Conyers 1
Houston County 9, Heritage-Conyers 1
Jeff Davis 9, Screven County 0
Jeff Davis 9, Screven County 1
Jones County 6, Wayne County 2
Jones County 8, Wayne County 5
Kell 6, Arabia Mountain 3
Kell 7, Arabia Mountain 1
LaFayette 8, Stephens County 0
LaFayette 9, Stephens County 1
LaGrange 7, Denmark 0
Lamar County 6, Chattooga 0
Lamar County 6, Chattooga 3
Lee County 2, Lakeside-Evans 1
Lee County 4, Lakeside-Evans 0
Lithia Springs 17, Clarke Central 2
Lithia Springs 8, Clarke Central 0
Locust Grove 4, South Effingham 3
Locust Grove 7, South Effingham 0
Madison County 7, Gilmer 3
Madison County 9, Gilmer 1
Marist 10, Chapel Hill 2
Marist 11, Chapel Hill 2
Monticello 7, Washington 0
Monticello 7, Washington 0
Norcross 3, Lambert 2
Norcross 8, Lambert 6
Northgate 7, Alpharetta 0
Northside-Columbus 15, Baldwin 0
Ola 3, Ware County 1
Perry 10, Woodward Academy 2
Perry 9, Woodward Academy 0
Rabun County 7, South Atlanta 0
Rabun County 7, South Atlanta 0
River Ridge 12, Winder-Barrow 0
River Ridge 8, Winder-Barrow 0
Rockmart 12, Callaway 0
Rockmart 19, Callaway 1
Shaw 9, Burke County 2
South Paulding 11, Cambridge 7
South Paulding 2, Cambridge 0
Starr's Mill 10, Thomas County Central 5
Starr's Mill 10, Thomas County Central 7
Statesboro 3, Union Grove 0
Thomasville 9, Bleckley County 8
Union County 17, Therrell 0
Union County 22, Therrell 0
Union Grove 1, Statesboro 0
Veterans 16, McIntosh 4
Veterans 8, McIntosh 0
Vidalia 10, Westside-Augusta 0
Vidalia 20, Westside-Augusta 0
Walnut Grove 12, Decatur 0
Walnut Grove 12, Decatur 0
Ware County 5, Ola 4
West Laurens 13, Luella 0
West Laurens 15, Luella 0
Whitewater 11, Bainbridge 0
Whitewater 8, Bainbridge 0
Woodland-Cartersville 2, Chamblee 1
Woodland-Cartersville 5, Chamblee 1
Volleyball
Adairsville 2, Pickens 0
Allatoona 2, Creekview 0
Alpharetta 2, Chattahoochee 0
Alpharetta 2, Johns Creek 0
Arabia Mountain 2, Clarkston 0
Athens Academy 3, Apalachee 0
Blessed Trinity 2, West Hall 0
Brookwood 3, Parkview 2
Chamblee 2, Arabia Mountain 0
Columbus 2, Shaw 0
Eagle's Landing Christian 2, Landmark Christian 0
Eagle's Landing Christian 2, SW Atlanta Christian 0
East Coweta 3, Westlake 0
Eastside 2, Salem 0
Fellowship Christian 2, St. Francis 0
Gainesville 2, Dawson County 0
Gordon Lee 3, Ridgeland 0
Grovetown 3, Statesboro 2
Harlem 2, Davidson Fine Arts 0
Harris County 2, Auburn, AL 0
Harris County 2, St. James 0
Harrison 2, South Cobb 0
Hephzibah 2, Butler 1
Josey 2, Glenn Hills 0
Lake Oconee Academy 3, Putnam County 0
Loganville 2, Walnut Grove 1
Mountain View 2, Duluth 0
Mt. Pisgah Christian 2, King's Ridge 0
Mt. Pisgah Christian 2, Mt. Paran Christian 0
Mt. Pisgah Christian 2, Pinecrest Academy 0
Newnan 3, Campbell 0
North Gwinnett 2, Mountain View 0
Oconee County 3, North Oconee 2
Prince Avenue 3, Monroe Area 0
Roswell 3, Woodstock 0
Sequoyah 2, Sprayberry 0
Shaw 2, Americus-Sumter 0
Shaw 2, Carver-Columbus 0
St. Andrews 2, Jenkins 0
St. Andrews 2, Johnson-Savannah 0
St. Anne Pacelli 3, Tattnall Square 1