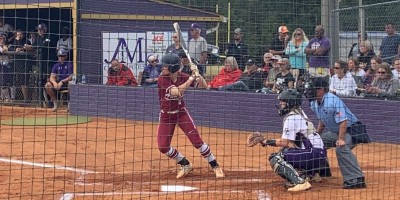 After a rain-soaked Tuesday, the GHSA Softball playoffs continued Wednesday with best-of-three series kicking off across the state. For Buford's senior pitcher Ansleigh Hollifield, it was a memorable night as she struck out a career-high 16 batters in a perfect 7-inning game to lead the Wolves to a 5-0 victory over Ola in the first game of the night.
Hollifield not only stymied the Mustang offense by allowing no hits with no walks, she also went 3-for-3 from the plate with two doubles, a solo home run and two RBIs with one run scored. The Wolves scored one run in the bottom of the first and second innings and two runs in the bottom of the third inning to lead 4-0. Buford added the final run in the bottom of the fifth inning on a single from Taylor Malvin which scored Abby Cochran. Senior Anabel Adams was 1-for-3 with a solo homerun with an RBI and one run scored. Junior Abbi Perkins was 1-for-2 with a double and an RBI. Sophomore Taylor Malvin was 1-for-3 with an RBI. The Wolves won the second game 11-0 to advance to Columbus.
In the Class AAA bracket, top-ranked Ringgold earned its ticket to Columbus with a sweep of Tattnall County 8-0, 14-0. The Tigers got RBIs from five players in its 8-0 victory in the first game. Ringgold scored four runs in the bottom of the first inning and two each in the bottom of the third and sixth innings to end it. Ava Raby was 1-for-3 with two RBIs. Addi Broome was 1-for-3 with two RBIs. Riley Nayadley, Jade Gainer and Taylor Layne each had one RBI. Kaylee Phillips pitched a complete game, faced 21 batters and struck out four of them while allowing just two hits. In the second game, Ringgold scored nine runs in the bottom of the sixth inning to end it.
In Class AAAA, No. 5 Marist advanced to Columbus after a sweep of Cairo 2-1 and 4-0. The War Eagles won the first game on a walk-off sac-fly RBI from Lexi Van Metre which scored Kate Euart. Van Metre also pitched all seven innings in the two-hitter victory.
See the rest of the scores below.
Tuesday scores
Harlem 10, Rabun County 6
Harlem 6, Rabun County 5
Heritage-Catoosa 1, Eastside 0
Heritage-Catoosa 2, Eastside 0
Wednesday scores
Apalachee 4, Effingham County 1
Banks County 6, Bacon County 0
Banks County 8, Bacon County 0
Buford 11, Ola 0
Buford 5, Ola 0
Calhoun 9, Rutland 1
Calhoun 9, Rutland 2
Carrollton 5, Veterans 2
Carrollton 8, Veterans 1
Central-Carroll 17, Columbus 2
Central-Carroll 6, Columbus 2
Christian Heritage 2, George Walton Academy 1
Colquitt County 1, Norcross 0
Colquitt County 9, Norcross 6
Commerce 13, Wilcox County 5
Commerce 14, Wilcox County 6
Creekview 14, Brunswick 0
Creekview 9, Brunswick 0
Dacula 4, Richmond Hill 0
Dacula 8, Richmond Hill 0
Eagle's Landing Christian 4, Brookstone 2
Eagle's Landing Christian 7, Brookstone 0
East Coweta 3, Mill Creek 1
East Coweta 8, Mill Creek 5
East Hall 11, Cook 2
East Hall 7, Cook 6
East Paulding 10, Harris County 2
Effingham County 5, Apalachee 2
Emanuel County Institute 11, Johnson County 1
Etowah 3, North Gwinnett 0
Etowah 3, North Gwinnett 1
Evans 2, Alexander 0
Evans 3, Alexander 2
Franklin County 12, Pierce County 4
Franklin County 5, Pierce County 4
George Walton Academy 2, Christian Heritage 0
Gordon Lee 10, Telfair County 0
Gordon Lee 11, Telfair County 0
Grayson 11, Lassiter 0
Hampton 3, LaFayette 2
Harris County 11, East Paulding 1
Heard County 18, Bleckley County 5
Heard County 9, Bleckley County 0
Hebron Christian 14, Mt. Vernon Presbyterian 6
Hebron Christian 19, Mt. Vernon Presbyterian 6
Hillgrove 7, North Forsyth 5
Jefferson 13, Brantley County 0
Jefferson 7, Brantley County 2
Johnson County 9, Emanuel County Institute 2
Jones County 16, Lithia Springs 2
Jones County 7, Lithia Springs 2
LaFayette 5, Hampton 4
LaGrange 8, Shaw 1
LaGrange 9, Shaw 0
Lanier County 16, Charlton County 14
Lanier County 5, Charlton County 1
Lassiter 3, Grayson 2
Locust Grove 13, Loganville 1
Locust Grove 8, Loganville 2
Lovett 12, Islands 3
Lovett 6, Islands 0
Lowndes 6, Parkview 5
Lumpkin County 4, Crisp County 2
Lumpkin County 5, Crisp County 3
Madison County 3, West Laurens 2
Madison County 7, West Laurens 0
Marion County 6, Hawkinsville 3
Marion County 7, Hawkinsville 2
Marist 2, Cairo 1
Marist 4, Cairo 0
Mountain View 10, Cherokee 5
Mountain View 8, Cherokee 7
Mt. de Sales 8, Prince Avenue 7
Mt. de Sales 9, Prince Avenue 6
Mt. Paran Christian 6, Strong Rock Christian 1
North Forsyth 13, Hillgrove 8
Northside-Columbus 12, Flowery Branch 2
Northside-Columbus 4, Flowery Branch 2
Parkview 9, Lowndes 6
Peachtree Ridge 8, South Forsyth 2
Pope 7, Houston County 1
Pope 8, Houston County 0
Ringgold 14, Tattnall County 0
Ringgold 8, Tattnall County 0
River Ridge 13, Glynn Academy 2
River Ridge 3, Glynn Academy 1
Rockmart 12, East Laurens 0
Rockmart 16, East Laurens 0
South Forsyth 3, Peachtree Ridge 1
Southeast Bulloch 16, Pace Academy 0
Southeast Bulloch 2, Pace Academy 0
Starr's Mill 16, Kell 0
Starr's Mill 4, Kell 1
Strong Rock Christian 9, Mt. Paran Christian 2
Tattnall Square 13, Landmark Christian 1
Tattnall Square 8, Landmark Christian 0
Trion 12, Academy For Classical Education 7
Trion 5, Academy For Classical Education 1
Union County 5, Vidalia 4
Vidalia 9, Union County 1
Wesleyan 12, Trinity Christian 0
Wesleyan 16, Trinity Christian 0
Whitewater 4, Woodland-Cartersville 1
Whitewater 8, Woodland-Cartersville 2