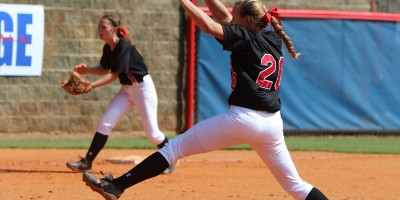 No. 1 North Gwinnett has cruised all season in Class AAAAAA behind its three-headed pitching monster consisting of seniors Kylee Smith, Rachel Smith and freshman Chandler Dennis. Combined they have gone 32-2 with a 0.95 ERA. Harrison poses a difficult task and entered the state tournament ranked No. 6. After an easy first round sweep of Colquitt County, it took the Lady Hoyas three games to beat No. 2 Cherokee in the second round. No. 8 Brookwood and No. 3 South Forsyth square off to face the winner of the Bulldogs and Hoyas. No. 3 East Coweta meets No. 5 Archer for the right to play the winner of Kennesaw Mountain and Mill Creek. East Coweta beat Collins Hill in the second round, 12-4 and 5-1 to advance. The Tigers of Archer defeated Collins Hill 7-6 in its regular season meeting.
A pair of No. 3 seeds crashed the party in AAAAA. Jones County upset the dominant pitching of No. 1 ranked Cambridge, winning in three games: 2-0, 0-7, 1-0. Cambridge finished the season 21-4 while allowing only 18 runs all season. The Greyhounds meet Allatoona, who comes off a two game sweep of No. 4 Woodland-Stockbridge. The winner will face whoever prevails from No. 8 Houston County and Northside-Columbus. Heavyweights clash in the bottom of the bracket with No. 2 Chapel Hill playing No. 3 Greenbrier. The Panthers slipped past Harris County in three games and in the process lost only their third game of the year. Ashley Morgan, Bella CariCari, Kira Morgan and Savannah Sikes are all impact players for Chapel Hill while Lauren Thompson is a dangerous slugger for the Wolfpack. No. 6 Heritage-Conyers meets Dalton after the Patriots beat No. 5 Union Grove in three and the Catamounts edged No. 9 Richmond Hill 3-2 in their series deciding game three.
In Class AAAA, No. 5 and defending state champ Buford has caught fire, winning 11 straight and allowing just one run in the playoffs. Buford ended Thomas County Central's season again with two low scoring shutouts in a rematch of last season's finals. The Wolves now face Wayne County who was able to escape a scrappy Ridgeland team in three games. North Oconee and Veterans play for the right to face the winner of the Buford matchup. Veterans upset No. 2 Gilmer in three games in round two. If North Oconee wins and so does Buford, the Region 8 foes will meet for a fourth time. The Titans have lost all three, 2-0, 6-3 and 5-4. No.1 Heritage-Catoosa meets No. 3 Walnut Grove while winners of nine straight, Worth County, does battle with West Laurens.
East Jackson draws No. 2 Calhoun in AAA with the winner playing either No. 6 Franklin County or No. 9 Blessed Trinity. No. 8 Morgan County is the hottest team in the tournament winning 11 straight. The Bulldogs meet third-seed Sonoraville for the opportunity to play the winner of No. 1 Ringgold and Central-Carrollton.
No. 3 Union County will attempt to cool off No. 1 Gordon Lee in AA. The Trojans have won 26 consecutive games and are the favorites to bring home their sixth title. No. 2 Vidalia faces a tough Heard County team that has peaked at the right time. The reigning state champion Braves have played a brutal schedule this season to ready them for the playoffs and are better than what their 20-10 record shows. Elsewhere in AA, No. 5 Bryan County plays No. 6 Seminole County while Social Circle and No. 4 Harlem play.
In A-Public, No. 3 Trion has emerged as a serious contender, winning 21 straight. Three teams from Region 2 remain with No. 1 Wilcox County, No. 5 Telfair County and No. 6 Echols County all alive. Wilcox will play Telfair for the third time this season. The Patriots of Wilcox have scored wins of 7-3 and 6-3. Echols plays No. 4 Georgia Military the defending champs.
The top seven teams of A-Private's top 10 are heading into the championship round. Calvary Day is the lone unranked team that snuck into the Elite Eight and will play No. 1 Brookstone. No. 2 Tattnall Square Academy plays No. 6 First Presbyterian for the right to play the winner of the Brookstone game. No. 4 Prince Avenue faces No. 7 Stratford Academy while No. 3 Christian Heritage draws defending two-time champ No. 5 Eagle's Landing Christian.