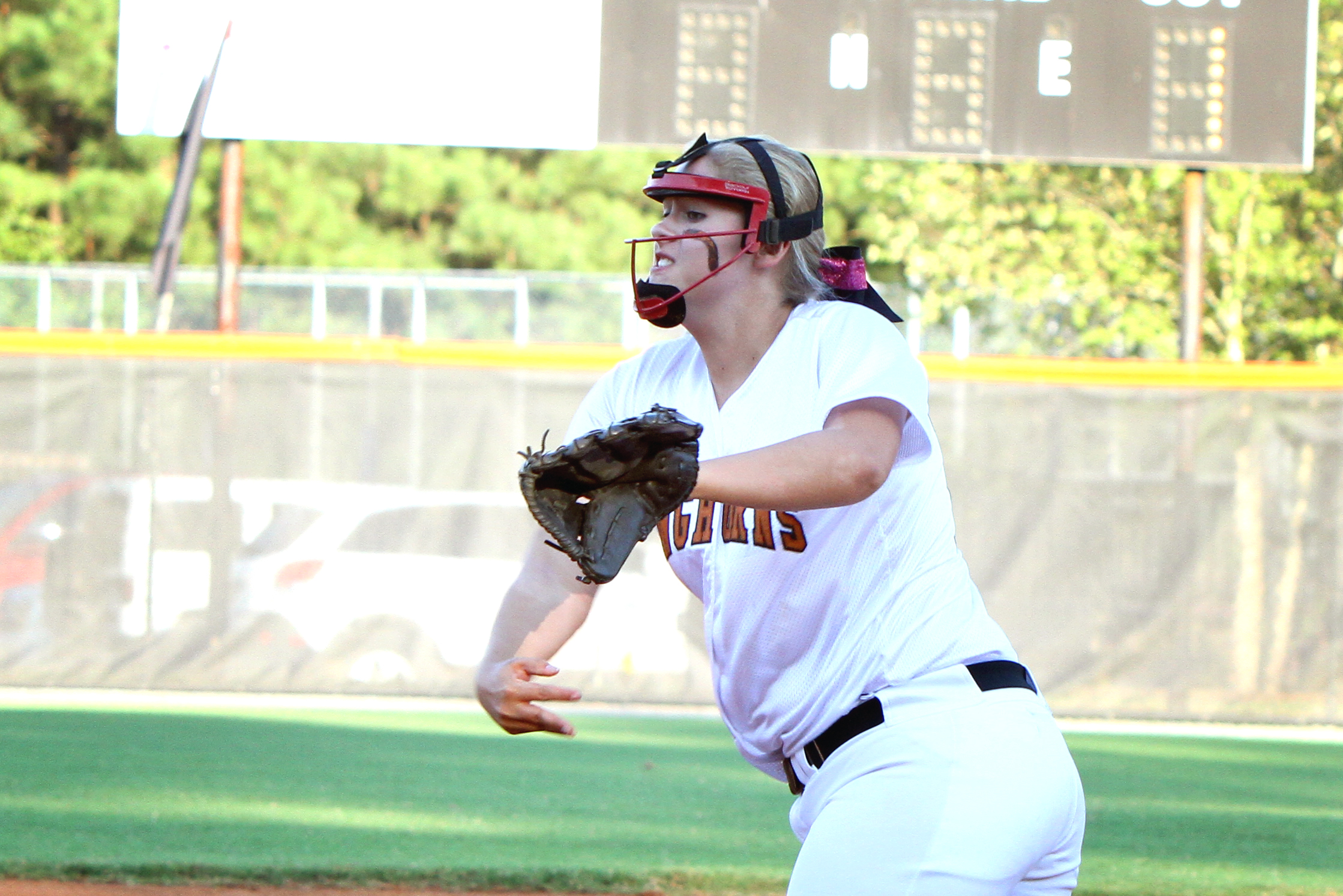 Photo by Deanna Fiveash
In Class AAAAAA, Lassiter climbed to second and Brookwood jumped to the third spot on the heels of consecutive no-hitters thrown by junior Amanda Ablan. North Cobb entered the rankings in part thanks to an upset of Harrison, which fell from second to fourth.
In Class AAAAA, Woodland-Henry is a new arrival in the top 10. Marist is back in the Class AAAA rankings after scoring wins last week over Holy Innocents' and Lovett. Carrollton also now finds itself ranked in Class AAAA after beating Whitewater and Sandy Creek—among others—last week. Blessed Trinity has scored 44 runs in its past three games and is up to sixth in Class AAA.
Movement in Class A-Public saw Charlton County surge into the chart at No. 6 on the strength of a 10-2 blowout of Telfair County. Echols County climbed to seventh, while struggling Telfair County plunged to No. 9.
Class AAAAAA
1. Collins Hill
2. Lassiter
3. Brookwood
4. Harrison
5. Kennesaw Mountain
6. Hillgrove
7. North Gwinnett
8. Archer
9. Pope
10. North Cobb
Class AAAAA
1. Ola
2. Northgate
3. Effingham County
4. Winder-Barrow
5. Creekview
6. Greenbrier
7. Woodland-Henry
8. Loganville
9. Houston County
10. South Effingham
Class AAAA
1. Buford
2. Northwest Whitfield
3. Heritage-Catoosa
4. Madison County
5. Walnut Grove
6. Perry
7. Whitewater
8. Wayne County
9. Marist
10. Carrollton
Class AAA
1. Central-Carrollton
2. Calhoun
3. Oconee County
4. Ringgold
5. Pierce County
6. Blessed Trinity
7. Rockmart
8. Dodge County
9. Franklin County
10. Jackson County
Class AA
1. Gordon Lee
2. Harlem
3. Heard County
4. Berrien County
5. Dade County
6. Wesleyan
7. Bremen
8. Jeff Davis
9. Lovett
10. Seminole County
Class A-Private
1. Prince Avenue Christian
2. ELCA
3. First Presbyterian Day
4. Mount Vernon Presbyterian
5. Brookstone
6. Strong Rock Christian
7. Savannah Christian
8. George Walton Academy
9. Athens Christian
10. Mount Pisgah Christian
Class A-Public
1. Georgia Military
2. Hawkinsville
3. Schley County
4. Commerce
5. Treutlen
6. Charlton County
7. Echols County
8. Mt. Zion-Carroll
9. Telfair County
10. Miller County