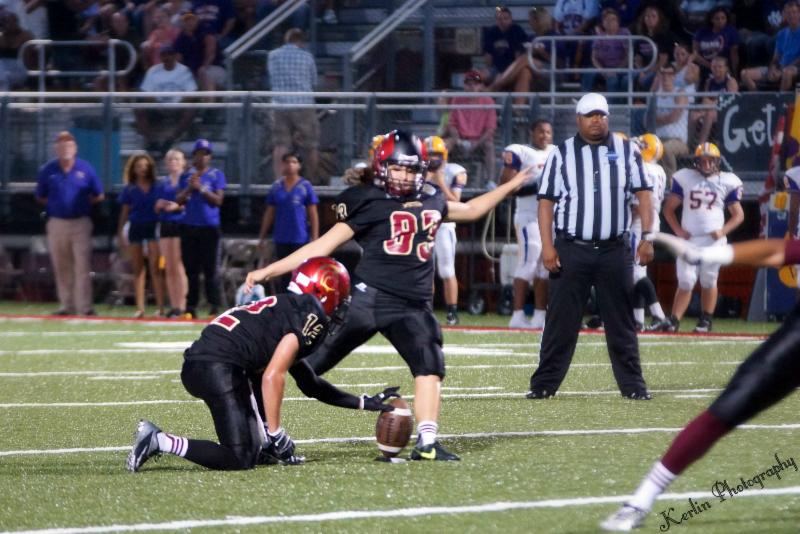 Photo by Deedra Kerlin
The Children's Healthcare of Atlanta Girl's Athlete of the Week is South Paulding High School's kicker, Brittany Havenner. The senior is 10-for-10 on PATs and 4-for-6 on field goals this season. The squad is 3-0 overall, which includes the Spartans' 24-14 triumph against their biggest rival, East Paulding, a couple weeks ago. In the win over the Raiders, Havenner was 3-for-3 on PATs and kicked a 27-yard field goal that gave the Spartans a 17-14 lead in the fourth quarter.
"She's handling all our kickoff duties now," said South Paulding head coach Ed Koester. "She's an extremely valuable member of our team and played a tremendous role in our success."
As for being the only girl on a high school football team, "She enjoys the fact that she has 95 big brothers," exclaimed Koester. "She does the same thing the boys do, she works hard, takes care of her position, doesn't ask any favors and doesn't expect any in return."
After kicking a total of 66 points last season and already racking up 22 points in the three games played this season, Havenner is off to a successful start.
"The kids have a lot of confidence in her. She goes on the field, and it's going to go through the uprights and we're going to score points," said Koester. "The kids love her, they work hard and they expect her to do her job just like she expects them to do theirs."
Coaching Havenner seems to be a great enjoyment for Koester. "She's just been a great pleasure to be around and always has a smile on her face, never complains, it's always just pleasant to see her," he said.
Koester said the game-winning field goal against Villa Rica in overtime earlier this season was a memorable one.
After having a bye week last week, the Spartans venture to Allatoona High School to take on the Buccaneers, who also remain undefeated.