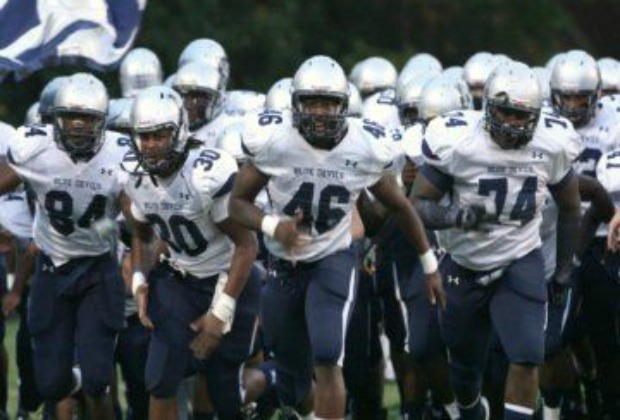 Norcross High School
Here are summaries of some of the biggest games around the southeast last night.
Norcross (Ga.) 27, Mill Creek (Ga.)13: Mill Creek took a 13-10 lead into the half, but host Norcross outscored the Hawks 17-0 after the intermission. Blake Bingham kicked two huge field goals and his second field goal gave the Blue Devils a 20-13 lead. On the ensuing kickoff, the Bingham brought down Mill Creek's DeVozea Felton in the open field to save a sure touchdown. Norcross running back Josh Boyd scored a 59-yard touchdown and finished with 110 total rushing yards. Quarterback A.J. Bush added a rushing and passing touchdown that was completed to Christopher Herndon in the win.
Ensworth (Tenn.) 28, McCallie (Tenn.) 14: Ensworth won its fifth game in a row and sent McCallie to its third consecutive loss. The host Tigers took a 14-7 lead at halftime after P.J. Settles connected with Jake Estes on a touchdown strike. They extended their advantage to the final winning margin thanks to a fourth-quarter scoring run by D'Andre Ferby. Ferby rushed 32 times for 213 yards and three touchdowns as Ensworth outgained McCallie 305 yards on the ground to McCallie's 189 rushing yards.
Callaway (Miss.) 12, Germantown (Miss.) 7: Visiting Germantown took a 7-0 lead into the half after a 5-yard rushing touchdown from Chester Lewis and held its lead until the final minute. Callaway's Jabari Woodcox scored on a 5-yard run in the second half, but the missed point after still gave Germantown a lead at 7-6. In the final minute, Callaway's Kendrick Catchings found Demingus Johnson for the game-winning 55-yard touchdown pass.
University (Fla.) 50, Boyd Anderson (Fla.) 0: Sean White tossed touchdown passes to Chris Taylor, Jarius Brown and Sam Bruce in the first half and Jordan Scarlett found the endzone on a 1-yard run to give host University a 28-0 lead. Sean White added a 40-yard touchdown pass to Lajuan Hunt and connected with Taylor for their second touchdown of the game in the Suns' shutout win
Goose Creek (S.C.) 35, Dutch Fork (S.C.) 21: Host Goose Creek accumulated 523 total yards of offense, including 460 on the ground to rally past Dutch Fork. Goose Creek trailed 21-20 at the half, and had a huge fourth down stop in the third quarter that shifted the momentum of the ball game. Dutch Fork quarterback Derek Olenchuck completed 34 of 45 for 361 yards and three scores, but were shutout in the second half.
Hoover (Ala.) 17, Vestavia Hills (Ala.) 7: Host Hoover held Vestavia Hills to 22 yards of offense in the first half and 86 total yards in its win. Hoover gained 345 yards on offense, but were just 8 for 19 passing for 122 yards although Hoover quarterback Jack Hutcheson found Justin Johnson for a huge 37-yard touchdown in the first half. Junior running back Bradrick Shaw gained 111 yards on just 15 carries and scored a third quarter touchdown. Vestavia Hills' only points came on a muffed punt by Hoover.