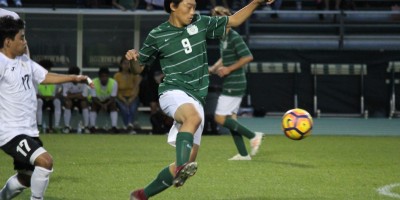 The quarterfinal rounds of the girls and boys State Soccer Championship began on Tuesday alongside the remainder of the boys and girls lacrosse quarterfinal matches.
In the state's highest classification, Parkview's girls defeated Lassiter 3-0 to advance to its semifinal match against North Gwinnett. The Panthers started the scoring early on a goal from sophomore Molly Hickman just 30 seconds into the match. Junior Kendra Davis pushed the lead to 2-0 just before the half and just a minute into the second half, Davis struck again on an assist from Hickman. The victory moved Parkview to 20-1 and extended its winning streak to nine matches.
See the rest of the playoff scores below.
Girls Soccer
Bremen 3, Screven County 0
Brookwood 2, Roswell 1
Columbus 6, Heritage-Catoosa 1
Dacula 6, Glynn Academy 0
Harrison 4, Houston County 2
Heritage-Conyers 4, Pope 1
Jefferson 4, Pike County 2
Johns Creek 4, Lakeside-Evans 0
Lovett 10, Southeast Bulloch 0
McIntosh 4, Decatur 1
Model 8, Harlem 3
North Gwinnett 3, Camden County 1
Parkview 3, Lassiter 0
Pinecrest Academy 4, Athens Academy 0
Riverwood 2, Warner Robins 1
St. Pius X 10, Northside-Columbus 0
Union County 7, St. Vincents 0
Vidalia 4, Lamar County 3
Wesleyan 3, Holy Innocents' 0
Westminster 9, Islands 0
Whitewater 3, Grady 0
Girls Lacrosse
Johns Creek 14, Cambridge 13
McIntosh 17, River Ridge 7
Mill Creek 16, Grayson 4
Milton 21, Centennial 8
Mountain View 11, Archer 5
North Paulding 18, Creekview 17
Roswell 9, North Gwinnett 7
Wesleyan 21, Grady 11
West Forsyth 11, Allatoona 2
Boys Lacrosse
Blessed Trinity 16, McIntosh 4
Buford 7, Pace Academy 5
Centennial 13, Roswell 10
Etowah 12, South Forsyth 6
Lambert 12, Allatoona 4
Lovett 15, Marist 8
Mill Creek 14, North Paulding 8
North Gwinnett 11, Milton 9
Starr's Mill 17, Benedictine 11
West Forsyth 10, Woodstock 5
Westminster 14, Wesleyan 4