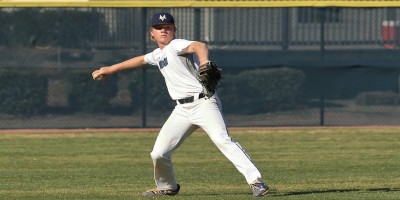 Photo By: Betsy Armstrong
The Class AAAAAA fifth-ranked Pope Greyhounds baseball team picked up their 18th win of the season following a 4-0 shutout over Class AAAAAAA second-ranked Walton.
After a scoreless first inning, Nate Shipley took a pitch deep for a solo homerun to put the Greyhounds on the board in the second. Three more scoreless innings rolled by, putting Jackson Browne at the plate with two runners on in the sixth. Browne connected on the swing, sending the ball over the fence for a three-run homer to give Pope a 4-0 lead that they would hold onto for the remainder of the game. Senior pitcher Max Praigo led the Greyhounds bullpen in the shutout, tossing 4 and 2/3 scoreless innings.
Saturday Spring Scores
Baseball
Alexander 8, East Paulding 4
Banks County 11, Shiloh 0
Banks County 8, Sandy Creek 5
Brookwood 8, Harrison 2
Butler 12, Deerfield-Windsor 2
Calvary Christian 8, Heard County 7
Calvary Day 10, Southeast Bulloch 4
Cartersville 3, Maryville, TN. 1
Creekview 9, Mt. Paran Christian 4
Decatur 7, Chestatee 4
Eagles Landing Christian 14, Stephenson 4
Eagles Landing Christian 2, Stephenson 1
Forsyth Central 7, Daniel, SC. 2
Harris County 5, Northgate 4
Heritage-Catoosa 15, Signal Mountain, Tenn. 9
Johns Creek 4, Cherokee 2
Kell 15, Marietta 2
King's Ridge 1, Holy Innocents' 0
Lakeland, FL. 8, Grayson 3
Locust Grove 5, Morgan County 3
Mt. Zion, Carroll 7, Langston Hughes 0
North Cobb Christian 8, St. Francis 2
Oxford, AL. 7, Bremen 2
Pope 4, Walton 0
Prince Avenue 10, North Atlanta 9
Prince Avenue 3, North Springs 0
Sandy Creek 3, Shiloh 0
Starr's Mill 4, Thomas County Central 0
Stockbridge 15, Lithonia 0
Tattnall Square 8, Dutchtown 0
Trion 10, Cedar Bluff, AL 1
Trion 11, Cedar Bluff, AL 0
Union Grove 12, Luella 2
Wesleyan 6, Decatur 5
Boys Soccer
Cardinal Newman, SC. 5, Denmark 1
Fairview, TN. 8, LaFayette 0
Mann, SC. 3, Peachtree Ridge 1
Mountain Brook, Ala. 2, Northwest Whitfield 1
St. Anne Pacelli 5, Mt. de Sales 1
Vestavia Hills 4, Mill Creek 1
Girls Soccer
Brookwood 2, Oak Mountain, AL. 0
Flowery Branch 5, Academic Magnet School 1
Mann, SC. 6, Peachtree Ridge 0
Mt. de Sales 4, St. Anne Pacelli 3
Parkview 6, Pope 1
Vestavia Hills 2, Mill Creek 0
Boys Lacrosse
Hough, NC. 18, Alpharetta 8
Mt. de Sales 12, Islands 3
Girls Lacrosse
Georgetown Visitation, DC. 17, Milton 7
Mt. de Sales 9, Savannah Christian 8