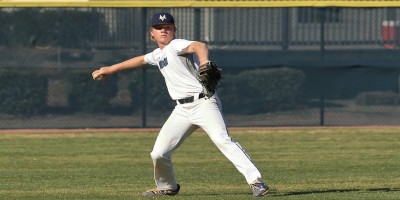 Photo By: Betsy Armstrong
Spring sports were in full effect tonight with the GHSA State Tournaments for baseball, soccer and lacrosse all underway.
On the baseball diamond, the Loganville Red Devils took on the Carrollton Trojans in the second round of the playoffs. In game one, the Trojans went up 1-0 in the top of the second off an RBI double from Ty Murray. Loganville had a chance to tie the game in the bottom of the inning, but runner Michael Knight was thrown out at the plate by right fielder Charlie Lanier. The Red Devils finally plated two runs in the third following a homerun from Blaine Marchman over the left-center wall to give Loganville the lead. The Red Devils continued to tack on the runs, adding two more in the fourth to increase their lead. Carrolton managed to score once more but would lose game one 5-2.
Now in game two, Loganville picked up where it left off with an RBI single from Ian King to gain an early lead. Carrolton loaded the bases in the bottom of the first but failed to plate any runners. The Red Devil bats continued to shine as Loganville increased its lead to 9-1 by the top of the fourth, giving the Trojans a heavy deficit to come back from. Carrollton tacked on three runs in the sixth to decrease Loganville's lead, but would give up six more runs and give the Red Devils the 15-4 win as they move one step close to their third state title in three years.
On the soccer pitch, Luella previously advanced out of the first round of the boys Class AAAA playoffs as a No. 4 seed and visited Region 2's second-seed Spalding to play for a spot in the quarterfinals. The Lions stunned Spalding early and jumped to a 2-0 lead just eight minutes into the action. Ashton Woods assisted a Haden Davis header to get Spalding on the board in the eleventh minute and then Bryan Franklin set up Adrian Perez for the equalizer. Franklin set up Davis in the second half to put Spalding up 3-2 and then Angel Madrigal assisted Bryan Franklin to build Spalding's lead to 4-2. Luella found the net again in the 33rd minute, before Spalding closed out the 4-3 victory.
In Class A-5A girls lacrosse, top seed Union Grove jumped out to a 14-2 lead at the half and defeated the Henry County Hawkettes 23-5. Margot Peters scored five of her game-high eight goals in the first half and Kimora Bailey also provided Union Grove with five first-half goals before tacking on sixth in the second half. Meredith Foreback (3), Skylar Smith (2), Amberly Graham (2) and Montana Harris also scored for Union Grove. Henry County sophomore Angie Forbes finished with a hat-trick, and teammates Elle Omokhudu and Porsche Davis also scored for the Hawkettes.
Thursday Spring Scores
Baseball
Academy For Classical Education 3, Irwin County 2
Allatoona 12, Alexander 3
Appling County 5, Rutland 4
Bacon County 9, Thomasville 4
Benedictine 14, Crisp County 2
Bleckley County 10, Westside-Augusta 3
Blessed Trinity 4, LaGrange 0
Blessed Trinity 9, LaGrange 3
Bowdon 6, Baconton Charter 5
Bremen 13, Dade County 3
Brookwood 6, Grayson 4
Buford 3, Kell 1
Buford 5, Kell 4
Callaway 1, Model 0
Callaway 4, Model 1
Calvary Day 12, First Presbyterian 2
Cartersville 2, Flowery Branch 0
Cartersville 3, Flowery Branch 2
Coffee 5, Heritage-Conyers 2
Columbus 1, Mary Persons 0
Columbus 9, Mary Persons 5
Commerce 11, Pelham 1
Crisp County 6, Benedictine 2
Dacula 7, Pope 5
Decatur 4, Walnut Grove 0
Decatur 4, Walnut Grove 3
Denmark 7, St. Pius X 1
Denmark 8, St. Pius X 3
Effingham County 3, Valdosta 2
Effingham County 9, Valdosta 1
Elbert County 6, Rockmart 4
Fannin County 4, Redan 3
Fellowship Christian 8, Mt. Vernon Presbyterian 1
First Presbyterian 11, Calvary Day 1
Fitzgerald 3, Jeff Davis 2
Gordon Lee 11, Jenkins County 1
Gordon Lee 5, Jenkins County 1
Grayson 7, Brookwood 5
Greenbrier 11, Lee County 1
Harlem 13, Vidalia 9
Harris County 4, Whitewater 3
Harris County 5, Whitewater 3
Hebron Christian 8, Lakeview Academy 6
Hebron Christian 8, Lakeview Academy 7
Heritage-Conyers 6, Coffee 0
Hillgrove 4, Woodstock 3
Houston County 14, Grovetown 4
Houston County 7, Grovetown 3
Irwin County 13, Academy For Classical Education 3
Jeff Davis 5, Fitzgerald 3
Johnson County 1, Hawkinsville 0
Johnson County 8, Hawkinsville 1
Kennesaw Mountain 5, Etowah 3
Lee County 4, Greenbrier 3
Locust Grove 13, Starr's Mill 3
Loganville 15, Carrollton 4
Loganville 5, Carrollton 2
Marist 8, North Oconee 6
Mill Creek 11, Milton 0
Mt. Vernon Presbyterian 4, Fellowship Christian 3
Newnan 4, Lassiter 0
Newnan 4, Lassiter 3
North Cobb Christian 6, Wesleyan 5
North Gwinnett 10, Forsyth Central 2
North Oconee 4, Marist 2
Northside-Columbus 11, Perry 3
Northside-Columbus 8, Perry 1
Ola 5, McIntosh 1
Ola 7, McIntosh 2
Pace Academy 10, Calhoun 1
Pace Academy 12, Calhoun 0
Parkview 13, North Forsyth 0
Parkview 8, North Forsyth 6
Pelham 3, Commerce 1
Pike County 1, Islands 0
Pike County 7, Islands 0
Pope 11, Dacula 6
Prince Avenue 5, Strong Rock Christian 4
Riverwood 11, Southwest DeKalb 4
Savannah Christian 4, Mt. Paran Christian 3
Savannah Christian 6, Mt. Paran Christian 1
Savannah Country Day 12, St. Francis 11
Savannah Country Day 14, St. Francis 4
Schley County 4, Telfair County 3
Seminole County 13, Wilcox County 2
Social Circle 13, Chattooga 2
Social Circle 3, Chattooga 0
Southwest DeKalb 15, Riverwood 0
Strong Rock Christian 9, Prince Avenue 1
Tattnall Square 11, Athens Christian 1
Tattnall Square 2, Athens Christian 0
Thomas County Central 6, Wayne County 1
Trion 3, Clinch County 2
Upson-Lee 6, Woodward Academy 1
Vidalia 5, Harlem 0
Walton 6, North Paulding 5
Wayne County 8, Thomas County Central 2
Wesleyan 6, North Cobb Christian 0
Westminster 4, North Hall 2
Westside-Augusta 4, Bleckley County 3
Wilcox County 5, Seminole County 4
Winder-Barrow 10, River Ridge 0
Winder-Barrow 3, River Ridge 2
Woodward Academy 10, Upson-Lee 0
Boys Soccer
Atlanta International 2, Athens Academy 1
Benedictine 5, Pike County 1
Blessed Trinity 2, St. Pius X 1
Bremen 3, Armuchee 2
Cambridge 7, Dacula 1
Dalton 5, Apalachee 1
Druid Hills 4, Richmond Academy 0
East Hall 0, Jefferson 0
Fayette County 4, Harris County 1
Harlem 3, Toombs County 1
Jeff Davis 3, Berrien 0
Johnson-Gainesville 7, Villa Rica 0
Kennesaw Mountain 2, Lassiter 0
Lake Oconee Academy 4, Claxton 1
Lakeside-Evans 4, Lovejoy 0
Lambert 3, Collins Hill 0
Lovett 1, Coahulla Creek 1
Marist 3, LaGrange 0
Meadowcreek 4, South Forsyth 2
Milton 2, Norcross 0
North Paulding 4, Colquitt County 0
Oconee County 2, Chestatee 1
Pope 2, Habersham Central 1
Putnam County 2, Coosa 1
Richmond Hill 2, Houston County 1
Rome 4, Clarkston 2
Roswell 2, North Cobb 0
Southeast Whitfield 1, Cartersville 0
Spalding 4, Luella 3
Starr's Mill 4, Woodland-Stockbridge 0
Tattnall County 4, Worth County 0
Thomasville 3, Woodville-Tompkins 2
Trion 1, Georgia Military 1
Tucker 1, Greenbrier 0
Union County 3, Gordon Central 2
Upson-Lee 3, Columbus 0
Vidalia 4, Fitzgerald 0
Walker 3, Calvary Day 0
Whitewater 4, Veterans 1
Woodward Academy 6, Perry 0
Girls Soccer
Harlem 4, Toombs County 3
St. Vincents 4, Thomasville 0
Whitewater 2, Veterans 1
Boys Lacrosse
Allatoona 16, Greenbrier 1
Buford 17, Druid Hills 2
Dunwoody 12, Harrison 6
Fellowship Christian 27, First Presbyterian 3
Hillgrove 13, Cambridge 9
Lambert 17, Parkview 1
Lassiter 9, Northview 2
McIntosh 18, Eagles Landing Christian 4
Milton 17, Newnan 2
Mt. Pisgah Christian 15, Savannah Christian 1
North Gwinnett 16, Kennesaw Mountain 9
North Paulding 17, Lakeside-Evans 1
Trinity Christian 21, Union Grove 10
Walton 12, Johns Creek 10
Wesleyan 9, St. Pius X 5
West Forsyth 8, Collins Hill 4
Girls Lacrosse
Alpharetta 11, Hillgrove 10
Buford 11, St. Pius X 7
Creekview 20, Parkview 5
Decatur 15, North Oconee 4
Johns Creek 14, Kennesaw Mountain 4
King's Ridge 13, Columbus 6
McIntosh 17, Ola 4
Mountain View 12, Lambert 10
North Gwinnett 16, Lassiter 13
Roswell 16, Harrison 13
Union Grove 23, Henry County 5
West Forsyth 26, Brookwood 6