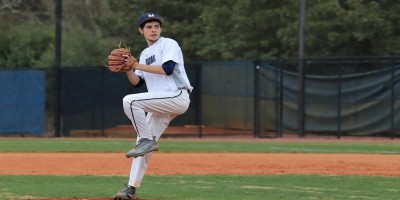 Photo By: Betsy Armstrong
The Ringgold Tigers baseball team picked up their tenth consecutive win with a 6-2 outing against the Calhoun Yellowjackets.
Ringgold put runners on first and third in the opening inning, but a 4-6-3 double play from Calhoun kept the Tigers off the board. Holden Tucker got Ringgold out of the inning with a pair of strikeouts to keep the game scoreless heading into the second. Ringgold was first on the board, scoring off a wild pitch in the second, and added two more runs in the third with a two-run shot from Daulton Schley. An RBI-groundout from Sam Mills tacked on another run as the Tigers took a 4-0 lead heading into the bottom of the third.
Calhoun managed to put two on the board with a couple of fielder's choices to cut the lead to two heading into the fourth but would fail to have a runner reach home for the remainder of the game. The Tigers pilled on two more runs in the fifth and followed up strong in the bottom of the inning, getting three outs on the first three batters. Both teams remained scoreless for the rest of the game, giving Ringgold the win as the Tigers now await their upcoming game against Haralson County this Thursday.
Tuesday Spring Scores
Baseball
Alexander 7, Douglas County 4
Aquinas 14, Lake Oconee Academy 9
Armuchee 5, Coosa 3
Athens Academy 12, Putnam County 7
Baconton Charter 8, Webster County 2
Bleckley County 15, Southwest 0
Brookstone 3, Heard County 2
Burke County 9, Thomson 2
Callaway 17, Jordan 6
Calvary Day 4, Savannah Christian 1
Chattooga 3, Pepperell 2
Clinch County 11, Echols County 1
Coahulla Creek 12, North Murray 0
Coffee 7, Valdosta 4
Columbus 16, Hardaway 3
Creekview 3, Rome 0
Dade County 10, Gordon Central 4
Dade County 13, Gordon Central 10
Dodge County 5, East Laurens 1
Dublin 7, Northeast-Macon 4
Duluth 12, Discovery 1
Eagles Landing Christian 4, McIntosh County Academy 2
Franklin County 19, Monroe Area 0
Glascock County 9, Lincoln County 5
Gordon Lee 11, Trion 0
Grovetown 17, Alcovy 1
Harlem 12, Butler 0
Harlem 20, Butler 2
Hebron Christian 12, George Walton Academy 6
Holy Innocents' 7, Mt. Vernon Presbyterian 4
Houston County 3, Lee County 1
Irwin County 4, Telfair County 2
Jeff Davis 10, Bryan County 1
Jefferson 10, East Jackson 0
Johnson County 2, Wheeler County 0
Jones County 10, Veterans 3
Miller County 14, Chattahoochee County 7
North Oconee 5, Stephens County 2
Oconee County 7, St. Pius X 2
Oglethorpe County 17, Washington-Wilkes 4
Peach County 10, Kendrick 0
Pelham 7, Pataula Charter 0
Pike County 11, Jackson 0
Prince Avenue 6, Commerce 1
Redan 14, Sandy Creek 3
Ringgold 6, Calhoun 2
Rockmart 9, Model 5
Rutland 17, Westside-Macon 0
Savannah Country Day 11, Claxton 2
Shaw 7, Carver-Columbus 3
Tattnall Square 16, Stratford Academy 0
Tift County 5, Worth County 4
Treutlen 5, Portal 4
Venice, FL 6, Parkview 4
Wesleyan 14, Weber 0
Westlake 10, Lithia Springs 3
White County 4, Dawson County 1
Wilcox County 13, Lanier County 3
Woodward Academy 14, Newnan 5
Boys Soccer
Aquinas 3, Augusta Prep Day 0
Athens Academy 1, Cedar Shoals 0
Cedartown 2, Coosa 2
Clarke Central 3, Winder-Barrow 3
Dalton 4, Baylor School, TN 1
Hilton Head Christian 4, Calvary Day 0
Houston County 5, Stratford Academy 1
Irwin County 1, Brooks County 0
Lithia Springs 10, New Manchester 0
Long County 3, Liberty County 3
Lovett 1, Woodward Academy 0
New Hampstead 3, Jenkins 0
Pepperell 4, Model 2
Perry 2, Warner Robins 0
Richmond Hill 1, Effingham County 0
St. Anne Pacelli 7, Tattnall Square 0
Veterans 3, Bainbridge 0
Girls Soccer
Brooks County 2, Irwin County 1
Calvary Day 5, Hilton Head Christian 0
Clarke Central 5, Winder-Barrow 0
Coosa 8, Cedartown 1
Long County 6, Liberty County 1
Model 10, Pepperell 0
Richmond Hill 5, Effingham County 0
Rome 10, Darlington 0
Savannah Country Day 4, Savannah Christian 0
St. Anne Pacelli 4, Tattnall Square 3
Veterans 9, Bainbridge 0
Warner Robins 6, Perry 0
Wesleyan 4, Pace Academy 2
Windsor Forest 10, Beach 0
Boys Lacrosse
Marist 8, Woodward Academy 6
Wesleyan 12, Holy Innocents' 3
Girls Lacrosse
Wesleyan 12, Holy Innocents' 3