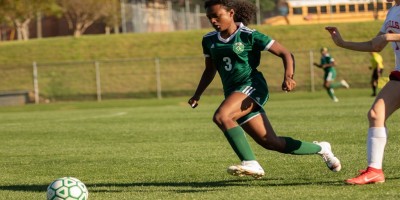 Photo By: Colin Hubbard
The Class AAAA ninth-ranked Eastside Lady Eagles clinched the No. 2 seed in region 4-AAAA with a 3-1 win over the Druid Hills Red Devils, setting them up to host the first round in the playoffs.
After 32 minutes of scoreless play, Aralyn Everett launched a shot towards the goal but it bounced out, setting up Mya Cummings to come in and send the ball through to the back of the net to give Eastside the lead. Everett continued to target the goal, sending in two goals before the first half could come to a close to give the Lady Eagles a 3-0 lead. Druid Hills would manage to get on the board, but the Red Devils' would not be able to outscore the Eastside offense.
The Lady Eagles now await a matchup against Winder-Barrow this Thursday.
Tuesday Spring Scores
Baseball
Adairsville 9, Coahulla Creek 8
Atkinson County 6, Telfair County 5
Calhoun 18, Sonoraville 4
Calvary Day 13, Long County 4
Camden County 8, McIntosh County Academy 0
Chattooga 10, Coosa 0
Clinch County 2, Lanier County 1
Commerce 10, Providence Christian 3
Crisp County 12, Monroe 0
Dodge County 14, Northeast-Macon 4
Eagles Landing Christian 10, Paideia 0
East Jackson 5, Monroe Area 4
Fellowship Christian 4, Pinecrest Academy 3
Galloway School 12, Weber 8
George Walton Academy 15, Riverside Military 1
Gordon Lee 4, St. Francis 3
Hapeville Charter 17, Therrell 0
Haralson County 5, Murray County 2
Harlem 18, Josey 0
Harrison 8, South Cobb 3
Hawkinsville 3, Treutlen 2
Hebron Christian 10, North Hall 3
Holy Innocents' 11, Landmark Christian 0
Irwin County 10, Turner County 0
Islands 15, Johnson-Savannah 0
Jackson 13, Peach County 10
Jefferson 5, Morgan County 3
Jenkins County 10, Emanuel County Institute 0
Jones County 14, Dutchtown 4
Lakeview Academy 15, Towns County 0
Leon, FL. 13, Lowndes 5
Locust Grove 4, Stockbridge 3
McIntosh 7, Fayette County 4
Mt. de Sales 9, Academy For Classical Education 0
Mt. Paran Christian 9, Bowdon 4
Mt. Zion, Carroll 17, Mt. Bethel Christian Academy 2
North Cobb Christian 2, King's Ridge 1
North Oconee 8, Oconee County 2
Pelham 8, Thomasville 3
Pepperell 12, Armuchee 2
Pickens 2, LaFayette 0
Prince Avenue 9, Tallulah Falls 4
Ringgold 17, Lakeview-Fort Oglethorpe 3
River Ridge 15, Osborne 0
Rockmart 4, Dade County 3
Russell County, AL 13, Jordan 5
Rutland 20, Kendrick 0
South Atlanta 16, McNair 1
Southeast Bulloch 4, Jenkins 0
St. Pius X 10, Decatur 4
Stephens County 11, Madison County 3
Stratford Academy 7, Glascock County 0
Strong Rock Christian 7, Trinity Christian 0
Swainsboro 8, Toombs County 5
Trion 5, Walker 4
Vidalia 5, Appling County 2
Washington 4, B.E.S.T. Academy 3
Washington County 4, East Laurens 0
Wesleyan 9, Mt. Vernon Presbyterian 1
Westside-Augusta 5, Jefferson County 3
Wheeler County 10, Wilkinson County 6
White County 11, Union County 0
Whitefield Academy 3, Darlington 2
Whitewater 9, Starr's Mill 1
Worth County 3, Cook 2
Boys Soccer
Armuchee 1, Chattooga 0
Benedictine 2, Effingham County 0
Calvary Day 7, Jenkins 0
Dodge County 3, Dublin 1
Evans 2, Augusta Christian 2
George Walton Academy 4, Athens Christian 1
Georgia Military 3, Academy For Classical Education 2
Gordon Central 3, Coosa 3
Hart County 6, Washington-Wilkes 0
Jackson 3, Shiloh 2
Morris Innovative 6, Christian Heritage 0
Mt. Pisgah Christian 6, Mt. Bethel Christian Academy 0
North Gwinnett 2, Grayson 0
Pepperell 4, Model 0
Pickens 3, Gilmer 0
Providence Christian 3, Pinecrest Academy 0
Putnam County 9, Westside-Macon 1
Rabun County 10, Elbert County 2
Rock Hill, SC. 4, Greenbrier 1
Roswell 3, Milton 1
Social Circle 1, Monroe Area 1
Swainsboro 1, East Laurens 1
Tucker 4, Pace Academy 2
Union County 2, White County 1
Veterans 3, Stratford Academy 1
Vidalia 2, Southeast Bulloch 0
Wesleyan 5, Riverside Military 0
Whitewater 2, Woodward Academy 0
Worth County 2, Monroe 0
Girls Soccer
Allatoona 2, Wesleyan 2
Calhoun 4, Coahulla Creek 0
Cartersville 5, Southeast Whitfield 1
Eastside 3, Druid Hills 1
Franklin County 6, Banks County 3
Gordon Central 4, Coosa 0
Greenbrier 6, Gray Collegiate Academy 0
Heritage-Catoosa 2, Cass 1
Hillgrove 2, Marietta 0
Holy Innocents' 10, Galloway School 0
Howard 3, Perry 0
Jackson County 4, Buford 1
Lakeview-Fort Oglethorpe 5, Adairsville 4
Lamar County 8, Spencer 0
Lanier 2, Discovery 2
Lassiter 5, Sequoyah 0
Long County 3, Appling County 1
Lumpkin County 3, North Forsyth 1
Mary Persons 11, Tattnall Square 1
Model 8, Pepperell 0
Mt. Pisgah Christian 10, Mt. Bethel Christian Academy 0
North Oconee 10, Loganville 1
Pierce County 7, Brantley County 2
Pinecrest Academy 7, Providence Christian 0
Pope 7, Alpharetta 1
Rabun County 4, Elbert County 2
Roswell 3, Milton 2
South Effingham 2, Ware County 0
Swainsboro 1, East Laurens 0
Veterans 6, Stratford Academy 2
Vidalia 3, Southeast Bulloch 2
Villa Rica 9, Troup 0
Wheeler County 2, Claxton 0
White County 3, Union County 1
Boys Lacrosse
Allatoona 19, Cherokee 1
Benedictine 24, First Presbyterian 1
Blessed Trinity 14, St. Pius X 8
Centennial 13, Johns Creek 5
Duluth 9, Parkview 7
Dunwoody 21, North Springs 7
Grayson 21, Meadowcreek 1
Holy Innocents' 12, Eagles Landing Christian 3
Kell 18, Walker 7
McEachern 17, South Cobb 1
Milton 12, Alpharetta 2
Mountain View 12, North Oconee 6
Roswell 11, Lassiter 9
Union Grove 19, Stratford Academy 5
Woodstock 15, North Cobb 1
Girls Lacrosse
Blessed Trinity 15, Mt. Pisgah Christian 3
Brookwood 17, Lanier 3
Chattahoochee 11, Creekview 7
Cherokee 15, Sequoyah 12
East Paulding 16, Pace Academy 7
Holy Innocents' 15, Allatoona 11
Kell 22, Walker 7
Norcross 13, Gainesville 5
North Forsyth 17, Trinity Christian 3
Norwell, MA. 18, Cambridge 3
Starr's Mill 14, Lambert 3