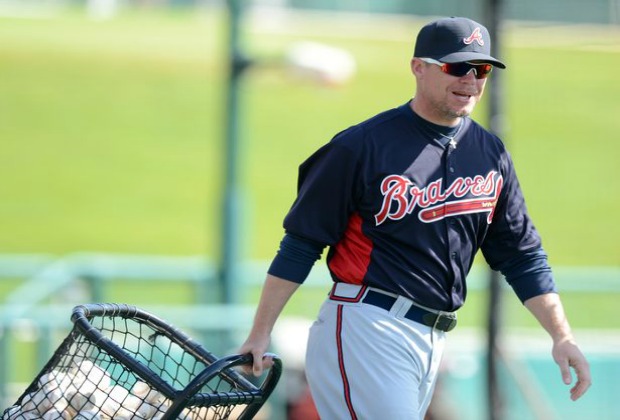 Hyosub Shin
Spring Training just doesn't feel the same without knowing that Chipper Jones will be in the Braves' lineup. He is down in Florida serving as an instructor, but it isn't the same. Jones made his mark as a Braves legend on a team that won 14 consecutive division titles. He helped Atlanta capture its one and only championship in professional sports.
It doesn't seem like that long ago that Jones was the young superstar on this team. It doesn't seem that long ago that fans at Shea Stadium were chanting, "Larry, Larry." Time is a weird thing. One day, you're a kid cheering for your favorite player and then, suddenly, he's an old man and has to retire. It doesn't seem that long ago.
Jones gave us so many great memories. Without question, 1999 was his best season.
He led the Braves to their fifth World Series appearance of the decade and won the National League MVP after hitting a career-high 45 home runs. In 2008, at 36-years old, he won the batting title, hitting .364. Whether he is a Hall of Fame player or not is up for debate, especially in this era. However, as far as Atlanta Braves legends are concerned, he belongs right alongside of Hank Aaron, Dale Murphy and John Smoltz.
SPRING CLEANING
Pitchers and catchers have reported and spring is in the air down in Lake Buena Vista, Fla. A new era has begun for the Atlanta Braves, but it feels like that old championship magic is back. B.J. and Justin Upton will join Jason Heyward to form the best outfield in baseball. The Upton brothers are both capable of hitting 30 home runs and stealing 30 bases. We all know what Heyward can do and all three can run down any fly ball. The Braves haven't had an outfield this good since the early '90's with Ron Gant, David Justice, Otis Nixon and Deion Sanders.
If the trio of outfielders makes the Braves a contender, the pitching staff could make the Braves a champion. Tim Hudson, Kris Medlen, Mike Minor and Brandon Beachy are all capable of pitching long innings and winning games on their own. The key to this year is Minor. The left-hander won 11 games last year in 30 starts. If Minor can add five more wins, go deeper into games and lower his 4.12 ERA from a year ago, the Braves will be a force to be reckoned with in the NL East this year.
NO OFFSEASON
The NFL is the most popular sport in America. As soon as the Atlanta Falcons lost in the playoffs, people started talking about whom they should sign and what the draft was going to look like. This Falcons team is on the brink of the Super Bowl. Which player will push this team to the top? Will it be a free agent defensive end? Will it be a running back in the draft?
The defensive line was gashed by the San Francisco 49ers in the NFC title game. The Falcons need a defensive lineman that can stop the run and rush the quarterback. Defensive end Cliff Avril of the Detroit Lions is a prime candidate. The free agent has 39.5 sacks in his five-year career and is still just 26-years old. Michael Johnson of the Bengals played college football at Georgia Tech and would fit nicely along the Falcons defensive line. Johnson had 11.5 sacks last year for a playoff team in Cincinnati.
Michael Turner may not return in 2013. His injuries and old legs are major concerns. Reggie Bush is a possibility, but he is not the every-down back the Falcons need. The draft is where Atlanta needs to look if they want to find a running back to replace Turner.
Many fans wouldn't mind seeing Alabama running back Eddie Lacy in a Falcons uniform, but look for Clemson running back Andre Ellington to be available in the second or even third round this year. Ellington has 4.4 speed and rushed for over 1,000 yards in his last two years at Clemson. He has been compared to Ray Rice because of his size and durability. Ellington piled up over 600 carries in four years with the Tigers. If a rookie running back is going to make an impact, don't be surprised if it's Ellington.