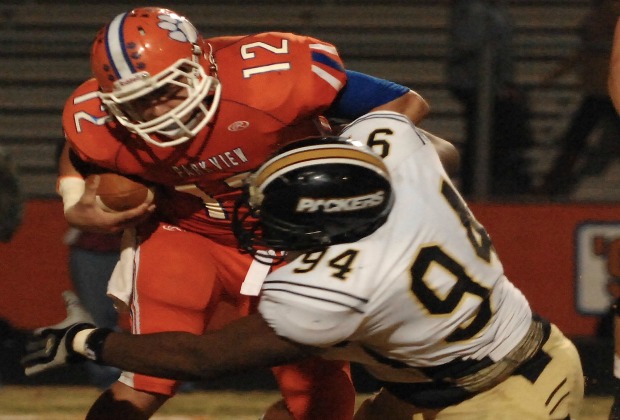 Sonny Kennedy
St. Pius X, Calhoun and Ridgeland all won coin flips Saturday to determine home field advantage for the GHSA semifinals. St. Pius X will host North Hall in the semifinals after each pulled out wins over Washington County and Peach County, respectively. A coin flip was necessary as both teams won their regions.
Calhoun won its second straight coin flip and will host Lamar County as the Yellow Jackets attempt to make a fifth straight finals appearance . Calhoun beat Brooks County at home last night. Meanwhile, Lamar County lost a coin flip last week and had to travel to Buckhead to face Lovett.
Marist will be hitting the road as well to face Ridgeland after losing a coin flip Saturday. Marist lost a coin flip last week and traveled to Stockbridge to pick up a 15-7 win. Interestingly enough, next Friday will be Marist's eighth road game of the 2012 season. Ware County won the coin toss against Northside-Warner Robins on Sunday. The two region champions will play in Waycross.
The coin flip to determine home field advantage for Sandy Creek-Monroe Area was scheduled for Sunday. Sandy Creek won the coin toss over Monroe Area; however, Sandy Creek's home field does not meet the GHSA permanent seating requirements needed to host a playoff game beyond the third round. Per GHSA rules, the total seating capacity for Class AAAA must be 4,000. Monroe Area head coach Matt Fligg confirmed to Score that Sandy Creek will bring in additional bleachers and will host the semifinal contest.
Semifinal pairings
Class AAAAAA
North Cobb at Lovejoy
Colquitt County at Norcross
Class AAAAA
Northside-Warner Robins at Ware County*
Gainesville at Whitewater
Class AAAA
Monroe Area at Sandy Creek *
Marist at Ridgeland*
Class AAA
Buford at Cartersville
North Hall at St. Pius X*
Class AA
GAC at Jefferson
Lamar County at Calhoun*
Class A – Private
Landmark Christian at Prince Avenue Christian
George Walton Academy at Eagle's Landing Christian
Class A – Public
Dooly County at Lincoln County
Emanuel County Institute at Wilcox County
*Indicates a coin flip determined home field advantage