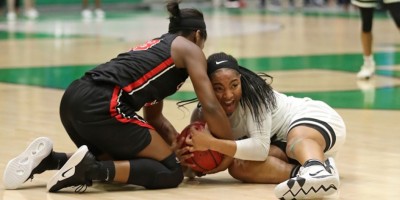 Troup defeated top-seeded Cross Creek in a Thursday night thriller, earning a trip to the Elite Eight with Alexcia Murphy's buzzer-beater in the Tigers 46-45 road win. No. 1 seed Cross Creek was tied 44-44 with visiting Troup when Erin Martin went to the foul line with just 6.5 seconds left. Martin made her first attempt to give Cross Creek a 45-44 lead, but the second attempt did not fall and Troup's 6-foot sophomore Aniya Palmer secured the rebound. Immediately, Palmer took her dribble the length of the court as she weaved through Cross Creek defenders. Palmer's teammates sprinted to the other side of the court to give her an option, including forward Murphy, who posted up near the baseline after hustling the entire length of the court. Palmer delivered her one-handed bounce pass from the top of the paint and Murphy hastily lofted in the game-winning basket at the buzzer.
Class AAAAAAA
Girls
Cherokee 74, Grayson 53
Sydne Watts led Cherokee with 22 points to lead the No. 1 seed Warriors over No. 3 Grayson at home. Ashlyn Andrus scored 19 points and Chatham Brown scored 16 points as well for Cherokee, which led 35-30 at halftime before opening up a double-digit lead (57-44) heading into the fourth quarter. Cherokee will host North Forsyth in next week's quarterfinals.
Campbell 50, Rockdale County 25
No. 2 seed Campbell defeated No. 1 Rockdale County on the road thanks to a 33-6 run to end the game. Rockdale County led 19-17 at halftime, but Campbell held Rockdale County to just four points in the third quarter and two points in the fourth. Sarah Taub and Laila Battle each led the Spartans with 13 points. Jameah Alston scored 10 points, grabbed eight rebounds and had five steals, and twin sister Jaleah Alston had eight points, six rebounds, seven assists and two steals for the Spartans. Nia Bozeman also had four steals, four points and three assists for Campbell, which will host Brookwood in next week's quarterfinals.
Brookwood 57, Tift County 52
Brookwood defeated No. 1 seed Tift County on the road to earn its first trip to the Elite Eight in program history. Freshman Diana Collins scored a game-high 17 points to go with nine rebounds and five assists. Broncos teammate and Western Kentucky-commit Selma Kulo scored 11 points to go with her 11 rebounds and four blocks, and sophomore Shannon Niles notched nine points, five rebounds and three steals.
Class AAAAAA
Boys
Langston Hughes 55, Valdosta 52
P.J. Carter led No. 3 seed Langston Hughes with 18 points to go with five rebounds, and teammate Kasen Jennings had 12 points, three rebounds and three assists in the Panthers road win over No. 1 seed Valdosta. Langston Hughes also got eight points and seven rebounds from Josh Butts. For Valdosta, Ricky Brown had 23 points and Allin Floyd had 19 points. Hughes will travel to Lanier for next week's quarterfinals.
Southwest DeKalb 67, Griffin 46
Eugene Brown III scored 21 points and had five rebounds and three blocks to lead Southwest DeKalb over Griffin at home. The No. 1 seed Panthers also got 12 points and seven assists from Jacorry Gist and 10 points from Kortney Forrest to help defeat the No. 2 seed Bears. Southwest DeKalb will host Clarke Central in next week's quarterfinals.
Girls
Forest Park 66, Sprayberry 55
Sania Feagin scored a game-high 25 points to lead No. 2 seed Forest Park over No. 1 seed Sprayberry on the road. Forest Park led 38-32 at halftime and by double digits in the third quarter, although Sprayberry fought back to take a brief one-point lead in the fourth quarter. Flau'Jae Johnson scored 20 points to lead Sprayberry. Forest Park advances to host Douglas County in next week's quarterfinals.
Class AAAAA
Boys
Cedar Shoals 52, Wayne County 50 (OT)
Quincy Canty scored 21 points and had seven rebounds to lead No. 2 seed Cedar Shoals over No. 1 Wayne County in overtime. Tyler Johnson contributed 15 points to go with seven rebounds, three steals and two assists for visiting Cedar Shoals, which trailed 25-17 at halftime before pulling to within a point (36-35) after three quarters. The teams were tied at 56-56 at the end of regulation.
Girls
Jones County 60, Lithia Springs 55
Freshman guard Jada Morgan scored a game-high 20 points to lead No. 1 seed Jones County over No. 3 Lithia Springs at home. The Greyhounds also got 18 points from senior Courtnee Wimberly, who hit five three-pointers. Jones County used a big second quarter, in which they outscored Lithia Springs 28-9, to take a 41-22 lead at halftime, then withstood a Lithia Springs rally down the stretch. Jones County will travel to Kell in next week's quarterfinal.
Class AAAA
Boys
Woodward 70, Madison County 39
The War Eagles improved to 28-2 and extended their winning streak to 10 games after defeating Madison in the second round. Woodward was led by a 21-point effort from 6-foot-5 junior guard Will Richard, who also finished with nine rebounds, two assists and three steals in the victory. Woodward was in control throughout the game, leading 22-6 after the first quarter, 36-21 at the break and 57-29 entering the final frame. Jacorrei Turner scored 12 points with nine rebounds and fellow senior Emory Lanier finished with 11 points, four assists, six rebounds and six steals. Woodward's 7-foot, five-star UNC-commit center Walker Kessler finished with nine points, three rebounds and two blocks.
Girls
Spalding 52, Oconee County 38 
Visiting Oconee County jumped out to a 16-5 lead at the end of the first quarter and led 27-20 heading into the third quarter. No. 1 seed Spalding sparked a 15-0 run in the final four minutes of the quarter to take a 35-33 lead into the final frame. Oconee County did not stop the scoring run until it grew to 22-0 with just 3:03 left on the clock and Spalding ahead 42-34. Spalding ended up outscoring Oconee County 32-11 in the second half.
Class AAA
Boys
Windsor Forest 80, Cherokee Bluff 55
No. 1 seed Windsor Forest defeated No. 3 Cherokee Bluff at home as D'ante Bass led all scorers with 17 points. Windsor Forest led 38-27 at halftime and 52-37 at the end of the third quarter before outscoring Cherokee Bluff 28-18 in the final frame. The Knights will host Central-Macon in the quarterfinals next week.
Girls
Johnson-Savannah 92, Fannin County 45
The Atomsmashers continued their bid for a third-straight Class AAA championship, advancing to the quarterfinals with a convincing 47-point victory over Fannin County. Five Johnson players scored in double-figures in the win, including senior captains Antalazia Baker (18 points, 10 rebounds and 10 steals) and Jaida Burgess (15 points, four rebounds and five assists). Sophomore Amani Hamilton scored 15 points with 15 rebounds and 15 blocks. Sophomore K'yla Hankerson scored 11 points with eight rebounds and two blocks and junior Tiana Williams scored 10 points.
Class AA
Boys
Banks County 61, Butler 58
Banks County senior Carl Cleveland scored 15 points in the first quarter as the top-seeded Leopards built an early 24-8 lead over visiting Butler. Banks County maintained its 16-point lead heading into the half (39-23) as Butler shot just 1-of-13 from beyond the arc in the first half. Butler trailed 54-41 at the end of the third quarter, but sparked a 17-4 run that brought them within one point (59-58) with just 22 seconds left. Cleveland drew a foul and made both attempts to bring the game to its final tally and Banks County celebrated its first Elite Eight berth since 1995.
Girls
Rockmart 64, East Laurens 58
Junior Keyarah Berry scored 41 points to lead No. 1 seed Rockmart in its home win over East Laurens. Rockmart will travel to Vidalia for next week's quarterfinal game.
Class A-Private
Boys
Holy Innocents' 64, Savannah Country Day 45
No. 24 seed Holy Innocents' knocked off No. 8 Savannah Country Day on the road, as the Golden Bears held a 35-26 lead at halftime and put the game away by outscoring Savannah Country Day 18-7 in the fourth quarter. Landon Kardian and Justin Wilson each led the Golden Bears with 16 points, Kardian added eight rebounds and two blocks, and Wilson also had seven assists. Garrison Powell scored 15 points to go with 10 rebounds, six assists and five steals. Holy Innocents' will travel to overall No. 1 seed St. Francis for the quarterfinals next week.
Class A-Public
Boys
Wilkinson County 74, Manchester 63
Sophomore Cam Long scored 17 first-half points to lift No. 10 seed Manchester to a 35-23 lead at the break, but the visiting Blue Devils were outscored 51-28 second half as No. 7 Wilkinson County turned the deficit into double-digit victory. Christian Lamar led the Warriors with 22 points and 14 rebounds, Jacob Crockett scored 20 and Dexter Walker finished with 13 points.
Thursday's Second-Round Results
Boys
Americus-Sumter 62, Blessed Trinity 59
Banks County 60, Butler 58
Calhoun County 70, Mitchell County 59
Cedar Shoals 52, Wayne County 50 OT
Central-Macon 55, Hart County 43
Chattooga 66, Thomasville 60
Clarke Central 55, Eagle's Landing 50
Cross Creek 34, Marist 32
Dooly County 69, Georgia Military 65
Evans 76, Douglas County 62
Hancock Central 87, Turner County 50
Holy Innocents' 64, Savannah Country Day 45
Johnson-Savannah 71, Cedar Grove 57
Kell 60, Warner Robins 53
Langston Hughes 55, Valdosta 52
Lanier 60, Stephenson 58 OT
Lincoln County 56, Lanier County 51
Long County 66, Franklin County 57
Monroe 59, Greater Atlanta Christian 52
Monroe Area 71, Westside-Macon 67
Newton 74, Westlake 65
North Gwinnett 66, East Coweta 65 OT
Rockmart 55, Northeast 50
Sandy Creek 84, Baldwin 56
Sequoyah 61, Richmond Hill 56
South Cobb 75, Brunswick 49
Southwest DeKalb 67, Griffin 46
Spencer 60, Dublin 57
St. Pius X 66, West Laurens 57
Swainsboro 74, South Atlanta 56
Trinity Christian 52, Christian Heritage 42
Tucker 57, Allatoona 43
Upson-Lee 63, North Oconee 56
Walker 43, Mt. Paran Christian 41
Washington County 69, Model 49
Wheeler 65, Shiloh 64 OT
Wilcox County 80, Macon County 63
Wilkinson County 74, Manchester 63
Windsor Forest 80, Cherokee Bluff 55
Woodward Academy 70, Madison County 39
Girls
Brookwood 57, Tift County 52
Campbell 50, Rockdale County 25
Cherokee 74, Grayson 53
Dacula 69, Brunswick 50
Douglas County 41, Grovetown 39
Douglass 53, Josey 43
Eagle's Landing 65, Riverwood 50
Early County 64, Chattooga 45
Forest Park 66, Sprayberry 55
Greater Atlanta Christian 50, Monroe 42
Johnson-Savannah 92, Fannin County 45
Jones County 60, Lithia Springs 55
Laney 61, Putnam County 53
Lovejoy 44, Harrison 25
McDonough 60, Northwest Whitfield 42
Rockmart 64, East Laurens 58
Sandy Creek 68, Dougherty 51
Spalding 52, Oconee County 38
Troup County 46, Cross Creek 45
Valdosta 70, Cambridge 55
Veterans 67, Rome 62 OT
Woodland-Stockbridge 59, Jackson-Atlanta 55