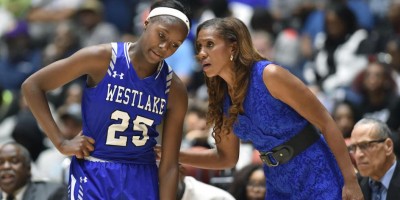 Defending Class AAAAAAA state champion and No. 1 ranked Westlake dominated Norcross 63-34 on Tuesday to advance to the Final Four. The game was a rematch of the 77-57 Lady Lions quarterfinals victory over Norcross in last year's playoffs. Westlake cruises into the finals with a 29-2 record and a perfect 22-0 record against in-state opponents. The Lions have compiled a whopping 38-point average margin of victory through the first three rounds of this year's postseason (73-31 Etowah, 71-30 Archer, 63-34 Norcross).
Class AAAAAAA
Boys
McEachern 75, North Gwinnett 68 (OT)
Visiting McEachern got 27 points from Sharife Cooper to eliminate North Gwinnett in overtime. Camron McDowell scored 26 points and Israel Palmer scored 12 points as well for McEachern. For North Gwinnett, Brendan Rigsbee scored 21 points on four three-pointers, R.J. Godfrey had 18 points and Jared Ivey scored 14 points. North Gwinnett led 32-27 at halftime, and the game was tied 47-47 at the end of the third quarter and 65-65 at the end of regulation. McEachern advances to play the winner of Wednesday's Grayson-Norcross game in the semifinals at Buford City Arena on Saturday.
Milton 68, Newton 62
Bruce Thornton scored 30 points and had eight assists to lead Milton to a home win. Also for Milton, Lebbeus Overton scored 10 points, grabbed 18 rebounds and blocked four shots, Kanaan Carlyle scored 12 points and had five rebounds, and Evan Hurst scored 10 points and had four rebounds. Milton led 30-25 at halftime. The Eagles will face the winner of Wednesday's Wheeler-Berkmar game on Saturday in the semifinals at Buford City Arena.
Girls
Collins Hill 61, McEachern 40
Sasha Washington scored a game-high 17 points to lead undefeated Collins Hill to a home win. Kam Collins scored 15 points and Eden Sample scored 13 points as well for the Eagles. For McEachern, Denim DeShields scored 16 points and Daelyn Craig scored 14. In the semifinals on Saturday at Buford City Arena, Collins Hill will face the winner of Wednesday's game between Brookwood and Campbell.
Cherokee 53, North Forsyth 47
Ashlyn Andrus led Cherokee with 17 points, Kate Johnson scored 13 and Sydne Watts scored 12 points for the Warriors in their home win over North Forsyth. For North Forsyth, Ansley Allen and Caroline Martin each scored 20 points. Cherokee will face Westlake on Saturday in the semifinals at Buford City Arena.
Class AAAAAA
Boys
Chattahoochee 82, Sequoyah 67
Top seed Chattahoochee opened the game on a 10-3 run and took a 22-9 lead into the second quarter en route to celebrating the program's first-ever semifinal berth. Cameron Sheffield led the way with a game-high 30 points and AJ White chipped in 26 points. Sequoyah was led by Jacksen Greco's 25 points.
Class AAAAA
Boys
Southwest DeKalb 52, Clarke Central 50 (OT)
Southwest DeKalb outlasted Clarke Central in overtime at home as Jacorry Gist scored 12 points and had seven rebounds. Eugene Brown III had 10 points, seven rebounds and four steals for the Panthers and teammate Kusamae Draper had nine points and 10 rebounds. Jarrett Walton contributed eight points and six rebounds for Southwest DeKalb. Southwest DeKalb will face the winner of Wednesday night's game between Cedar Shoals and Lithonia in Saturday's semifinals at Fort Valley State
Girls
Buford 58, Carrollton 47
Three-time defending state champion Buford jumped to a 14-8 lead after the first quarter and never trailed as the visiting Trojans attempted to move within striking distance. Buford's Tate Walters led all scorers with 16 points.
Class AAAA
Boys
Cross Creek 58, LaFayette 55 
Cross Creek overcame a 31-15 halftime deficit on the road to keep its historic season alive and advance to the semifinals for the first time in program history. The Razorbacks were led in scoring by Kobe Stewart (19), Corey Trotter (16) and Makhi Climons (11).
Girls
Carver-Columbus 70, Woodward Academy 63
Defending state champion Carver-Columbus jumped out to a 23-16 lead at the end of the first quarter and took a 40-31 lead into the half. Woodward Academy kept it within single digits throughout a contentious second half. A fan was escorted out in handcuffs, in the fourth quarter, and — to make matters worse — Carver-Columbus McDonald's All-American Olivia Cochran picked up her second technical foul of the game and was ejected with just 2:41 to play. By rule, Cochran will have to sit out the semifinal game—a reality that the Tigers will have to face this weekend.
Class AAA
Boys
Central-Macon 79, Richmond Hill 76 OT
After losing out in the first round 45-43 to at-large bid Franklin County last season and failing to advance past the quarterfinals two years ago, Central-Macon earned a semifinal berth with a thrilling overtime victory over Windsor Forest. Windsor Forest led 55-48 entering the fourth quarter and 60-52 with 4:01 left in regulation. With seconds remaining, Central's junior forward Quay Primas caught a pass on the right side of the lane just outside the key. He turned, elevated and released the ball over a Windsor Forest defender and into the basket to tie the game at 69-69 and send it to overtime. Primus finished with 28 points for Central, 20 of which came after halftime. Senior forward Harold Thompkins scored 16 points, sophomore guard Christian Hill scored 11 points and senior guard Tony Card scored 10 points. Junior guard Shamar Norman led Windsor Forest with 26 points, sophomore guard Mikle Cabellero scored 15 points and sophomore guard D'Ante Bass scored 14 points for the Knights.
Girls
Johnson-Savannah 58, Sonoraville 49
Johnson's bid for a third-straight state championship is still alive after its victory over Sonoraville in the quarterfinals. Sophomore forward Zoriah Mobley led Johnson with 18 points, including two 3-pointers in the fourth quarter, which helped the Atomsmashers keep the lead. Johnson led 15-8 after the first quarter and pushed the lead to 28-17 at the break. Sonoraville climbed back into the game with a 20-13 run in the third quarter before Johnson pulled away in the fourth quarter on a 17-12 run. Sophomore Amani Hamilton scored 10 points and senior Jaida Burgess scored eight points. Sonoraville junior Alexa Geary scored 18 points and senior Maliyah Parks added 13 points.
North Hall 57, Morgan County 41
Top seed North Hall led 32-19 at the half and 44-33 at the end of the third quarter before closing out the visiting Bulldogs and celebrating the program's first semifinal berth since 2012. Lauren Swanson led the Trojans with a game-high 15 points and teammate Grace Hollifield notched 11 points to go with her 12 rebounds.
Class AA
Boys
Glenn Hills 76, Spencer 69
Host Glenn Hills pushed the lead to as many as 14 points (72-58) with under two minutes to play. Spencer cut the lead to five points after a 9-0 run, but four straight made free-throws from Glenn Hills sealed the win. John Whitehead of Glenn Hills led all scorers with 20 points, while teammates Octavious Walton (17 points), Emmanuel Jones (12 points) and Lazarius Marshall (11 points) also scored in double figures. For Spencer, Rassan Rhodes and Jaylin Sellers each scored 16 points. Glenn Hills will face Swainsboro in the semifinals at Georgia College on Saturday.
Therrell 57, Washington County 55
Cameron Fortson led Therrell with 22 points in the Panthers home win. Ra'Sean Frederick scored 11 points and Roman Son scored nine points as well for Therrell. For Washington County, Jarden Maze scored a game-high 27 points and Kejuan Bloodsaw scored 17 points. The biggest lead of the game was Therrell's six-point advantage (16-10) in the second quarter and the Panthers held a narrow one-point lead (37-36) heading into the fourth. Therrell will face the winner of Wednesday's Banks County-Chattooga match-up in the semifinals Saturday at Georgia College.
Class A-Private
Boys
Trinity Christian 59, North Cobb Christian 52
No. 11 seed Trinity Christian led No. 14 North Cobb Christian 27-15 at the half and held off the Eagles with a balanced scoring distribution. Isaac Brito scored 10 of his 14 points in the first half and was joined in double figures by Lions teammates Raul Arias (16), Brady Burnett (15) and Sharmari Reed (13)
Girls
Hebron Christian 63, Greenforest Christian 53
Nicole Azar led undefeated Hebron Christian with 20 points, four assists and three steals in her team's home win. Also for Hebron, Malia Fisher had 16 points, 10 rebounds and three blocks, Carly Heidger had 16 points and 11 rebounds, and Jessie Parish had six points and 10 blocks. Hebron led 36-24 at halftime but led by as many as 18 points in the first half. Hebron will face Holy Innocents' in the semifinals Saturday at Georgia College.
Holy Innocents' 81, Eagle's Landing Christian 39
No. 2 seed Holy Innocents' led 21-13 after the first quarter and saw 11 different players score by the time its 42-point blowout over No. 8 Eagle's Landing Christian was finished. The Golden Bears will face Hebron Christian Friday at 6 p.m. at Georgia College & State University next. Jillian Hollingshead led the way with 17 points and nine rebounds and Rachel Suttle finished with 12 points, nine rebounds, four assists and five steals.
Tuesday's Third-Round Results
Boys
Central-Macon 79, Windsor Forest 76
Chattahoochee 82, Sequoyah 67
Cross Creek 58, LaFayette 55
Denmark 71, Upson-Lee 68
Dutchtown 73, Columbia 72 OT
Glenn Hills 76, Spencer 69
Lanier 58, Langston Hughes 55
McEachern 75, North Gwinnett 68
Milton 68, Newton 62
South Cobb 85, Evans 61
Southwest DeKalb 52, Clarke Central 50
St. Pius X 73, Americus-Sumter 70
Swainsboro 94, Rockmart 55
Therrell 57, Washington County 55
Treutlen 78, Lincoln County 77
Trinity Christian 59, North Cobb Christian 52
Girls
Buford 58, Carrollton 47
Calhoun County 54, Greenville 39
Carver-Columbus 70, Woodward Academy 63
Central-Talbotton 56, Georgia Military 23
Cherokee 53, North Forsyth 47
Collins Hill 61, McEachern 40
Eagle's Landing 57, Veterans 43
Early County 60, Union County 58
Forest Park 62, Douglas County 21
Glynn Academy 47, Johns Creek 36
Hebron Christian 63, Greenforest 53
Holy Innocents' 81, Eagle's Landing Christian 39
Johnson-Savannah 58, Sonoraville 49
Kell 64, Jones County 54
Luella 66, Sandy Creek 48
North Hall 57, Morgan County 41
Rockmart 62, Vidalia 57
Troup County 58, McDonough 48
Wesleyan 51, Stratford Academy 38
Woodland-Stockbridge 60, Arabia Mountain 53 OT
Westlake 63, Norcross 34