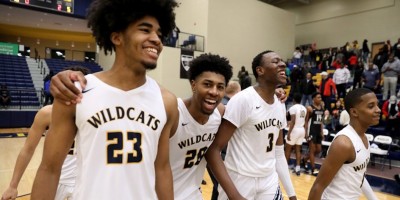 Wheeler hosted Berkmar in a match-up between No. 1 seeds and jumped out to a 33-22 lead at the half. The Patriots went on a 14-8 run in the third quarter that brought them within 41-36, but Wheeler closed out the 53-43 victory—limiting Berkmar to its second-lowest scoring output this season. The Wildcats will return to the semifinals for the first time since 2015, when current Boston Celtics star Jaylen Brown led them to their last state title in his senior year. Wheeler faces Milton next this Saturday at Buford City Arena to battle for a berth in next week's championship game.
Class AAAAAAA
Boys
Grayson 65, Norcross 27
Nationally-ranked Grayson steamrolled Norcross by 38 points to advance to the semifinals, where they will take on McEachern this Saturday at 8 p.m. at Buford City Arena. Senior Caleb Murphey finished with a game-high 20 points to go with his six assists and teammate Toneari Lane added 17 points. The Rams also got a 14-point performance by Quinones Corpman, eight points and nine rebounds by Ian Schiffelin and four points, seven assists and nine rebounds by Devion Smith.
Girls
Campbell 53, Brookwood 50
Campbell held a 39-27 lead early in the third quarter before visiting Broncos made a 13-0 run that put them in position to come away with the victory. Campbell shot just 1-18 from the field in the third quarter and was tied 44-44 before finally gaining a 48-44 lead with just 2:32 left. Campbell's Jameah Alston led with a game-high 22 points and Spartans teammate Sarah Taub finished 12. Diana Collins led Brookwood with 20 points and Selma Kulo added 12 points and 15 rebounds for the Broncos.
Class AAAAA
Boys
Cedar Shoals 50, Lithonia 47
Cedar Shoals trailed visiting Lithonia 23-17 at the half and was locked in a 43-43 tie with under 30 seconds left. Quincy Canty's go-ahead three-pointer put the Jaguars up 46-43 with just 23.9 seconds left and helped seal the victory. Canty finished with 11 points and teammate Jervavian Colbert (12) and Tyler Johnson (12) also notched double-figures. Lithonia's Eric Gaines scored 13 points in the first half and finished with a game-high 20 points.
Kell 57, Buford 45
Kell jumped out to a 30-16 halftime lead before closing out defending state champion Buford on the road. Senior Ty Clark posted 12 points and 13 rebounds, Scoot Henderson finished with 14 points and Najhae Colon scored a team-high 15 points to lead the Longhorns.
Class AAAA
Boys
Woodward Academy 58, Sandy Creek 56
Top seeds Woodward Academy and Sandy Creek went down to the wire in a game that had a championship feel to it as two of the state's most talented teams and prospects—Woodward Academy's 7-footer Walker Kessler and Sandy Creek's 6-foot-10 prospect Jabari Smith—went head-to-head. Kessler would finish with 33 points, 13 rebounds and three blocks while Smith notched 25 points, 11 rebounds and five blocks. Kessler's final basket came on a dunk with 37 seconds left that gave Woodward Academy a 56-55 lead. Sandy Creek's Deshaun Procter drew a foul on the following Patriots possession and split the attempts to make it a 56-56 game with 26.2 to play. Woodward's Michael Whitmore assisted Logan Stephens for the game-winning basket with just enough time for Sandy Creek to get off a desperation half-court shot that missed the mark at the buzzer.
Class AAA
Boys
Johnson-Savannah 49, Long County 46
Johnson-Savannah avoided heartbreak on a half-court heave by Long County sophomore Cameryn Johnson as time expired to advance to the semifinals. The Atomsmashers led 11-6 after the opening frame but trailed 24-21 at the half after an 18-10 second-quarter run by Long County. Johnson controlled the pace in the third quarter on a 16-11 run to lead 37-35 entering the fourth quarter. Derek Edwards and Emondre Bowles led Johnson with 14 points apiece, with all of Bowles' offensive production coming in the second half. Edwards also finished with four assists and two steals, Bowles added three assists and five rebounds and Larry Pounds contributed 11 points and three steals. Long County was led by Johnson's 14 points and 13 from Trajon Witherspoon.
Pace Academy 65, Monroe Area 40
Top-ranked Pace Academy was led by its 6-foot-6 four-star junior shooting guard Matthew Cleveland as it advanced past Monroe Area and into the semifinals. Cleveland finished with 20 points and seven assists for the Knights. Josh Reed, a 6-6 sophomore forward, scored 19 points with eight rebounds. Cole Middleton, a 6-6 junior forward, scored eight points with 13 rebounds and four blocks. Junior Madison Durr, a 6-5 shooting guard, scored eight points and made eight assists.
Girls
Greater Atlanta Christian 54, Jefferson 51
Greater Atlanta Christian avenged last year's 84-68 loss to Jefferson in the second round, outlasting the Dragons to advance to its first semifinal since 2017-18. The Spartans, who lost to Johnson-Savannah in the state championship game in the 2017-18 season, trailed 13-12 after the first quarter but grabbed a 30-26 lead at the break. Greater Atlanta Christian held a four-point lead (42-38) entering the fourth quarter. Senior Ava Irvin led GAC with 17 points, sophomore Kaleigh Addie scored 15 points and sophomore Jaci Bolden scored 14 points. Livi Blackstock scored 20 points for Jefferson.
Class AA
Girls
Southwest-Macon 50, Laney 47
Visiting Southwest-Macon overcame a 26-20 halftime deficit and held off No. 1 seed Laney to advance to set up a semifinal showdown with Rockmart this Saturday at Georgia College and State University. The Patriots went up 50-47 after splitting a pair of free-throw attempts with just 12.2 seconds left and then denied Laney an opportunity to get a potential game-tying three-point attempt off on the final Wildcats possession. Southwest was led in scoring by Jakhyla Johnson (16), Avrie Grayer (13) and Stantagious Alford (12) and Laney was led by Nekiyah Booker (16), Whitney Anderson (15) and Rocquana Drayton (9).
Class A-Private
Boys
Greenforest Christian 68, Pinecrest Academy 50
No. 2 seed Greenforest Christian took a 16-13 lead over No. 10 seed Pinecrest Academy after the first quarter and extended it to 35-20 at the half before closing out the victory. The Eagles were led by 6-foot-11 senior Chase Cormier's game-high 22 points and contributions from Lamar Oden (13 points), Jalen Forrest (13), Christian Fussell (11) and Florian Tennebay (6).
Class A-Public
Boys
Terrell County 73, Dooly County 55
No. 4 seed Terrell County led by as much as 31-10 before heading into the half with a 45-34 lead over No. 5 Dooly County. The Greenwave maintained control of the lead and momentum throughout the second half as well, closing out the Bobcats to earn a trip to the semis where they'll face undefeated (and top-ranked) Treulen at Valdosta State on Friday. Senior Jamarkeis Allen made four three-pointers during Terrell County's explosive second quarter and finished with a team-high 19 points. Dooly County's Rashad Lucas finished with 20 points.
Wednesday's Third-Round Results
Boys
Cedar Shoals 50, Lithonia 47
Chattooga 67, Banks County 57
Grayson 65, Norcross 27
Greenforest 68, Pinecrest Academy 50
Hancock Central 68, Calhoun County 53
Jefferson 55, Monroe 45
Johnson-Savannah 49, Long County 46
Kell 57, Buford 45
Mt. Pisgah Christian 71, Walker 62 OT
Pace Academy 65, Monroe Area 40
St. Francis 62, Holy Innocents' 56
Terrell County 73, Dooly County 55
Tri-Cities 67, Tucker 65
Wheeler 53, Berkmar 43
Wilcox County 96, Wilkinson County 94
Girls
Americus-Sumter 47, Spalding 42
Beach 47, Ringgold 31
Campbell 53, Brookwood 50
Douglass 56, Washington County 53
Greater Atlanta Christian 54, Jefferson 51
Langston Hughes 59, Lovejoy 55
Southwest 50, Laney 47
St. Francis 72, Mt. Paran Christian 66
Valdosta 57, Dacula 46