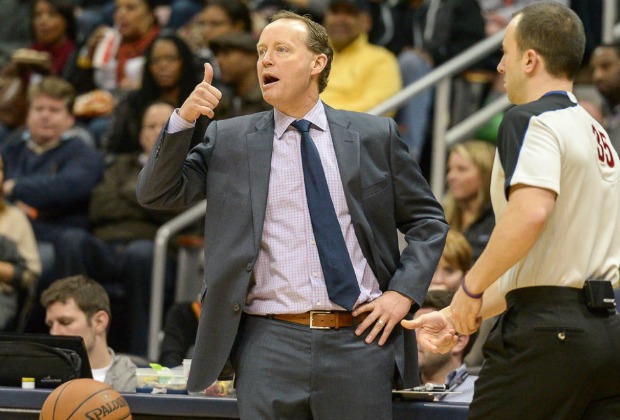 Photo by Jon Barash
The Hawks are one of the many teams that will be questioning whether or not to pur- sue Indiana Pacers guard Lance Stephenson this summer during free agency. As a basketball player, Stephenson would definitely help the Hawks. He is coming off a breakout year in which he averaged 13.8 points, 4.6 assists, and 7.2 rebounds per game. Stephenson finished second in Most Improved Player voting this past year and led the NBA in triple-doubles with five. At only 23 years old he still has room to im- prove. Stephenson is a tenacious defender and will do whatever it takes to win, but his intensity for the game can sometimes be a negative. His on-the-court antics in the Eastern Conference Finals were criticized almost universally.
Pacers President Larry Bird made it clear Stephenson's antics were not what the Pacers are about. Stephenson's actions on the court have been hovering over the line between dirty plays and tough defense. When asked after the Conference Finals if he would want Stephenson back as a teammate next year Pacers star Paul George hesitated and then said he wasn't sure.
PROTECTING CHEMISTRY…
The Hawks are coming off a season in which each player lauded the new coaching staff for their strategy and ability to really emphasize team chemistry. Signing Stephenson could hurt the Hawks' chemistry on and off the court, but it could also bring the Hawks to a whole other level, and push them toward contention. Stephenson would add a much needed attacking wing to help create plays with Jeff Teague.
Stephenson is the definition of a high-risk high-reward player. General Manager Danny Ferry will have a tough decision to make, but financially and on the court the signing makes great sense.
LUCKY NUMBER 15 …
The Hawks have the 15th pick in this month's NBA Draft. The upcoming draft is a very deep one and should give the Hawks an opportunity to get an impact player.
Some great players have been picked in this spot. Steve Nash, who has won two MVP awards and is currently third all-time in as- sists, was picked with the 15th pick. Charlotte Hornets all-time leading scorer and 1994 Sixth Man of the Year Dell Curry was also picked at the midway point. More recently the Celtics drafted Al Jefferson with the 15th pick. Jefferson has blossomed into a force in the paint and is a consistent 20-point 10-rebound guy. Spurs lock-down defender Kawhi Leonard was also the 15th pick in the draft.