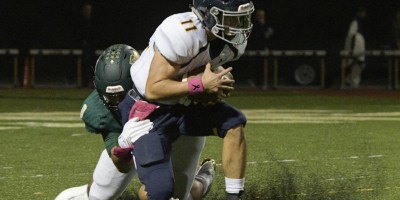 Photo courtesy of the AJC
While it is unfortunate Marist and Blessed Trinity did not get to experience playing at Mercedes-Benz Stadium this past weekend, the six-day postponement of their championship showdown is just another dramatic element sewn into the web of storylines these programs have shaped over their past two seasons spent in Class AAAA.
Before the 2016 school year, when reclassification put them in Region 7-AAAA together, these schools had never faced on the gridiron or occupied the same classification. They were two highly competitive Metro Atlanta Catholic Schools with two very different points of origin. Marist, founded in 1901 had been a nationally-recognized hub for academic and athletic excellence for decades. Look no further than the GADA Director's Cup which has been won by the War Eagles every year since the award was handed out in 1999. In contrast, Blessed Trinity did not even graduate its first class of students until 2003. But even in its brief history, the Titans had already claimed more than 40 state titles in 10 different sports and had become a private school powerhouse when their rivalry with Marist took shape last season.
FIRST THINGS FIRST
Addressing the disappointment of not getting to play at Mercedes-Benz Stadium and refocusing everything to this Friday was something both Marist head coach Alan Chadwick and Blessed Trinity head coach Tim McFarlin took care of right away.
"We talked to our guys about the disappointment of not playing in Mercedes-Benz Stadium," explained McFarlin. "The fact that you are playing for a state championship overrides that disappointment though. This is the nature of high school sports. I've seen that situation several times."
Chadwick also said his team had moved on and "was ready to get this game played" supporting the claim by adding that it "wouldn't matter if it was being held at the parking lot of Target. We are ready to play."
While this has been a unique situation for not only Marist and Blessed Trinity, but the other 10 teams that had their championship games postponed last weekend, both Chadwick and McFarlin had a similar lesson to teach their players before the start of the 2015 season. Both schools would be traveling to Dublin, Ireland in September of the 2016 season to participate in the Global Ireland Football Tournament. The news came just a month before the start of the 2015 season and both coaches had to share the exciting opportunity with their teams, including the Class of 2015 that would be missing out on it.
"Talk about a group of seniors that did such a great job and didn't get to go experience something special," said McFarlin. "But I've talked to those players again this week and explained to them that a big piece of them is going to be there with us on Friday night. It doesn't ever seem fair but to leave experiences to future classes that you didn't get to have is how programs grow."
Knowing that they would be facing for the first time later in the season, Blessed Trinity and Marist administrators, cheerleaders, coaches, football players and trainers, numbering 112 and 127, respectively, made that trip to Ireland together last September. Marist defeated Belen Jesuit, a Class 8A program from Florida 27-0, while Blessed Trinity fell to New Jersey state finalist St. Peter's Prep 42-28. The next day both schools got to attend the Aer Lingus College Football Classic, where Boston College faced off against Georgia Tech before a crowd of nearly 41,000 at Aviva Stadium in Dublin. During the national anthems Marist cheerleaders and players held the Irish flag, while Blessed Trinity trainers, players and coaches held the American flag. The programs then watched Georgia Tech defeat Boston College 17-14 before heading back to Atlanta.
HOME FIELD IS 0-2
The first-ever meeting between the schools came seven weeks after the trip to Ireland on Oct. 14 at Marist. A missed PAT by Blessed Trinity allowed the host War Eagles to take a 7-6 lead at the half, but Blessed Trinity's Steele Chambers was just getting started. After his 3-yard touchdown run in the second quarter put the Titans on the board, the sophomore added his second touchdown run and a successful two-point conversion put the Titans up 14-7 early in the third quarter. Quarterback Jake Smith found JD Bertrand for a 49-yard touchdown pass later in the frame to create a 21-7 lead. Marist answered with a Michael Addicks touchdown run to make it 21-14, but Chambers capped off a three-touchdown performance on a 16-yard scamper that put Marist in a 28-14 hole entering the fourth quarter.
Marist needed two touchdowns and got them, but a missed PAT on the first score eventually led to a failed two-point conversion on the final touchdown and Blessed Trinity held on for a 28-26 win. Chambers, Smith and Bertrand were only sophomores, as was Ryan Davis who hauled in seven catches for a game-high 122 yards.
Seeing how last year's game went makes this year's game seem even more incredible as Marist pulled off the road win this time. The War Eagles never led and trailed 24-17 with 5:46 left before converting three fourth downs and capping off an 18-play scoring drive with a Chase Abshire 2-yard touchdown run with just 53 seconds left. Still trailing 24-23, Chadwick chose to go for two. On the gamble, Abshier found Kyle Hamilton on a slant for the 25-24 win and Marist's Region 7-AAAA title was clinched and their perfect season was saved.
"We had some turnovers and they converted three fourth downs on that game-winning, final drive," reflected McFarlin. "That was up to us. There are no excuses from that game. You can't argue with those things. Had something gone our way it could have been different. But it was a gutsy call to go for two, Marist's quarterback [Abshier] was excellent and I give Marist all the credit for what happened. It set us on a remarkable course since. I have a great deal of respect for this football team. A lesser team would have folded the tents. A lesser team would have said now we have to go to Cartersville in the second round. But they stepped up. I've learned a lot from these guys. They teach you a lot if you are willing to learn from them and I've really enjoyed it this season."
If the two incredible games between the schools isn't enough to stoke the fire, Blessed Trinity and Marist also met last May in the Class AAAA baseball state championships. Blessed Trinity swept the regular season series and took Game 1 of the championship 11-1. Marist rebounded with a 7-2 victory in Game 2 and then took Game 3 with a championship-clinching 4-3 victory. On the mound to surrender the game-winning run was BT's Smith, who has since quarterbacked his team to a football state final being played at Marist. What a year it has already been for Smith!
SCHOOL PRIDE
The alumni support and statewide interest in this game is undeniable and the 4,400 seat Hughes-Spalding Stadium is planning to accommodate as many fans as possible this Friday night. With an estimated 6,000 presold tickets, an extra 1600 seats were brought in to make sure everyone with a presold ticket have a place to sit. The general admission tickets sold before the game on Friday will force some spectators to stand or pack the bleachers tightly, which won't be as bad considering the cold temperatures being forecasted for kickoff.
"You can't blame Marist for wanting to host," said McFarlin. "They are 14-0 and earned it. … This is the first time that two Catholic Schools have ever played for the GHSA football state championship and I think Friday will be an opportunity for these teams and programs to be a model for excellence on and off the field."
KEYS TO VICTORY
I can remember people wondering just last season if it was time for Marist to give up on its option offense and evolve to a more modern, spread look. Fortunately, Marist hasn't had to do that and instead have masterfully blended the passing game into its patient running game to return to the championship for the first time since 2008. One of the biggest factors for this success in the passing game has been UGA-commit John Fitzpatrick at tight end. When asked about defending against the 6-foot-5 target, McFarlin was candid and complimentary.
"You can't duplicate what it's like to go against Fitzpatrick in practice," explained McFarlin. "He is a gifted football player and we don't have anyone with that size. I just think we have to try to do everything else better, but they are also good at the other receiver positions so it's a challenge. This is the best Marist team I can remember from all the way back into the eighties when I used to be at Roswell. That's how balanced and talented I think this team is."
If Marist can get together some long-sustained drives and pick its moments wisely in the passing game, then the War Eagles may be able to seize control of this football game. Blessed Trinity has plenty of firepower in the passing game, but the Titans will need the ground game rolling to outpace Marist. When the squads faced in October, Smith was intercepted three times. The Marist defense is well-coached and taught not to give up the big play so if Blessed Trinity gets impatient and forces shots down field, Marist could prove to be in the right place at the right time once again. Marist registered six sacks in the semifinals and both defenses have made passing extremely difficult this postseason. Chambers has become a reliable target out of the backfield and is a beast running the ball so Blessed Trinity could open up the offense by using easy ways to get the ball in the hands of its playmakers early. Davis is great as a downfield target, but a quick screen or a reverse will also allow Davis to get going and he is a hard guy to bring down in the open field.
As for what Chadwick is looking for in his team this Friday night,"We want the focus, execution in all phases of the game and taking care of the football is going to be very important."
State Championship Schedule
Friday, Dec. 15
Class AAAAAAA – Colquitt County at North Gwinnett
Class AAAAAA – Coffee at Lee County
Class AAAAA – Rome at Warner Robins
Class AAAA – Blessed Trinity at Marist
Class AA – Hapeville Charter at Rabun County
Class A-Public – Clinch County at Irwin County