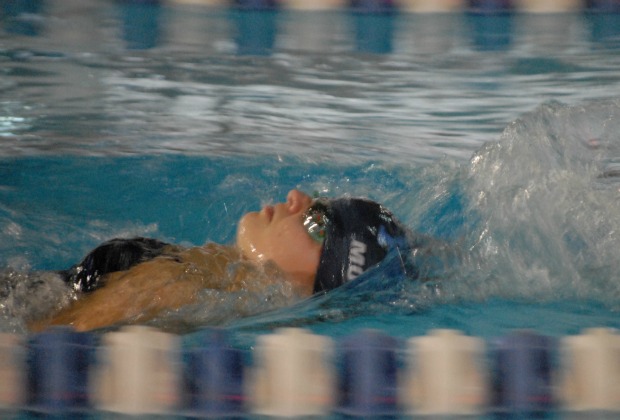 Chris Haon
University of Georgia men's swimming head coach Jack Bauerle added to his haul of recruits by recently inking Norcross High School standout Powell Brooks to a national letter of intent. He will join Chattahoochee triplets Jay, Kevin and Mick Litherland and the St. Pius X duo of Gunnar Bentz and Basil Orr next year in Athens.
Brooks competes for coaches Jeff Hike and Chris Davis at SwimAtlanta in addition to his exploits with the Blue Devils. He owns five school records at Norcross and has twice been named to the Gwinnett Daily Post's Super Six. Brooks is ranked among the nation's top 20 prospects in the 200-yard butterfly and the 200 and 500 freestyle and he is an All-American in the 500 freestyle. He has also been honored as a Scholastic All-American on three occasions.
"We're excited to have him as part of the team," Bauerle told the university's official website. "We've known him since he was a 12-year-old at our swim camp and we've had a great relationship with him and his family for many years. We're excited about what Powell can do in the butterfly and middle distance freestyle events and we feel like his best swimming is ahead of him. We know from the way he handles school and swimming and balances everything that he's going to be not only a great athlete but a great leader."
In the pool, St. Pius X swam to victory late last month at Greater Atlanta Christian in a meet that also featured Riverwood. The girls prevailed 202-55-48 and the boys won 162-94-59 with Greater Atlanta Christian placing second and Riverwood finishing third in each competition. Julia Durmer won the 200 individual medley and 100 breaststroke for the Golden Lions. Freshman Jeffrey Durmer won the 500 freestyle and was runner-up to Orr in the 200 individual medley. Spartan senior Marshall Gray treated the home crowd to a triumph in the 100 freestyle with a time of 52.58 seconds.
Marist, which captured five straight girls state titles from 2007 to 2011 while last winning a boys state championship in 2009, is hosting Landmark Christian, North Springs and Westlake next Tuesday. Westminster, which is defending a girls state championship this season, is in the midst of a busy eight-day stretch. The Wildcats hosted Brookwood on Tuesday (results were not available at press time) and will host Lassiter next Tuesday.