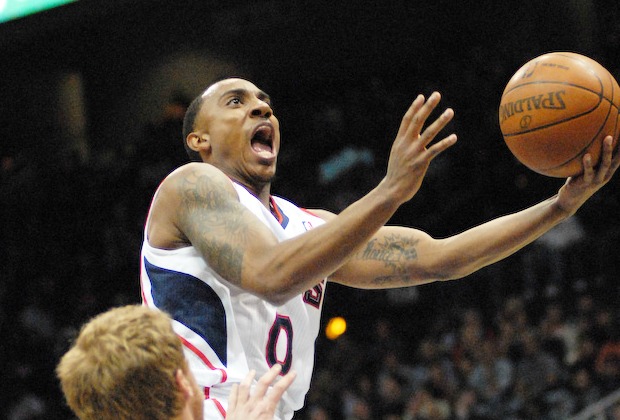 Jon Barash
These are tough times for the Atlanta Hawks right now. Their January campaign featured a season-ending loss of Lou Williams and a 7-9 record. To say February has not made things any better would be an understatement. Overall, the Hawks have lost 12 of their last 19 games dating back to Dec. 31 and they have dropped to sixth in the Eastern Conference standings, six games back of first-place Miami but five games inside the playoff cut line (ahead of ninth-place Philadelphia).
Of Atlanta's seven losses since the start of January, four have come by five points or fewer. Five, however, have come by double-digits—including the two most recent setbacks as well as a 39-point blowout at Chicago on Jan. 14. The Hawks succumbed at home to the Bulls last Saturday, 93-76, and they fell at Indiana on Tuesday, 114-103. The latter contest saw the Pacers take a mere one-point lead at the half, but the home team had an 11-point advantage after three and led by as many as 16 in the fourth.
"We came out a little lethargic at the start of the third quarter, which is a point of emphasis with us every game we play; not coming out flat," head coach Larry Drew told the Atlanta Journal Constitution after losing to Indiana. "We just didn't come out with the energy that we should. I made an early substitution with Jeff (Teague). He knows I rely on him to be the guy who gets us going, gets us energized. I brought him out for a few minutes and put him back in and he responded very well."
BRIGHT SPOT …
Teague poured in a team-high 24 points against the Pacers while adding six assists. He also scored 16 against the Bulls despite sustaining a minor right-hip contusion. Teague has reached double-figures in five of his last six outings and eight of his last 10. In a two-point loss to the Knicks on Jan. 27, Teague led Atlanta with 27 points. Two days earlier he contributed 23 points and three steals in a win over Boston. Just as he did in the last two contests, Teague also shined as the Hawks' only real bright spot during a two-game stretch in mid-January. The former Wake Forest star recorded back-to-back double-doubles against the Nets and Spurs, including a season-high 28 points at the expense of Brooklyn.
Teague was at it again last night against Memphis, pouring in 22 points and dishing out 13 assists in a Hawks 103-92 victory. After entertaining New Orleans at the Highlight Factory on Friday, they will face road tests at Dallas and Orlando next week before the All-Star break.