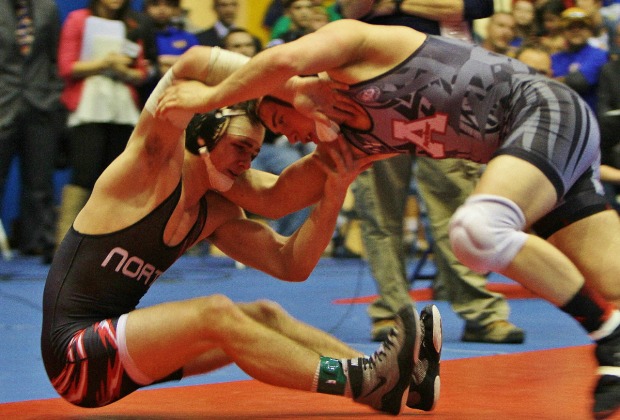 Photo by Rob Saye
If the Area Duals were an indication to things to come, this weekend's state duals set up to be one of the most competitive the state has seen. Thrilling finishes were a theme this past weekend, but there were also the title hopefuls that won in convincing fashion and showed the state that they are the team to beat this weekend.
Class AAAAAA two-time defending dual champion Archer was one of the teams that left little room for drama, outscoring South Gwinnett, Parkview and Brookwood by a combined 217-12 for the top seed in the state duals and another runaway Area 8 wrestling title. Across the county, there was a more storybook finish as Mountain View dethroned Collins Hill for the Area 8 title. Pins by Austin Phillips, Adam Flatt (a Davidson-commit) and Austin Brown helped the Bears continue their historic season and set up a first round match with Tift County.
North Forsyth used a 30-29 victory over Chattahoochee to capture the Area 6 title, the school's fourth straight crown and Etowah defeated Roswell 37-34 on a last second reversal by freshman Max Homyak (120) to take the Area 5 title. Kennesaw Mountain (Area 4), Newnan (Area 3), Rockdale County (Area 2) and Lee County (Area 1) will also enter the state tourney with the momentum of capturing Area titles in Georgia's highest classification.
In Class AAAAA, Woodland Cartersville dominated Area 7 and earned the No. 1 overall seed. Woodland's win came in one of the deepest area's in the state and Cass was able to finish second ahead of Creekview and defending Traditional champion Cambridge for a first-round match with Jones County. The 2012 Class AAAAA Dual state champion Camden County Wildcats exhibited their championship potential with a 74-0 shutout over Ware County for the Area 3 title match, marking the school's 17th straight Area title. Ola edged a talented Union Grove team for the Area 4 championship and Allatoona held off Alexander in the Area 5 championship match 34-28. Alexander's second place finish earned a first round match with Area 6 champion Dunwoody.
Five-time defending Dual State champion Gilmer earned Class AAAA's top seed with the Area 7 title. Buford, which is making its Class AAAA debut after winning the Class AAA Dual state title last year fell to North Hall in the Area 8 championship and will get a first round match with Area 1 champion Crisp County. Class AAAA's Marist topped rival St. Pius for the Area 6 title and will face Howard in the first round, while the second place finish pins St. Pius against the dangerous Area 2 champions West Laurens in the first round.
In 13 seasons, Jefferson has never failed to win a Dual State title and the Dragons are as dominant as they've ever been in what marks their first season in Class AAA. Jefferson ousted Oconee County, Morgan County and Jackson County in Area 8 and earned the top seed in the Class AAA bracket. Jefferson is not the only school making a successful jump from AA to AAA as Toombs County and Westminster displayed in last weekend's Area tournaments. Toombs County topped Appling County to take home the Area 1 title and Westminster thrashed Blessed Trinity by 30 points for the Area 4 crown.
Watch out for Social Circle in Class AA. The Redskins entered the Area Duals ranked No. 1 in the Class AA polls and protected their No. 1 status with a 42-20 win over GAC and earned the top seed in the tournament. GAC, Bremen, Lovett, Vidalia, Gordon Lee, Fitzgerald and Dublin join Social Circle in Class AA's remaining field of eight teams and set up what could be the most competitive classification in this year's state duals.
In Class A, Commerce will set out to defend its first and only wrestling title as the top seed in the tournament. Commerce topped St. Francis in the Area 4 championship and that will set up a great first round matchup between runner-up St. Francis and Area 3′s champion Mt. Zion-Carroll. Commerce is the only team in Class A's field of eight that has ever captured a dual wrestling state title.