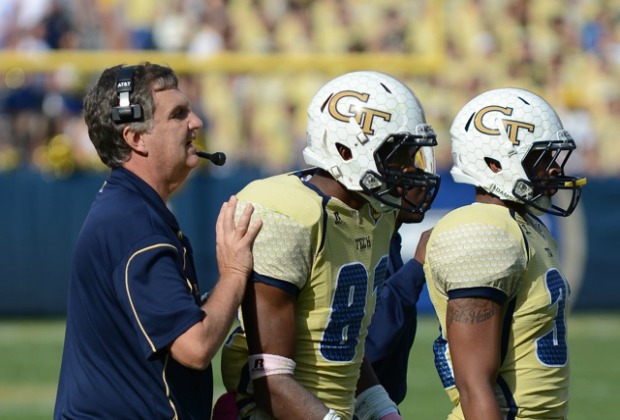 Photo by Jon Barash
Paul Johnson's aggravations during the first two games of the season for Georgia Tech was of an offense that struggled scoring early in the first half along with sloppy defensive play. However, that was not the problem during the first two quarters on Saturday as Georgia Tech jumped to a 35-10 lead at the half and held on for the 42-38 win.  A Charles Perkins' run of 63 yards, on the first play from scrimmage, helped set up the early lead after quarterback Justin Thomas ran in an eight-yard score to gain the early 7-0 lead. That would be the first of five-straight possessions that resulted in Tech reaching the end zone, as they home team built a large 35-10 lead at the half. Up to that point, it was all Tech as they outgained Georgia Southern in total yardage 385-130.
Starting off with the ball in the third, the Eagles marched down the field on an 11-play 75-yard drive that was wrapped up by a 32-yard touchdown run by quarterback Kevin Ellison to cut the deficit to 18 points.
On their following drive, head coach Willie Fritz and his squad burnt Tech with big plays of 38 and 43 yards before running back Matt Breida punched it in to the Yellow Jacket end zone to make the score 35-24. Following another stalled drive by the Georgia Tech, Ellison was at it again, this time through the air, unleashing a 68-yard air strike to receiver BJ Johnson.
Tech was out-gained on offense in total yardage, 322-63, and Paul Johnson's players began to show the body language of a somber group.
"When they make plays, guys are up. But as soon as they do something bad, they hang their heads a little, said linebacker Quayshawn Nealy, "We got to do a better job at staying focused and playing all four quarters."
The march through Atlanta continued for the Eagles in the fourth quarter, driving from their own 6-yard line downfield 94 yards and finishing with an 11-yard rushing touchdown by L.A Ramsby.  The attitude was fervent for Georgia Southern until safety Jamal Golden batted down an option pass that was at first ruled an incomplete forward pass, but upon further review was reversed to a fumble and Georgia Tech ball.
With 4:12 left in the fourth, Paul Johnson's offense trekked downfield to the GSU 13. On third-and-seven with 30 seconds left, Justin Thomas dropped back with a linebacker bearing in, scrambled to avoid the sack and floated a pass to Deion Hill who made a leaping grab with a defender blanketing him. Georgia Tech took the 42-38 lead and held off a Georgia Southern's desperation drive.
Despite the dramatics at the tail-end, the victory was "bitter-sweet", as billed by B-back Zach Laskey.
"We won the game, but in some ways I almost feel like we lost," said Laskey, "We had a foot on their throats going into the half and we let them come back. When our defense was struggling, I kind of feel like our offense should have stepped up and done some damage control."
Georgia Tech will open ACC play next Saturday when they travel to take on the Virginia Tech at noon ET. The Hokies are coming off of a game that saw similar circumstances to GT's game against GSU but ended on the wrong end as Virginia Tech gave up a 21-0 lead to fall to the East Carolina Pirates 28-21.