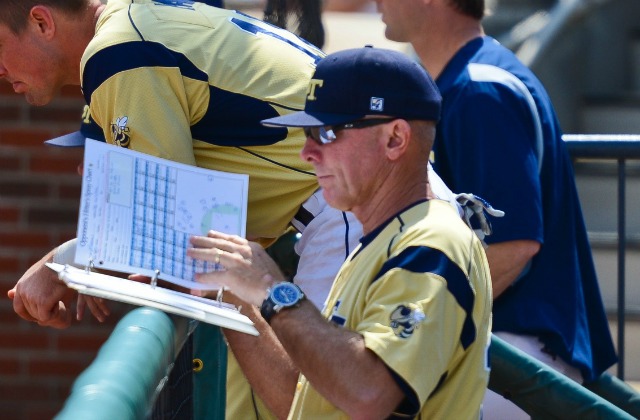 Photo by Jon Barash
The Tech women's basketball team (20-11,9-7) is awaiting an expected NCAA Tournament berth after losing in the quarterfinals of the ACC Tournament on March 7 to No. 10 Duke 82-52 in Greensboro. The Jackets had defeated Virginia 77-76 in the opening round. In that game, freshman Kaela Davis (28) and senior Tyaunna Marshall (26) combined for 54 of Tech's points. However, a three-point play by Aaliyah Whiteside with 13.5 seconds left ended up being the difference in the game.
The Jackets were given a No. 10 seed in ESPN's Bracketology and are expected to re- ceive the bid Monday during the women's se- lection.
Marshall was honored with the Atlanta Tipoff Club's Women's College Player of the Year award Tuesday. It is the second straight year Marshall has won the award and fifth straight year a Yellow Jacket has won it.
BEESBALL …
Georgia Tech beat Western Carolina 7-5 on Tuesday as the Jackets overcame an early 4-0 deficit. After the visiting Catamounts struck for four in the top of the first, Tech (9-7) rallied in the second to take a 5-4 lead and did not look back.
Starting pitcher Tanner Shelton got shelled in the top of the first inning and was re- moved from the game after recording one out. He gave up three hits and four earned runs. Af- ter Shelton's exit, six Tech pitchers combined to give up just seven hits and one run over the next eight and two-thirds innings. Devin Stan- ton, who tossed four and one-third innings of one-hit ball, got the win. Sam Clay closed the game out by striking out the final five hitters of the game.
Tech's offense was led by Mott Hyde, who scored three times and hit a solo homer, Thom- as Smith, who had two hits and two RBIs, and A.J. Murray, who also homered.
Over the weekend, Tech lost two of three to visiting Wake Forest in the ACC opening series for both teams. The Jackets avoided a sweep by beating the Demon Deacons 5-1 in the series finale Sunday at "the Rusty C". Matt Grimes (2-0) got the win with 5.1 innings of work with two hits and one earned run. Clay and Zac Ryan came on to close the game out and Ryan was awarded a save.
Next up for Danny Hall's club is a home ACC series against No. 24 Miami (Fla.) (10-5).