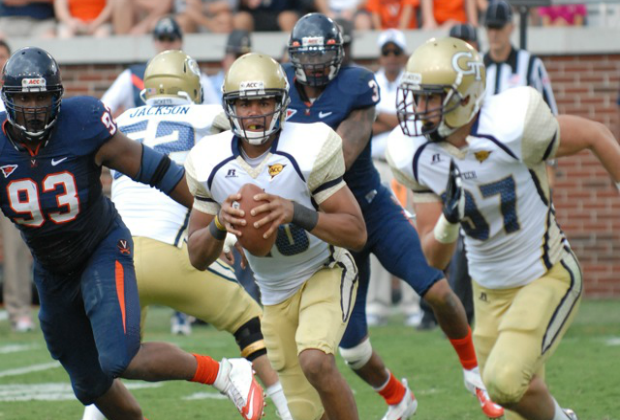 Jon Barash
Wednesdays are usually slow with college football headlines; however, thanks to a conference realignment earlier today, the media world was in a frenzy. The Atlantic Coast Conference and Notre Dame announced a partial agreement that will put Notre Dame in the conference in 2014. The one catch is that the Fighting Irish will remain independent in hockey and football. As part of the agreement, the South Bend, Ind., school must play at least five ACC schools per year.
This is a win for both sides. Notre Dame keeps its historic independent mantra in football while the rest of the sports now compete in a more stable conference than the current arrangement with the Big East. Also, the Irish will be able to keep the school's massive television contract with NBC. On the flip side, ACC Commissioner John Swofford has to be pleased with this news, as the ACC now welcomes a new member that is prestigious in both academic and athletic standards. More importantly, due to adding a 15th member, the ACC now has a $50 million buyout to leave the conference, rendering all rumors about Florida State and Clemson bolting meaningless.
TECH'S PERSPECTIVE …
"From so many angles, this relationship will enhance the rich tradition of our league and provide new and exciting opportunities for Georgia Tech and the ACC," Athletic Director Dan Radakovich stated. "I know Tech fans and sports fans throughout the region look forward to outstanding competition against the Irish for many years to come."
Georgia Tech and Notre Dame have a rich athletic history with each other. The two schools have met a total of 34 times on the gridiron, with the Jackets winning the last meeting 33-3 on the road in 2007. Although no one knows how often the Irish will rotate going forward, rumors are circulating that each ACC team will play Notre Dame once every three years.
HARDWOOD RAMIFICATIONS …
Tech men's basketball is 6-2 all-time against the Irish, and like football, the last matchup between the teams was won by the Jackets. Coach Brian Gregory had only positive things to say about the new addition.
"Notre Dame is a tremendous addition to the ACC, a school of long-standing tradition of athletics, and it matches us perfectly in terms of academic prestige in this conference," said Gregory. "This also gets us into another major market – Chicago – and the ACC brand will continue to spread."