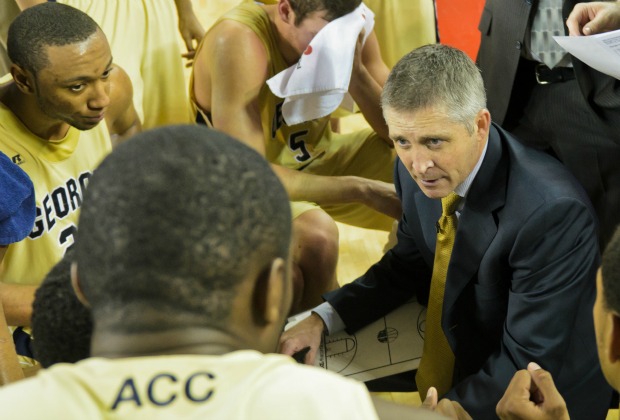 Mike Stamus
With full practices beginning today, the Georgia Tech men's basketball team began squad workouts in the newly-finished McCamish Pavilion. After splitting their home schedule between Philips Arena and the Arena at Gwinnett Center in Brian Gregory's first year on the Flats, the players and coaches will breathe a sigh of relief knowing that their home games will be at one location for the 2012-13 season. The team closed out Alexander Memorial Coliseum with a 66-57 victory against Miami in March 2011. McCamish Pavilion will host its first men's regular season game Nov. 9 against Tulane and the women's team hosts the Tennessee Volunteers two days later.
KELLY AUDITIONS
After the football team recently surrendered 601 total yards to Clemson and more than 40 points for the third consecutive game, the decision was made to relieve defensive coordinator Al Groh of his duties Monday.
Secondary coach Charles Kelly has been named the interim defensive coordinator for the remainder of the season, and he will have the daunting task of helping turn around a defense that simply could not get timely stops in its current 3-4 scheme. Kelly will be auditioning to take over the role full time and will use the team's bye week in order to figure out what works with the current pieces.
With the defense currently in limbo, the offense continues to be a strong point for the Jackets despite the team's losing record. Tevin Washington continued his strong quarterback play against Clemson, passing for 144 yards and a touchdown while also rushing for 104 yards and two scores. With two touchdowns, Washington increased his season total to 13, which currently leads the nation. With Washington and A-back Orwin Smith helping lead the offense to an average of 37.8 points per game, much of the responsibility rests on the shoulders of the defense. The bye week couldn't have come at a better time for the Jackets, who are looking for ways to salvage their disappointing season in the second half of the year.