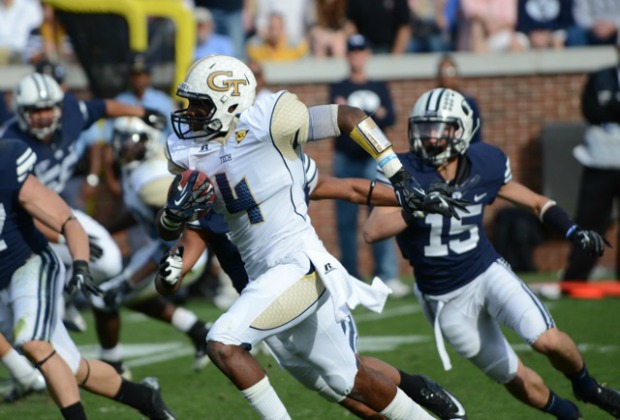 Jon Barash
It was a game that nobody felt the Georgia Tech Yellow Jackets had any business being in, but coach Paul Johnson and his team gave Florida State everything they had and nearly erased a 21-6 halftime deficit before falling to the Seminoles 21-15 in the ACC Championship game in Charlotte.
The game had the makings of a blowout early on after the Jackets couldn't stop the Florida State rushing attack, but halftime seemed to wake the defense up as they forced two turnovers and held the opposition scoreless for the final 30 minutes as they attempted to rally from the early deficit. A Tevin Wash- ington rushing score with just under seven minutes to play cut the Seminoles' lead to 21-15. The Jackets' offense was able to get the ball back with just over two minutes to play, but Washington was intercepted by Karlos Williams to foil the upset bid.
Washington finished with 76 passing yards, 20 yards on the ground and the Jackets' only touchdown, while Chris Tanner knocked in three field goals. James Wilder Jr. led Florida State with 69 rushing yards and two touchdowns. The win sent the Seminoles to the Orange Bowl, while the Jackets fell to 6-7 on the season. Tech remained bowl-eligible thanks to an NCAA waiver granting them eligibility despite a losing record.
TROJAN TEST …
Next up for the Jackets is another trip to El Paso on New Year's Eve to take on Lane Kiffin's USC Trojans in the Hyundai Sun Bowl. High expectations plagued the Trojans this season as they were ranked No. 1 by the AP to start the year before tumbling to a 7-5 record. Don't let the record fool you, as this Trojans team has the potential to put up points in bunches.
Fortunately for the Jackets, USC also has that same level of potential to give them up, making the matchup prime for an offensive-minded team such as the Jackets to take advantage. Matt Barkley is expected to play for USC, which could spell trouble for Tech, who has struggling at stopping a potent passing attack throughout the season. In last year's Sun Bowl, the Jackets were shocked by Utah 30-27 in overtime.