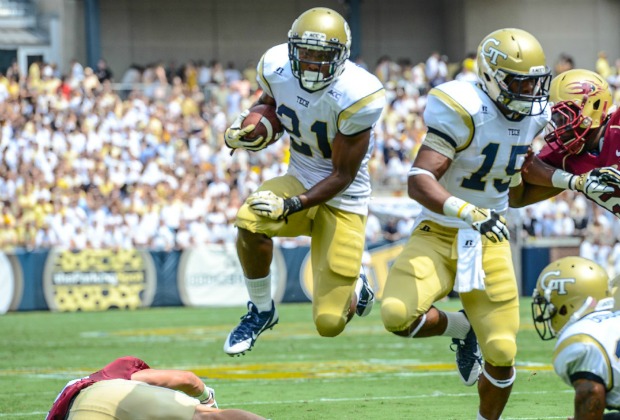 Jon Barash
The Georgia Tech Yellow Jacket football team is getting this weekend off following their 70-0 drubbing of visiting Elon University last Saturday. Head coach Paul Johnson had the opportunity to use all three quarterbacks in the contest, both starter Vad Lee and backup Justin Thomas scored rushing touchdowns to go along with Lee's two passing touchdowns. Four different Jacket backs scored on rushes in the victory. Thomas lead the team in rushing with 53 total yards, his longest coming on a 44 yard scamper. Zack Laskey gained 51 and Vad Lee rushed six times for 49 yards.
Tech next travels to Durham to face the Duke Blue Devils, winners of their opening game against North Carolina Central, 45-0, this past Saturday. The Blue Devils collected 275 rushing yards in the game and got a spectacular performance from receiver Jamison Crowder. The junior caught six passes for 62 yards while amassing 113 total yards on five punt returns. A 76 yard return lead to an eventual Duke touchdown in the contest. He is definitely a player to watch.
CROSS-COUNTRY:
Georgia Tech runners finished strong recently at the University of Georgia Invitational from the UGA Equestrian Complex on Saturday. Yellow Jacket runners on both the men's and women's teams finished in the top three of their respective races as Jeremy Greenwald, a junior from Chesapeake, Virginia, finished third in the men's race with a 8k time of 26:01:75. Fellow junior Katie Townsend also finished third out of 74 runners in the women's race with a time of 18:48:78.
The Yellow Jackets next travel to Furman University on September 14 for the Greenville, South Carolina school's invitational.
VOLLEYBALL:
The Lady Jackets (Georgia Tech does not house a men's team in volleyball) are 2-1 on the season having lost the championship game of the annual Georgia Tech Invitational after defeating both Florida A&M and Chattanooga (3-0 and 3-0 ,respectively) before losing to The College of Charleston by a score of 3 sets to 0 (22-25, 19-25, 15-25) on Sunday. The Jackets next travel to New Mexico for the Sheraton Airport Lobo Classic on Friday, September 6. They open with matches against Idaho State and the University of California Riverside before meeting their host on Saturday.