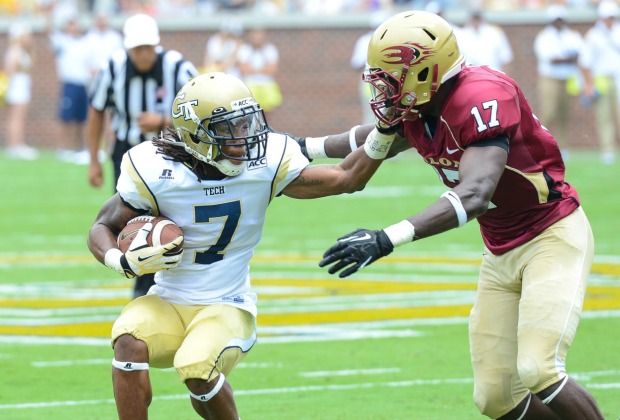 Jon Barash
Tech returns to action this weekend and visits 2-0 Duke. The Jackets had a bye week following a 70-0 victory over visiting Elon, which marked the first shutout for Tech since a 27-0 win in 2008 over the Blue Devils.
Duke topped North Carolina Central and the University of Memphis by scores of 45-0 and 28-14, respectively. The Blue Devils will have a new play-caller after starting quarterback Anthony Boone left the Memphis game with a broken collarbone. Boone's replacement, redshirt junior Brandon Connette, entered the game in the second quarter with the score tied at 14 and managed to throw two touchdown passes while going 14 of 21 for 198 yards.
ROAD WARRIORS …
Head coach Paul Johnson is making sure the Jackets are well-prepared for a competitive game.
"Getting ready to go up to play a Duke team that's 2-0, certainly if you look at the stats and, defensively, they jump off the page at you, they're giving up a little over 200 yards a game," said Johnson at his weekly press conference held at the Edge Center on campus.
Duke's quarterback change has not gone unnoticed by Johnson either.
"I know that their starting quarterback Boone is out with a broken collar bone, but Connette has been kind of splitting time, he played against us down here in 2010, so he's been with the program for a long time."
The importance of a strong start to the season in relation to last season's slow start is clear to Johnson.
"We've talked to the team about the importance of the game," said Johnson. "It's the first conference game, it's a division game and a road game. Anytime you can win a division game on the road that's a bigger plus because then you've got the tiebreaker over that team, you've got the division record and the whole nine yards."
LEE'S HOMECOMING …
Wallace Wade Stadium on the campus of Duke University seats 33,941 fans, some of which will be coming into the game wearing Tech colors due to their association with the Institute. Starting quarterback Vad Lee, a Durham native, was heavily recruited by both Duke and North Carolina before ultimately choosing Georgia Tech.
"I'm sure [Lee's] excited to go back home," said Johnson.