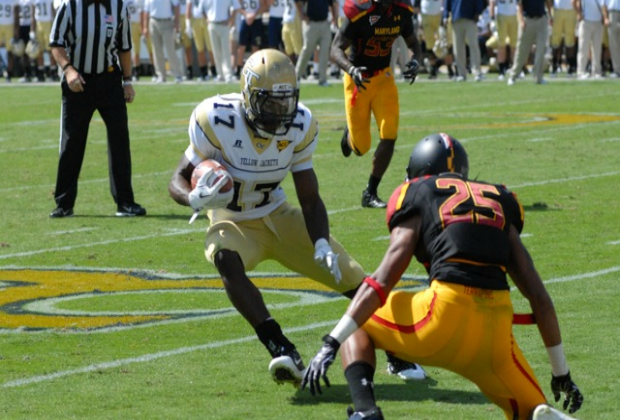 Jon Barash
Yellow Jacket senior Izann Cross has been selected for the Ted Hendricks preseason watch list. This award goes to the country's top defensive end. Past winners include Clemson's DaQuan Bowers in 2010 and Brian Orakpo of Texas in 2008.
Other Jackets that have been named to preseason watch lists include junior linebacker Jeremiah Attaochu (Lombardi), junior lineman Jay Finch (Rimington), senior A-Back Orwin Smith (Doak Walker) and senior guard Omoregie Uzzi (Outland).
The addition of Cross to the list is no fluke. He has recorded 83 tackles at Tech with 10 for lost yardage and eight pass deflections. Cross will get his first licks of the 2012 season in Blacksburg, Va., when the Jackets open the season in primetime on Labor Day against the Virginia Tech Hokies. The game will be shown on ESPN.
JACKET MAKES WAY BACK FROM INJURY  
Sting Daily's Matt Winkeljohn caught up with Orwin Smith as the running back continues his road to recovery. Smith sustained a serious toe injury against Utah in the 2011 Sun Bowl.
"In my case, the ligament was shifted in the wrong spot because I had a bunion," Smith told Winkeljohn. "They shaved the bunion down. … Even my shoe felt different; it wasn't tight [after surgery and rehabilitation]."
Thanks to quality surgery and a quick recovery, Smith is raring to run behind the Ramblin' Wreck this season in the shadow of the North Avenue Tower.
"Last year I put in a good amount of work, and I feel like it paid off for me," he continued. "This whole summer, I've done that and more. I don't feel any pain, although Turf Toe doesn't ever go completely away. I'm very excited for this year. The first game is a big game."
Smith averages about 9.7 yards per touch, the best mark in ACC history for a back who has at least 1,000 career rushing yards.
"We have all kinds of guys just pumped up with energy every day," said Smith. "It's definitely a different vibe than the few years I've been here. Coach Sisk is doing a great job. The way he treats us and what he demands of us, I feel like guys are more willing to give."