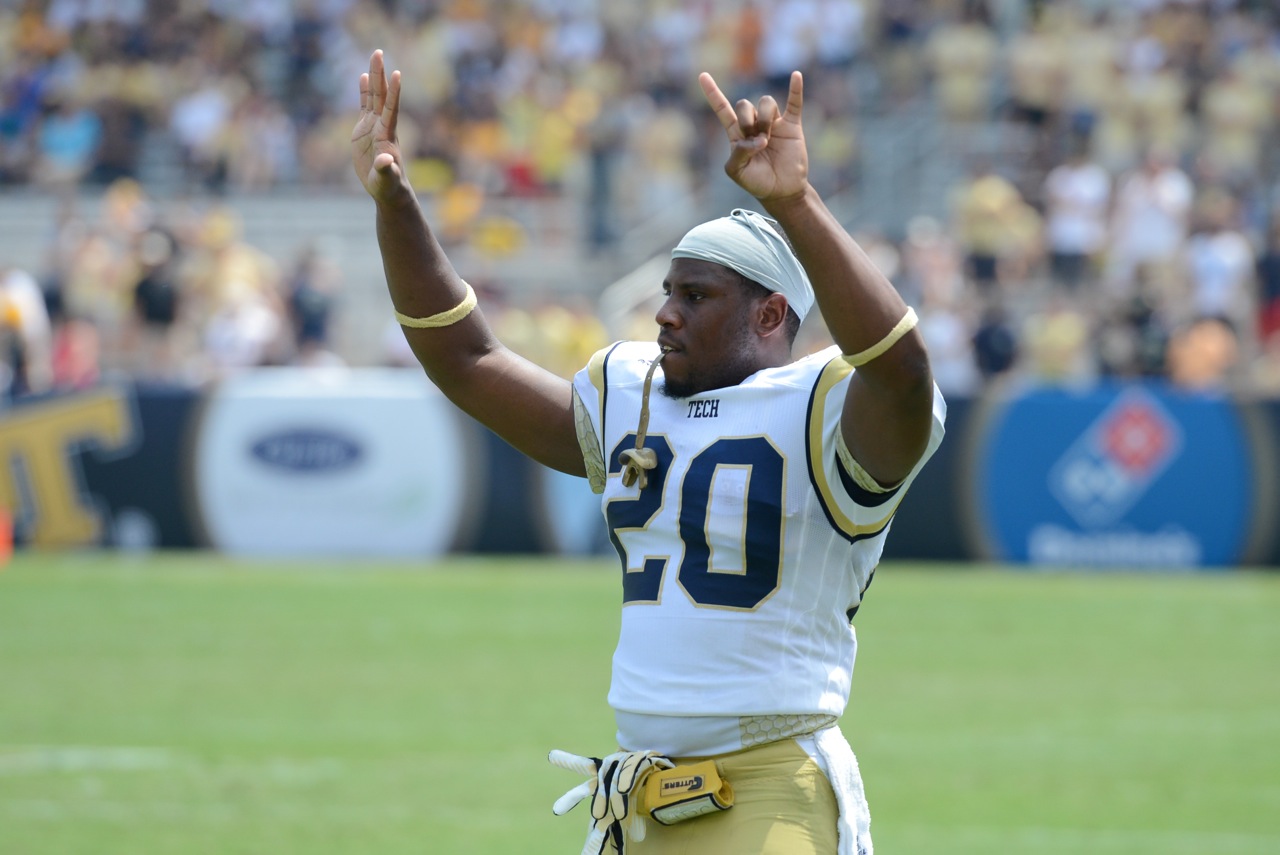 Photo by Jon Barash
A strong second quarter set the tone for the rest of the game as the Yellow Jackets dominated N.C. State to the tune of 56-23. A D.J White pick-six followed by a Quayshawn Nealy fumble return for a score gave Georgia Tech a commanding lead that would continue to grow.
The first 15 minutes of the contest gave the idea that Paul Johnson's squad would have to will their way to a victory. Following an NC State (5-5, 1-5 ACC) three-and-out to begin the ball game, the Yellow Jackets (8-2, 5-2 ACC) drove down to Wolfpack's 16-yard line. Quarterback Justin Thomas would run it in on a sweep down the left side for a 16-yard touchdown run. The Wolfpack were unfazed, as they responded with touchdown runs on consecutive possessions by quarterback Jacoby Brissett and Matt Dayes and took a brief 13-7 lead.
With time winding down in the first quarter, the Tech offensive line set up a grand canyon-sized hole that B-back Synjyn Days sliced through for a 53-yard score and Tech took a 14-13 lead. The first five minutes of the second quarter provided a spark of insanity.
Brissett drove NC State to the GT-5 yard line, but a Quayshawn Nealy interception following a deflection off the foot of Chris Milton, saw the linebacker return it down to the 30-yard line until being stripped by Jaylen Samuels as NC State recovered the ball.
The Wolfpack's luck would run out two plays later. D.J. White picked off the NC State quarterback and returned it for the touchdown to make it 21-13. Later in the second, a 43-yard scoop-and score by Nealy followed by a Tim Byerly 2-yard score gave the Yellow Jackets the 35-16 lead at halftime.
The second half proved to be no different as Byerly and Matt Connors recorded a rushing score while Antonio Messick logged a touchdown reception. Synjyn Days gained his third consecutive 100-yard game rushing, churning out 157 yards on just 19 carries. He, along with Justin Thomas, eclipsed 1,000 career rushing yards in the contest.
The victory keeps Tech just a game behind Duke for the ACC Coastal Division lead. The Yellow Jackets look to keep pace next Saturday when they return to Bobby Dodd Stadium to take on the No. 21-ranked Clemson Tigers.