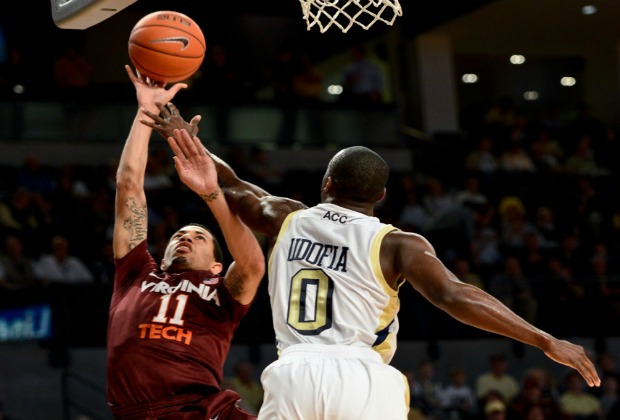 Jon Barash
Wins have not come easy for the Georgia Tech Yellow Jackets as they continue to search for a winning formula in ACC play. After starting the season 10-2, the Jackets have found themselves skidding to a winless start in conference play. They did play an inspired first half on the road against No. 3 Duke recently, taking a one-point lead into halftime; however, the Jackets couldn't overcome Seth Curry, who scored 24 points, and Mason Plumlee, who had 16 points and 13 rebounds. The Jackets did get an encouraging performance from freshman Chris Bolden, who had 20 points and has become one of the team's most reliable scorers.
While inconsistencies have plagued Tech during its recent slide, coach Brian Gregory has received strong contributions from several players that are expected to shoulder much of the load for the remainder of this season and going forward. Along with Bolden, two other freshmen, Marcus Georges-Hunt, who is averaging a team-high 10.7 points per game, and Robert Carter, who has averaged just shy of 10 points per game and six rebounds per game, have both shown that the team's future is bright despite recent struggles.
Following a loss on the road North Carolina this past Wednesday, the schedule does lighten up for the Jackets, as they face a handful of teams in the middle of the ACC pack, including Wake Forest, Clemson and Virginia Tech. As they look to get back on track, Gregory will continue to rely heavily on his freshmen core, as well as his veterans in Mfon Udofia and Daniel Miller. Tech doesn't play anymore teams currently ranked in the top 25 until March, so the Jackets must take advantage of opportunities to get back into ACC relevancy.
FOOTBALL FOES REVEALED …
With Pittsburgh and Syracuse set to join the ACC in 2013, the Jackets will welcome both conference newcomers to Bobby Dodd Stadium next season, along with other home contests against North Carolina and Virginia Tech. Road games against Duke, Miami, Virginia and Clemson round out the conference schedule. The Jackets will also host Georgia and travel to BYU to highlight the non-conference schedule. On paper, the 2013 schedule seemingly looks favorable compared to the 2012 slate, which saw the Jackets travel to Virginia Tech, Clemson, North Carolina and Georgia en route to a 7-7 record.