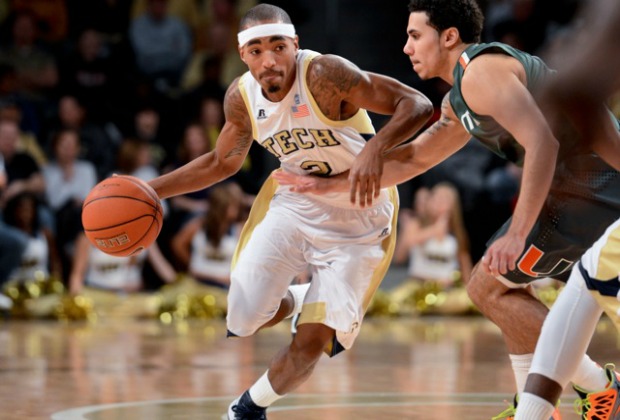 Jon Barash
A tall task awaited the Georgia Tech Yellow Jackets as the men's basketball team began conference play against the Miami Hurricanes over the weekend. Unfortunately, that task became too tall in a 62-49 loss at McCamish Pavilion. Tech seemed overmatched in the post as the Jackets were not only outrebounded 40-29, but also outscored in the paint 26-19.
Tech's six-game winning streak ended and they also fell to 10-3 on the season, with the upcoming schedule becoming increasingly difficult with ACC play underway.
Last night, Tech couldn't withstand a 14-4 run by N.C. State late in the game as the Wolfpack pulled away for an 83-70 win.
Games against Duke and North Carolina are on the slate for the Jackets, which should give a clear indication on the team's postseason chances. In a very team-oriented offensive attack, Robert Carter Jr., the highly-touted freshman, has not disappointed as a key contributor, averaging just shy of 10 points and six rebounds per game in his first season.
SKID SNAPPED …
The Yellow Jackets' 21-7 win over the USC Trojans in the Hyundai Sun Bowl capped off a 2012 season that can only be described as a roller coaster ride. Surprisingly, what was considered the Jackets' biggest weakness, defense, turned out to be the difference as they had their most impressive performance of the season. Tech stalled the Trojans for much of the game and picked off Max Wittek, who was starting in place of the injured Matt Barkley, three times.
Even without Barkley, the preseason top-ranked Trojans were still favored to handle Tech, but coach Lane Kiffin's squad simply couldn't stop the triple-option attack, as the Jackets rolled to 294 yards on the ground. With the victory, Tech snapped its seven-game bowl losing streak, with its last win coming in the 2004 Champs Sports Bowl over Syracuse.
The biggest question entering the off-season is who the Jackets will name as their defensive coordinator. Charles Kelly, who was the interim defensive coordinator after Al Groh was relieved of his duties, left to coach the linebackers at Florida State, eliminating one of the Jackets' prime candidates to take the job permanently. The team's defense did get good news, however, as outside linebacker Jeremiah Attaochu announced that he would return for his senior season, citing unfinished business as his primary motive for coming back. Attaochu is among 16 starters returning for the 2013 season.