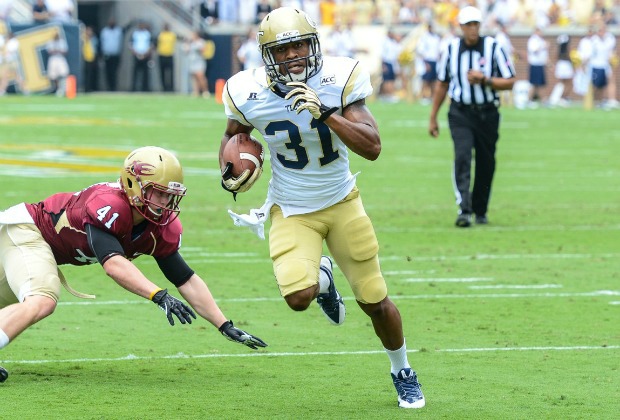 Photo by Jon Barash
A game I am keeping a close eye on this weekend may not be one that gets attention nationally, but is a contest that I think should pique the interest of those who live in Georgia. Georgia Tech will be hosting newly-minted Division 1 foe Georgia Southern for the first time in school history. The in-state connection is probably the least interesting thing about the matchup, however. Tech head coach Paul Johnson hosts his former school where he began his head coaching career. Johnson installed his vaunted triple-option offense while at Southern and yielded great success.
From 1997 to 2001, the Eagles captured Division I-AA National Championships in 1999 and 2000. Johnson compiled a 62-10 record at Southern before leaving for Navy. Georgia Southern continued to be a perennial power at the I-AA level before making the jump up to the FBS scene this season. To this day, the Eagles have continued to run the triple-option and have relatively held their own against FBS powers like Alabama, when they put up 21 points in a loss and managed to rush for 302 yards, the most allowed by Bama that season. Don't forget the Eagles dried out the Swamp in Florida last year and handed them an embarrassing loss to punctuate a bad sea- son for Will Muschamp's team.
While Southern has dominated at their level, Paul Johnson's tenure with Georgia Tech has been up and down. Running a true triple-option is rare at the FBS level and easily can be seen as a gimmick offense, an offense that can win eight or nine games in any given year, but not sustainable enough to threaten for a BCS bowl. After 19 wins in his first two seasons and crashing the Orange Bowl in Year 2 at Tech, the Ramblin' Wreck has rumbled into mediocrity again sitting at 30-25 since 2009. The first two games of this season have not necessarily struck optimism into Jacket fans as they were only up one on Wofford at the half and three up on Tulane. Southern on the other hand, blew a late lead to North Carolina State, but atoned for the loss by thumping poor Savannah State 83-9.
MIRROR IMAGES …
The Yellow Jackets come in favored by 20 points, but I am here to tell you that if I were a betting man, I would not be so confident. I think that this game will be closer than the "experts" think. Why you might ask? Well let's delve deeper. As mentioned before, Tech has had back to back sluggish first halves to start the season. Will this be a reoccurring theme? Eagle fans sure would hope so. These two teams have nearly identical stats starting at the quarterback position. Justin Thomas has completed 60.9 percent of his passes for 297 yards while GSU's Kevin Ellison has completed 61.1 percent and for 251 yards. These teams will be lining up against each other running identical offensive formations. The old adage from basketball is, "teams that press don't like to be pressed". Will these defensive units know how to stop the triple-option while it is coming at them full speed? Will linebackers stay true to their assignments, and will the defense know whether to pursue the quarterback or play the pitch? These are all interesting questions that will be answered this week.
Do not downplay the fact that Southern will be coming in with something to prove. The Eagles are the little brother in Georgia that has been beating teams down at the JV level and now want to prove they can not only hang with the big boys, but beat them. They showed they could tame the Gators in Florida, and now want to swat the Jackets at Bobby Dodd Stadium. Teams can use these in-state meetings as fuel to the fire. Heck, Kennesaw State beat Georgia Tech in basketball just a few years back.
I am just giving a friendly warning for fans of both sides not to be surprised if this is a game going into the fourth quarter. Southern has a winning pedigree and isn't as familiar with losing as Tech has been in the past few seasons. Whether you are a Georgia Tech fan or Georgia Southern fan, you have plenty to be interested in with this weekend's game.