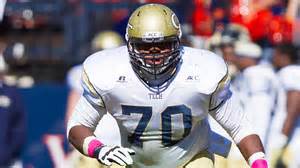 Lee Coleman/ Icon SMI
MOBILE, Ala.– The Senior Bowl showcases the best talent in college football, as they make their bid for an NFL roster spot next fall. Georgia Tech offensive guard Shaq Mason is one of many players this week in Mobile trying his best to land a job on the next level.
It had been quite a season for Mason, in his senior year at Tech. The Yellow Jackets finished the year 11-2, with wins over Georgia and Mississippi State in the Orange Bowl. The senior offensive lineman from Columbia, Tennessee was also named a first team USA Today All-American. This honor goes along with being named to the AP All-Bowl Team and second team All-ACC Coaches Team.
"It just keeps on rolling," Mason said. "So, I'm just soaking it all in right now."
Mason is here in Mobile this week with other top offensive linemen like All-SEC offensive tackle La'el Collins out of LSU and Auburn center Reese Dismukes. The latter name also got the first team honors from the SEC coaches.
Those players played in what many would consider to be more conventional offenses in college. Collins for sure did at LSU with the pro-style offense under former NFL coordinator Cam Cameron. Dismukes played a little less conventional style with Gus Malzahn's spread attack. However Mason played the least conventional offense, with Paul Johnson's triple option.
Would it be hard to make the jump to the NFL after blocking for that predominantly running offense? Mason doesn't think so,
"It's not that much of a transition," Mason said. "Theres a lot of things that you've got to learn coming to a pro-style. But, I think the transition will be easier than most think."
Mason goes even further to say that there is a misconception out there about the option offense and whether or not players can make the jump to a different scheme on the next level.
"We do a lot of the same things," Mason said. "There's a lot of the same terminology. It's just the 'cut blocking' that sticks out to people. Everybody has their own judgment about it. But, theres definitely a lot of things from the triple-option that correlates to the pro-style."
As pointed out throughout the week here in Mobile, this is an on-going job hunt for the players and NFL teams. Mason knows this and realizes that he's selling himself to these coaches, general managers, and scouts.
"I'm a hard worker," Mason said. "I'm a guy that's going to bring it every day. Every day is a job interview and I'm definitely motivated."
Right now, CBSSports.com has Mason slated to be a fourth or fifth round pick in the upcoming NFL Draft. He is listed as the ninth best offensive guard and 161st overall prospect.
As we have seen many times in the NFL, where you are drafted can just be a number. What you do once you get into the league, is another thing. Mason is just trying to earn himself a roster spot.