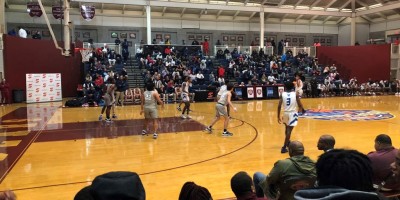 Prep Hoops Georgia (@PrepHoopsGA)
Thanksgiving basketball tournaments and showcases highlighted the basketball action on Saturday across the state.
In the Holiday Hoopsgiving Showcase at Holy Innocents', a marathon day of basketball began with the Holy Innocents' girls defeating Central-Macon 61-29. Then Tennessee's Webb School defeated Discovery 72-71 on a last-second free throw from Uriah Powers. London Riley made seven 3-pointers and finished with 23 points while Mikey Moncrease scored 19 points and made four assists to lead Discovery.
Shiloh got its second win at Hoopsgiving after beating South Shore (NY) in the second game of the day 72-55. Zawdie Jackson led Shiloh with 21 points. Lovett carried a 25-21 lead at the break into a 56-45 victory over Meadowcreek behind a 24-point effort from Ryan Mutumbo. Wheeler weathered a closely contested game against St. Francis and avoided a last-second half-court heave to secure the 67-64 victory. Isaiah Collier, who finished with eight points and six assists, hit two free throws late in the game to seal the victory for Wheeler. Sam Hines Jr. led Wheeler with 18 points and 12 rebounds. Prince Davies scored 12 points with three rebounds. Malik Spellman finished with nine points. Pace Academy outlasted Westlake 58-44 behind Matthew Cleveland's 28 points and 14 rebounds. Josh Reed finished with 15 points and eight rebounds. Madison Durr scored 10 points with seven rebounds and five assists. Grayson defeated Mountain Brook (AL) 71-60 after leading by 48-47 entering the fourth quarter. Caleb Murphy led Grayson with 20 points and Deivon Smith scored 18 points. Ian Schieffelin scored 10 points and grabbed 11 rebounds for the Rams. Colby Jones scored 32 points for Mountain Brook. Westside-Macon fell to Lithonia 89-41 behind a 27-point effort from Eric Gaines. Javian Moseley scored 19 points to lead Westside-Macon.
Notable: In the Thanksgiving Shootout, Sharife Cooper scored 50 points in McEachern's 99-75 victory over Windsor Forest. The Indians moved to 8-0 on the season following the win. … Brunswick's girls moved past Camden County 49-40 and Keya Daniels led with 10 points, seven rebounds and eight steals. Jaliyah Howard added 12 points for Brunswick. Malerie Brooks paced Camden County with 13 points. … Brunswick's boys got a 50-45 victory over Camden and Jaden Dunham led with 15 points, 12 rebounds and three blocks. Tyrease Jones added 13 points. Kent Gerad scored 17 points to lead Camden County. … At the North Georgia Classic at Cherokee Bluff, Cedar Shoals beat Mountain View. Tyler Johnson led with 27 points and 11 rebounds, Quincy Canty scored 14 points and grabbed 13 rebounds and Kashik Brown added 10 points and four assists for Cedar Shoals. … Also in the North Georgia Classic, Lanier defeated Lambert 77-58. Andrew McConnell led with 19 points. Sion James scored 18 points, Iajah Phillips added 12 points and Goran Uzunov finished with 10 points. … In the Tournament of Champions in Washington, Illinois, Woodward Academy defeated Millennium (AZ) 67-62 and Emory Lanier led with 20 points and six rebounds. Walker Kessler scored 20 points with 10 rebounds, three blocks, two steals and two assists. Will Richard scored 19 points with seven rebounds and three steals and Michael Whitmore added eight points with four rebounds and three steals for Woodward. … In the Under Armour Give Back Classic, Maynard Jackson defeated Starr's Mill 54-49 behind an 18-point performance by Timipa Ogoun. … In the Under Armour Hard in the Paint Showcase, East Coweta defeated Lakeside-Evans 77-66. Christopher Youngblood led with 20 points and five rebounds. Keith Williams scored 19 points and grabbed 12 rebounds. Brandon Stroud added 18 points and seven rebounds. … In the Thanksgiving Shootout Classic Tailgate, Trinity Christian defeated Central Gwinnett 78-68 and Giancarlo Sanchez led with 23 points and 12 rebounds. Brady Burnett finished with 20 points and six rebounds. Raul Arias scored 15 points with four rebounds, four steals and three assists. Isaac Brito scored eight points with eight rebounds. …
See the rest of the basketball scores below.
Boys
Adairsville 63, Southeast Whitfield 36
Baldwin 58, Washington County 50
Bartlett 60, Osborne 49
Beach 67, Glynn Academy 51
Brunswick 50, Camden County 45
Christian Heritage 52, Notre Dame 51
Columbus 79, Kendrick 75
Creekside 49, Eagle's Landing Christian 45
Dalton 67, Creekview 51
Douglas County 67, South Atlanta 45
Dutchtown 82, Newton 73
East Coweta 77, Lakeside-Evans 66
Georgia Military 68, Richmond Academy 27
Godby 73, Campbell 72
Grayson 71, Mountain View 60
Hapeville Charter 48, W.D. Mohammed 46
Harris County 71, Central-Talbotton 46
Hart County 89, Elbert County 56
Heritage-Conyers 72, Druid Hills 64
Jackson-Atlanta 54, Starr's Mill 49
Jenkins County 63, Screven County 62
Jones County 64, Lovejoy 52
LaFayette 68, Trion 56
Laney 82, Evans 66
Lanier County 70, Brooks County 30
Macon County 80, Peach County 59
Marietta 60, Grovetown 54
Mays 62, Washington 53
Miller Grove 85, Grace Christian 52
Milton 66, Holy Innocents' 39
Montgomery County 64, Toombs County 57
North Atlanta 54, Grady 53
Pace Academy 64, Westlake 47
Portal 69, Bryan County 46
Sandy Creek 60, Carrollton 51
Shiloh 72, South Shore 55
Social Circle 76, Taliaferro County 28
South Forsyth 69, Northview 62
Southwest 74, Dodge County 53
Temple 58, Pepperell 42
Therrell 54, Durham Academy 48
Thomasville 63, Cairo 58
Treutlen 97, East Laurens 61
Tri-Cities 90, North Little Rock 89
Trinity Christian 78, Central Gwinnett 68
Union Grove 50, Stockbridge 36
Valdosta 68, Fitzgerald 31
Vidalia 62, Jefferson County 46
Walnut Grove 64, Monroe Area 53
Walton 62, North Cobb 53
Westminster 43, McCallie, TN 40
Wheeler 67, St. Francis 64
Woodward Academy 67, Millennium 62
Worth County 58, Thomas County Central 54
Girls
Adairsville 49, Southeast Whitfield 43
Americus-Sumter 65, Lee County 41
Baldwin 55, Washington County 47
Brunswick 49, Camden County 40
Bryan County 66, Portal 35
Central-Carroll 46, Ranburne 21
Central-Talbotton 60, Harris County 36
Cherokee Bluff 55, Sequoyah 51
Christian Heritage 44, Notre Dame 32
Colquitt County 61, Rickards 46
Creekview 53, Dalton 32
Druid Hills 53, Heritage-Conyers 48
East Hamilton 61, Campbell 57
Elbert County 54, Hart County 46
Glynn Academy 52, Beach 35
Greenforest 56, Columbia 37
Grovetown 49, Marietta 47
Hapeville Charter 45, N. Bay Haven Aca. 37
Holy Innocents' 61, Central-Macon 29
Islands 52, Effingham County 38
Jefferson 60, Lakeview Academy 37
Jones County 73, Central Gwinnett 41
Lovejoy 58, Riverdale 47
Model 64, Cartersville 56
Monroe Area 52, Walnut Grove 40
Montgomery County 52, Toombs County 43
Mountain View 59, Meadowcreek 32
Peach County 53, Macon County 42
Pepperell 55, Temple 21
Randolph-Clay 53, Terrell County 22
Rome 54, Rockmart 40
South Cobb 60, North Paulding 58
South Forsyth 83, Northview 14
Statesboro 65, Swainsboro 37
Stephens County 50, Habersham Central 41
Stone Mountain 67, Clarkston 44
Taylor County 53, Hawkinsville 52
Thomas County Central 42, Worth County 38
Trion 49, LaFayette 46
Union Grove 57, Stockbridge 21
Valdosta 69, Fitzgerald 23
Vidalia 75, Jefferson County 47
Westover 55, Northside-Columbus 44
Wheeler County 63, Savannah Country Day 28