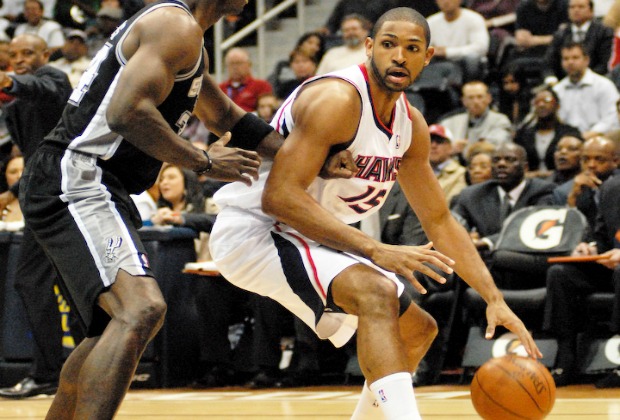 Atlanta Hawks
ATLANTA, GA —— On Friday, October 18, 2013, Atlanta Hawks players, coaches, cheerleaders and Harry the Hawk will show their support for two of Atlanta's Friday night high school football match-ups. Head coach Mike Budenholzer and players Al Horford and Paul Millsap will be on-site for the Alpharetta vs. Chattahoochee game at Chattahoochee, while Jeff Teague and Lou Williams will attend the Stephenson vs. Miller Grove contest being held at Halford Stadium.
"The Hawks are proud to not only be a part of representing the city as a professional team, but to also support the student-athletes who make Atlanta's sports landscape so special," said Bob Williams, President, Atlanta Hawks and Philips Arena. "We are excited to be a part of the activities at these two games and look forward to engaging with the crowds."
Players attending the Alpharetta vs. Chattahoochee game will be wearing pink in support of the school's "Pink Out" fundraiser for Northside Hospital Breast Care Cancer Center.
"October 18 is going to be a big night at the 'Hooch', stated Milo Mathis, Athletic Director, Chattahoochee High School. "It's an important Region Football Game against Alpharetta and a big pregame ceremony recognizing cancer survivors. We are especially excited that the Atlanta Hawks will join us in our 'Pink Out' festivities. We are looking forward to celebrating a great cause and some great football action."
"DeKalb County loves our Atlanta Hawks!!," said Horace C. Dunson, Jr., Executive Director of Athletics, DeKalb County School District. "Our student-athletes and fans from Stephenson and Miller Grove will get the opportunity to interact with the Hawks players, cheerleaders and coaches. We are excited about the show of support for our high school sports programs from the Hawks."
The Atlanta Hawks open their season at Philips Arena on Friday, November 1 vs. the Toronto Raptors.
Other players in attendance at Chattahoochee include Gustavo Ayon, Jared Cunningham, Royal Ivey, John Jenkins and Dennis Schröder, while Pero Antic, Elton Brand, DeMarre Carroll, Eric Dawson, James Johnson, Shelvin Mack and Mike Scott will be at Halford Stadium.
WHO: The Atlanta Hawks
WHAT: Friday Night Lights Participation
WHEN AND WHERE: Friday, October 18
Alpharetta vs. Chattahoochee @ Chattahoochee (7:30pm start time)
5230 Taylor Road, Alpharetta, GA 30022
Stephenson vs. Miller Grove @ Halford Stadium (8pm start time)
3789 Memorial College Avenue, Clarkston, GA 30021
* Please note that Hawks players will be available for interviews from
7:30–7:45 p.m. (Chattahoochee) and 8:00-8:15 p.m. (Halford Stadium)*
ADDITIONAL INFORMATION: Atlanta Hawks Memberships, Flex Plans and individual game tickets for the 2013-14 preseason and regular season games through January 10, 2014 are on sale now at www.hawks.com/tickets, the Philips Arena box office or by calling 866-715-1500! For more information on the Hawks, log on to www.hawks.com.
Media interested in attending for interviews with players, coaches and/or photos, please RSVP to hawks.pr@hawks.com
# # #